E-book readers have evolved significantly in recent years, with a growing trend towards larger devices. However, this shift towards tablet-sized e-readers sacrifices some of the portability and convenience that users desire. Onyx BOOX a prominent player in the e-reader market, recognized this challenge and has come up with a groundbreaking solution for avid readers who prioritize portability.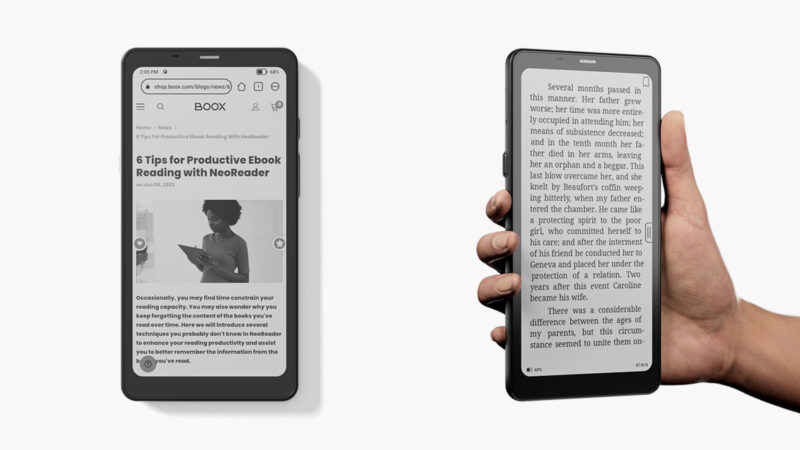 Enter the Onyx BOOX Palma, a device that perfectly fits into your pocket while providing an immersive reading experience akin to a tablet. Resembling a smartphone in appearance and functionality, the BOOX Palma is not your average smartphone. While it allows messaging and calls, these features rely solely on internet services like social apps and instant messaging, as it lacks cellular connectivity.
The standout feature of the BOOX Palma is its 6.13-inch E Ink touch screen with a sharp 300 PPI density. This E Ink Carta 1200 display ensures crisp letters and easy readability, albeit limited to shades of gray and black. The device also boasts a water-repellent design on its back, enhancing its grip and durability.
Powered by an octa-core processor and 6GB of RAM, the BOOX Palma runs on Onyx BOOX's customized version of Android 11 and even supports the Google Play Store. This means users can enjoy their favorite reading, browsing, and social media apps on this device.
While the refresh rates may be slower compared to LCDs and OLEDs, the BOOX Palma opens up a new way of life—a distraction-free lifestyle with an eye-friendly e-paper device. Its affordable price tag of $280 makes it an attractive option for those seeking a compact e-reader that fits seamlessly into their everyday lives.
In other tech news, check out the LoveFrom x Linn Sondek LP12-50.