Timepiece customization has become an increasingly popular way to personalize a watch, to have it reflect the wearer's own taste and personality. Swiss-based Artisans de Genève is among those workshops that lead the way in custom modifications as evidenced by its work on the Mika Häkkinen Challenge and the Pearl Project, just two of the numerous projects the workshop has taken on. Artisans de Genève's latest commission, the Sea Shepherd Challenge, came about when Paul Watson, a well-known marine wildlife advocate, and documentary maker, commissioned the workshop to customize his Rolex Submariner Date (Ref. 116610).
Watson, a Canadian American, is a conservation and environmental activist, who founded the Sea Shepherd Conservation Society, an anti-poaching and direct-action group focused on marine conservation activism. Watson wanted his Rolex Submariner to better reflect his love for all things nautical and particularly the vast, star-filled night sky used by sailors the world over for navigation. Artisans de Genève responded by adding a moonphase to the Submariner Date, the first time they have ever added a complication to a watch. This was achieved by creating a moonphase module that could be added directly to the existing 3135 movement.
To further reflect Watson's passion, the dial, along with a matching bezel insert, was replaced with one made of Aventurine, a mix of glass and shimmering metallic inclusions, to reflect the brilliant, star-laden night sky, while the moonphase aperture sits at the six o'clock position. The movement has been stripped down and entirely refinished. The craftsmen at Artisans de Genève applied rounded beveling, the watch's balance bridge skeletonized, and decorative frosted recesses were etched into its bridges, all of which can be seen through a replacement sapphire crystal caseback.
For information on another Artisans de Genève creation, check out The Zinal Challenge.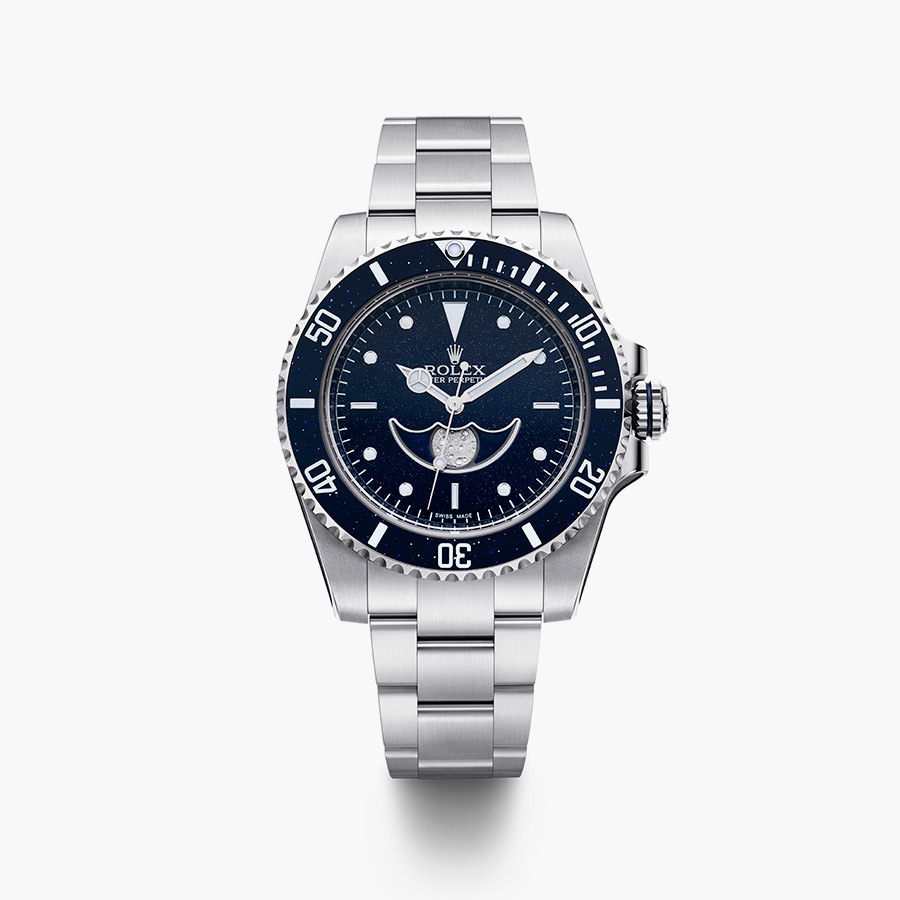 DISCLAIMER: Artisans de Genève is an independent company specialized in the personalization of timepieces. We are not affiliated with ROLEX SA nor authorized by them to intervene on their products for any reason whatsoever. This personalization was ordered by a customer, who owns a Rolex® timepiece, for his private use. It is an example of our know-how and the personalization services we offer at our customers' request.