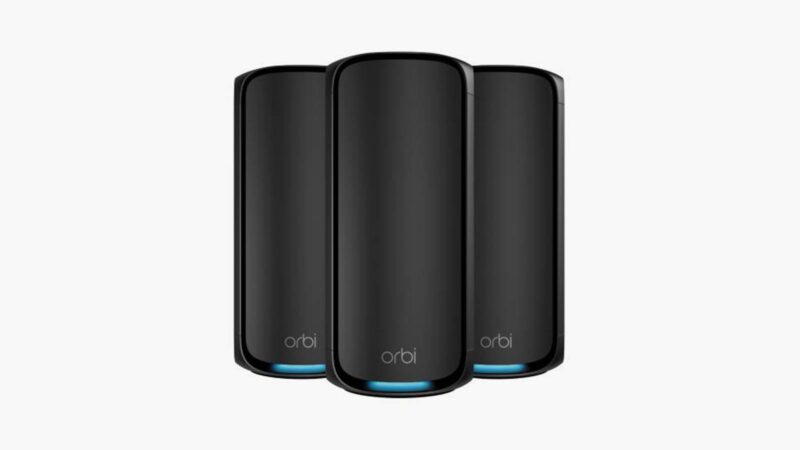 Netgear, a leading name in the world of networking technology, has just unleashed a powerhouse in the realm of home WiFi with its latest release – the Netgear Orbi 970 Series router. This cutting-edge router is set to revolutionize the way we experience the internet in our homes, offering unparalleled performance and coverage that will leave you wondering how you ever lived without it.
The Orbi 970 Series introduces WiFi 7 technology, boasting mind-blowing speeds of up to 27Gbps†. That's a staggering 2.4 times faster than WiFi 6, ensuring that even the most demanding online activities like 8K streaming, video conferencing, gaming, and VR run smoothly, even when multiple devices are connected simultaneously.
One of the standout features of the Orbi 970 Series is its exclusive Quad-Band technology with Enhanced Dedicated Backhaul, which guarantees lightning-fast WiFi across all your devices at once. This means no more lag or buffering, even during intense gaming sessions or 4K movie marathons.
In terms of design, Netgear has truly outdone itself with an elegant and modern look that seamlessly fits into any home decor. High-performance antennas provide exceptional 360° WiFi coverage, ensuring that every nook and cranny of your home gets a strong and reliable signal.
Furthermore, Netgear ensures that you're ready for the future with a 10 Gig internet port and 10Gbps† & 2.5Gbps† Ethernet ports, offering unbeatable speed and reliability for wired connections. Adding to its appeal, the Orbi 970 Series router is compatible with any internet service provider and can be easily set up and managed using the user-friendly Orbi app. It also comes with NETGEAR Armor™ software, providing robust security and privacy protection for all your connected devices, including a 1-year subscription, all for a price of $1,700.
The Netgear Orbi 970 Series router is a game-changer, offering lightning-fast WiFi, extensive coverage, and top-notch security in one sleek package. Say goodbye to slow internet and hello to the future of home networking. This is one gadget that every tech-savvy individual should have on their radar.
In other tech news, check out the Amazon Echo Hub.