Artisans de Genève has lent its expertise to yet another timepiece customization project. This time, the workshop was challenged to create the "ultimate blue" for the owner of a Rolex ® 116500 Daytona. When the client approached Artisans de Genève with his challenge, he conveyed the following to the artisans, "Blue is my favorite color because it conveys refinement and excellence, values that I strive for in my day-to-day." Furthermore, the client wanted to give his watch a vintage look, relying on this one single hue: blue — hence, the Artisans de Genève Shades of Blue Challenge was born.
Finding just the right shades of blue was an arduous task. After spending hundreds of hours experimenting, assembling pigments, associating them with different materials, and mixing different colors to create a unique personalization for their client, the artisans' hard work paid off based on the client's reaction, "When I approached Artisans de Genève to define and create my ultimate blue, I thought that it was an impossible task. However, in each step of our hunt for the perfect blue—marrying each element with each watch part— was pure poetry."
The end result is a Rolex ® 116500 Daytona with an intense matte blue dial that enhances the overall contrast and intensity of the timepiece. Artisans de Genève added sky blue counters and steel hands for a distinctive allure. The bakelite bezel is adorned with an intense blue that the artisans created and is a nod to vintage watches. The 4130 movement is polished and beveled by hand, the upper automatic bridge and the balance bridge are hand-beveled, embellished by "Côtes de Genève" and circular satin-brushed finishings.
The 21-carat gold rotor is flame-blued, an ancestral technique that gives it a unique color. The case has been machined and polished by hand, the original pushers have been replaced by "Millerighe" (a series of horizontal lines, for an imposing optical effect) ones, adding to its vintage feel. The transparent sapphire glass back allows one to fully appreciate the movement and rotor. At the client's request, a leather alligator strap completes the Artisans de Genève Shades of Blue Challenge, perfecting its vintage look.
For another recent release, check out Artisans de Genève The Sea Shepherd Challenge.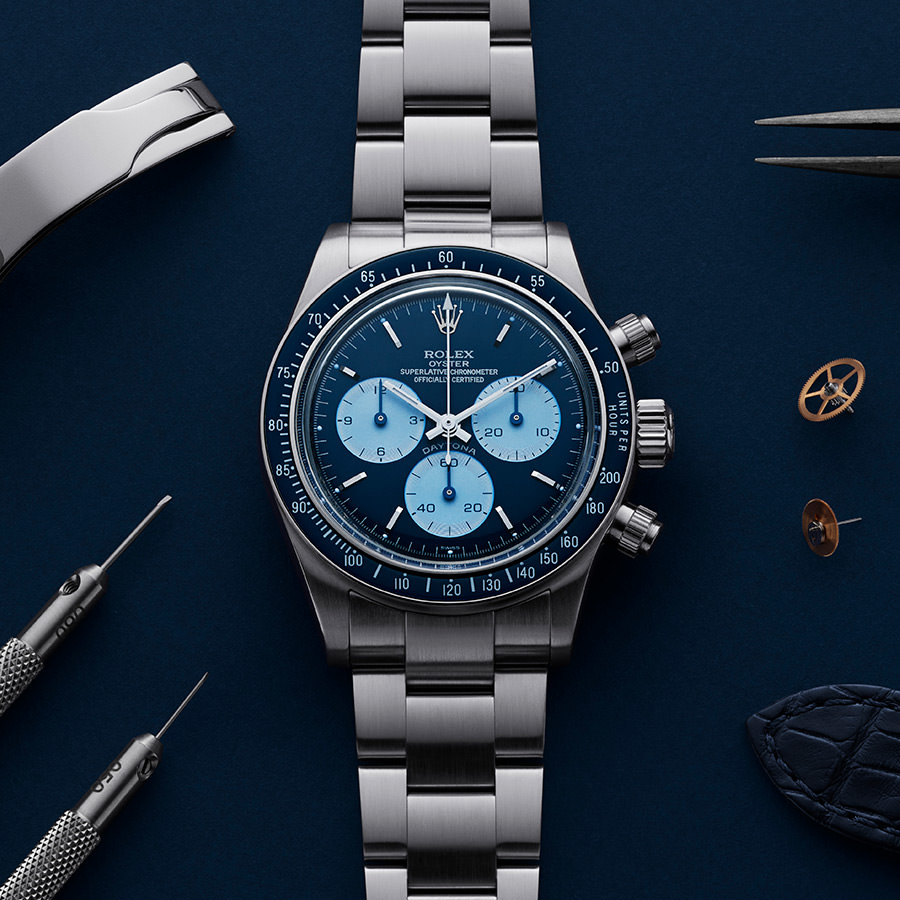 Artisans de Genève is an independent company specialized in the personalization of timepieces. We are not affiliated with ROLEX SA nor authorized by them to intervene on their products for any reason whatsoever. This personalization was ordered by a customer, who owns a Rolex® timepiece, for his private use. It is an example of our know-how and the personalization services we offer at our customers' request.