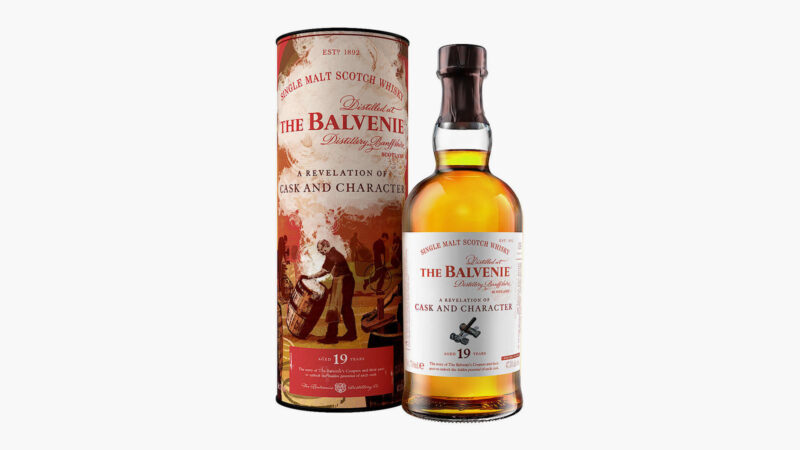 There are many outstanding distilleries in Scotland's Speyside region renowned for their smooth and full-bodied single malt whiskies. While Glenlivet and Glenfiddich are perhaps the best known, the Balvenie Distillery has long-established its reputation since its founding back in 1982.
Drawing on the expertise of legendary Malt Master, David Stewart, responsible for the wood finishing process that brought greater depth and finish to whiskies' flavor, Balvenie's latest special edition cements their prestige. The Balvenie whisky "A Revelation of Cask and Character" showcases the distillery's mastery when crafting whisky full of depth, character, and flavor profile.
Aged over 19 years, "A Revelation of Cask and Character" draws upon the sherry oak maturation that David Stewart pioneered, blending a combination of ripe fruits and caramelized orange peel with milled barley. This exclusive batch has been created to reflect the precise distillation techniques Balvenie has developed over a period of decades to celebrate the fine art of Coopering.
This process of building and toasting casks and selecting the best woods to influence the whisky's taste brings honey, currants, raisins, and spices for additional complexity of flavor. The "A Revelation of Cask and Character" whisky is balanced with a smooth and creamy nutty finish, with a hint of fig thrown in for good measure.
It's a fitting limited edition single malt whisky from Balvenie that pays homage to the experimentation and curiosity that has helped make it one of the world's leading distilleries.
In other news on the whisky front, check out Tullibardine Signature Range 15-Year Highland Single Malt Scotch Whisky.