In a fast-paced world where time slips away, Oásis Ventú House emerges as a sanctuary for self-discovery. This extraordinary dwelling, designed by Bezerra Panobianco, offers an opportunity to slow down, immerse oneself in the present, and uncover the true essence of living.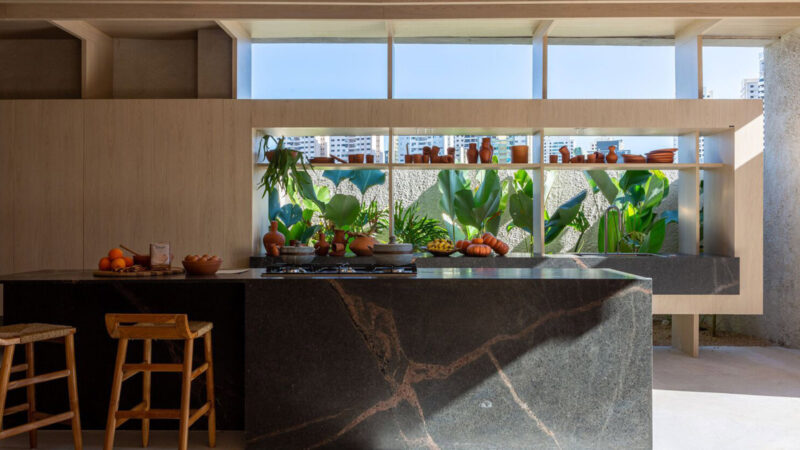 The house is a harmonious fusion of two interconnected spaces, reflecting the vibrant spirit of Brazil. As visitors step into the dwelling, they are greeted by a garden adorned with beige Bahia marble, a distinctly Brazilian choice that sets the tone for the journey ahead. The external and internal environments present a striking contrast, emphasizing the presence and communion with nature.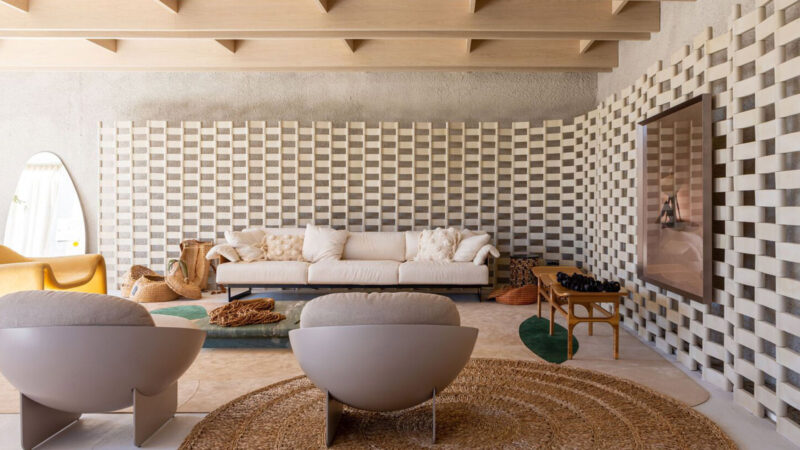 Inspired by earthy tones, the color palette celebrates the beauty of nature and embraces simplicity. Guided by intimate lighting, guests are invited to explore every moment along the open pathway that winds through the enchanting garden, filled with the fragrant presence of Jasmine Mango.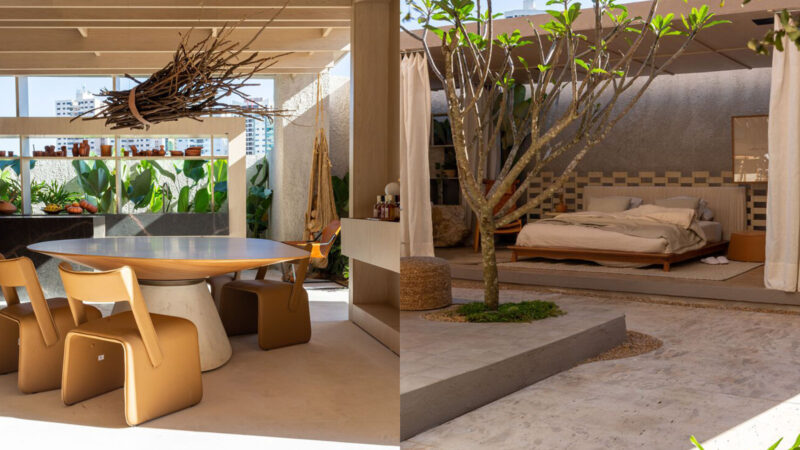 Moving forward, visitors pass through a studio adorned with rustic Taupe tiles from Itagres, adding to the allure of the space. A touch of blue emerges in the artwork collection by Lucas Panobianco, breaking the monochromatic scheme and captivating the eye.
The master suite and bathroom extend a warm invitation to relaxation. Linen curtains and wardrobe doors promote airflow, creating an intimate ambiance within the bathroom while restricting access to the bedroom. Nature's influence becomes even more pronounced in the bathroom, with a raw beige Bahia marble shelf and a magnificent bathtub hewn from two tons of Brazilian granite, evoking the grandeur of a cascading waterfall.
The gourmet area radiates the essence of Brazilian culture, paying homage to indigenous traditions with decorative clay vases and gourds. The countertop is adorned with Brushed Brown Storm Granite, showcasing its distinctive striations that were once considered flaws but now reveal their intrinsic beauty.
In the living room, the furniture is enveloped by Cobogó elements, creating a vast artistic composition that allows for free and expansive movement. The lighting design, crafted in collaboration with designer Waldir Jr., accentuates each artwork and element within the space, evoking a sense of ascension.
Working in tandem with the landscaping, the lighting guides the visitor along the path, with the Capim beacon illuminating the way and providing a guiding light.
Oásis Ventú House by Bezerra Panobianco is a remarkable dwelling that transports its visitors to a realm of serenity and self-discovery. Its fusion of Brazilian influences, natural elements, and thoughtful design creates an immersive experience that celebrates the beauty of living in harmony with nature.
For another architectural gem, see River Ranch by Jobe Corral Architects.