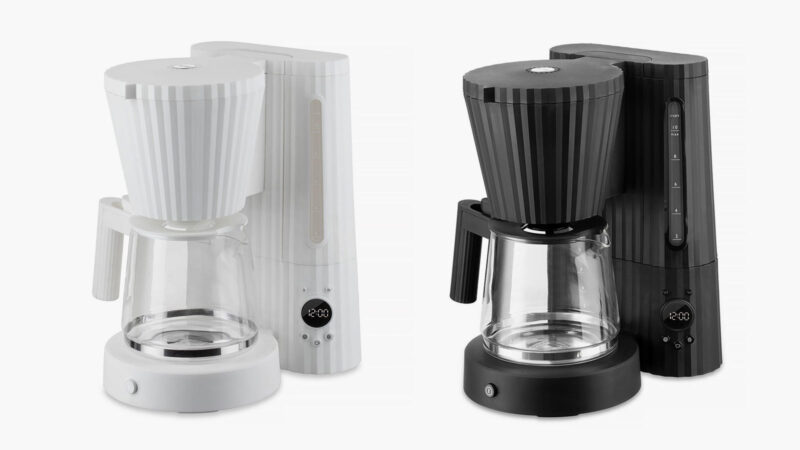 In a seamless blend of form and function, Alessi presents the Plissé Drip Coffee Maker, the newest addition to their iconic Plissé collection. This filter coffee machine, thoughtfully designed by the renowned architect and designer, Michele De Lucchi, promises to elevate your coffee-making experience while adding an exquisite touch to your interior.
With its elegant pleated volumes, the Alessi Plissé Drip Coffee Maker stands as a testament to modern aesthetics. But this machine is more than just eye candy; it boasts versatile functionality, making it a must-have for any coffee enthusiast. Whether you're brewing a large batch for your family's morning routine or treating your colleagues to the best coffee at work, the Drip Coffee Maker ensures exceptional aroma extraction in every cup.
Wake up to the alluring scent of freshly brewed coffee, thanks to its automatic start function, which guarantees a delightful start to your day. Embracing the art of coffee-making has never been easier and more stylish.
Michele De Lucchi, the mastermind behind this innovative creation, has been a trailblazer in avant-garde architecture and design since the 1970s. His furniture designs grace the most renowned Italian and European companies, while his architectural projects span from industrial marvels to cultural landmarks. As the founder and member of AMDL CIRCLE, he continues to push boundaries by combining technological development with humanist principles.
With the Alessi Plissé Drip Coffee Maker, you will join the league of coffee aficionados who appreciate both art and functionality in their lifestyle. Available in white or black, and priced at $249, this masterpiece by Alessi is a true investment in elevating your coffee rituals and embracing the joy of finely brewed coffee.
For more from Alessi, check out the Mazagran Carafe.