"The lot is flat, with an area of 447m² at a corner." These were the words that kickstarted the journey to create N16 House by gruta.arquitetos in Bauru, Brazil, a dream home for a young couple with a desire for more space and a place to unwind. gruta.arquitetos took on the challenge and crafted a masterpiece that aligns with the couple's aspirations.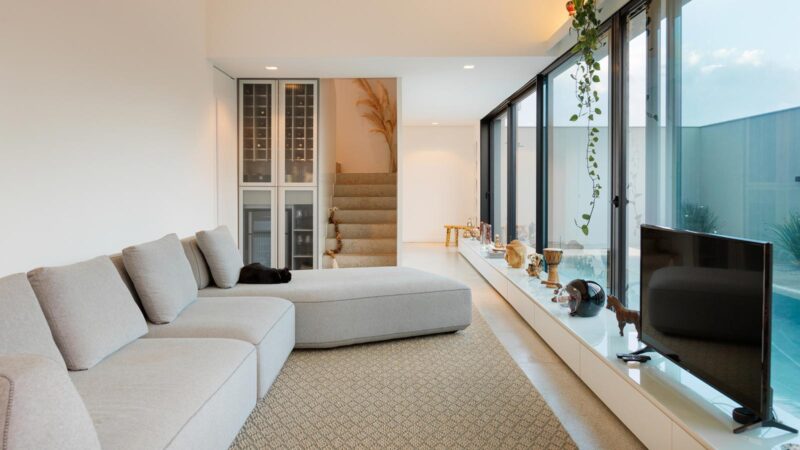 The first design insight was to arrange the house's components along a longitudinal axis on one side of the property, allowing the social areas to open up to the untouched expanse on the other. The corner location provided a unique opportunity, offering a sense of freedom and space rarely found in urban living.
The second revelation led to the strategic placement of the kitchen and barbecue area at the rear, seamlessly connecting them to the social zones. This thoughtful layout enhanced the functionality of the home.
As the couple's needs evolved, a third transformation emerged – the addition of a spacious home office on an upper level. This not only catered to their professional and academic endeavors but also provided panoramic views and separation from the ground floor's social activities.
In the project's final stages, a fourth design solution focused on aesthetics. The house presents two distinct facades – a solid volume against the garage wall and a sculpted office with a wooden gallery and a concrete block terrace.
With understated finishes, N16 House by gruta.arquitetos serves as a neutral canvas, allowing the couple to showcase their worldly treasures, each with a unique story to tell. gruta.arquitetos has seamlessly blended functionality, aesthetics, and the couple's desires to create the N16 House, a true architectural marvel that defines modern living.
In other architecture news, check out Madrone Ridge by Field Architecture.