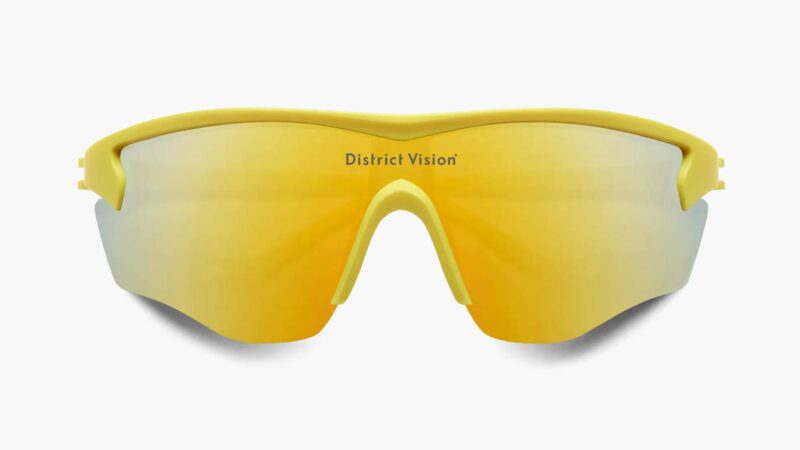 In the realm of performance eyewear, District Vision stands as a beacon of innovation, and their latest release, the Junya Racer CanaryD+ Gold Mirror, is no exception. A culmination of two years of rigorous technical testing involving New York City athletes and Japanese engineering expertise, this eyewear system pushes the boundaries of functionality and style.
At the core of the Junya Racer lies the groundbreaking D+ lens technology, paired with an adjustable hypoallergenic rubber nose pad and temple tips featuring a titanium core. This combination not only ensures a snug and comfortable fit but also addresses the often-overlooked aspect of eyewear as a vital medical device. Unlike our skin, our eyes lack melanin, making them increasingly sensitive to sunlight exposure.
The D+ Gold Mirror lens takes protection a step further, offering 100% UVA/B safeguarding while allowing only 10.12% of visible light and 7.9% of blue light to transmit through. The mirror coating even adds infrared screening to the mix, making these sunglasses a comprehensive solution for both performance and eye care.
Crafted with utmost precision, the hypoallergenic adjustable nosepad is titanium-mounted, resulting in a featherlight yet sturdy sports frame that guarantees optimal comfort. To ensure a perfect fit, District Vision recommends a consultation with a preferred optician.
Every purchase of the Junya Racer comes complete with a limited-edition District Vision eyewear case, a collaborative creation with Hydrapak®. This custom silicone case boasts a lumbar lock system, ensuring airtight storage for your eyewear. Constructed from ultra-durable, abrasion-resistant TPU with RF welded seams, the case embodies the brand's commitment to durability and elasticity.
District Vision's Junya Racer CanaryD+ Gold Mirror stands as a testament to its dedication to pushing the boundaries of eyewear technology. Priced at $295, it's an investment not just in performance gear, but in the health and comfort of your eyes.
In case you missed it, check out the Bodega x Oakley BXTR.