It is often said that people show only a glimpse of their lives on social media. The polished, filtered, prime-cut slice of their reality. It's perfectly natural to only show the highlights of the main character we've manifested between our ears. Social media is a window to altered realities of photoshopped waistlines, perfected abilities, and tunnel vision perspective. It provokes one to measure their skill, value, and progress based on what the algorithm sends to their feed. This can result in inspiration or discouragement. However, people like Caroline Richey are raised with a specific immunity to this effect. She, and others like her, use ambition as blinders and take each step like a ship breaking through ice.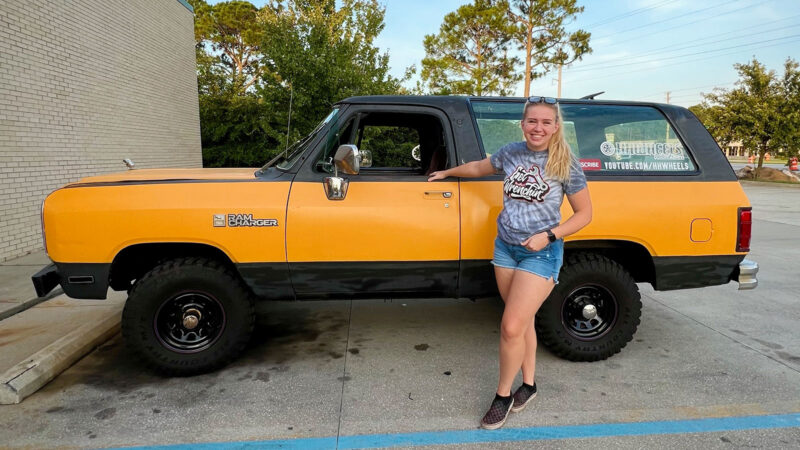 The young 22-year-old is a rogue scholar from the school of hard knocks when it comes to fixing and building cars. She operates HH Wheels auto shop with her father figure/ business partner. Manages a growing YouTube channel, designs merchandise, and lives by a philosophy of learning by doing. From a young age, Caroline Richey had a natural ability for tinkering with tools. An ability that would evolve from bicycles and lawn mowers to building her own custom 1974 Volkswagen Beetle named Speedle. Her love for all things automotive is fueled by a bona fide, genuine way of thinking that is arguably being lost in many people her age. For her, failure is not an option. It's an opportunity.
Speedle, Don't Call it a Baja
Before buying her beloved Speedle, Caroline's first experience with car ownership started with a 2012 Ford F-150. Unfortunately, the F-150 was lost in a car accident, but she quickly consoled her loss by purchasing a 1969 Ford Fairlane fastback with stage five rust. Even though the car's metal body was being eaten away by mother nature, she drove the FoMoCo muscle car for a year before selling it off to another brave soul. To this day, she regrets selling that car and plans to find another Fairlane fastback one day.
With no car and money in her pocket, she searched on Facebook marketplace for another set of wheels. She had always been a fan of Volkswagens and decided it was time to indulge in her fandom. One late night during the dawn of the 2020 Covid pandemic, she found a listing for a worn down, fender-less 1974 VW Beetle sedan in the state of Georgia.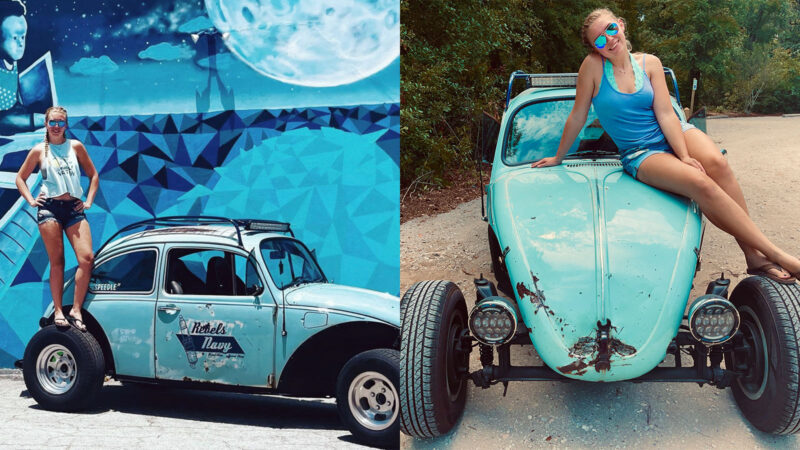 In a similar fashion, this Volkswagen also had rust problems. The car had no floor pans, and while the engine had some performance parts installed, whoever built it did it wrong and was on the verge of self-destruction. The car was a basket case, but Caroline bought it anyway. I should also point out that she did not know how to drive a stick-shift manual car at the time. Most people avoid buying a manual transmission vehicle because they don't know how to operate it. However, Caroline is of a mindset that believes in learning by doing. After several stalls and grinding gear changes, she mastered the art of the clutch-in-clutch-out.
Usually, people who buy old project cars have an idea of what they want and some knowledge of how to make it happen. But Caroline only had one clear vision: she wanted something "unique." Beyond that, she had zero experience rebuilding Volkswagen engines, repairing rust, or fabricating metal. Regardless, her ambition tackled the challenge like storming a beach – head-on.
Usually, people who buy old project cars have an idea of what they want and some knowledge of how to make it happen. But Caroline only had one clear vision: she wanted something "unique."
Speedle's 1967cc engine received all new internals during the rebuilding process. It sucks down fuel through a custom four-barrel carburetor feeding each of the four cylinders. This engine is no slow-poke and offers plenty of bang for its size. The car's roof rack is custom-made to flow with the Volkswagen's curved roofline. The car's front end is stretched and rolls on built-up axles for daily driving durability. Although she decided to keep the fender-less look, don't call Speedle a "Baja bug." This car is not built as a beach buggy. Among VW enthusiasts, this style of modification is referred to as a "VolksRod" – a street hot rod.
Currently, the interior features a set of aftermarket racing bucket seats with an extended shift lever, a custom floral headliner, and a host of unique details. Caroline never had a "plan" for Speedle other than getting it in road legal condition. As you see it now, the car represents individual expression brought on by on-the-fly inspiration. Future plans for Speedle include installing disc brakes for safety and adding more creature comforts to the interior.
Hot Rod Power Tour in a Dodge RamCharger with 2022 Gas Prices
The Hot Rod Power Tour is an annual grand tour for car enthusiasts, street racers, drag racers, and gear heads alike. A five-day road trip across several states to different racetracks. Like reaching the summit of a mountain or completing a triathlon, the Hot Rod Power Tour is a challenge for car fanatics. However, winning at the drag strip is only part of the fun. The real challenge is putting these street-legal race cars through over 1,000 miles of public highways during the hottest time of the year. Events like these are prime examples of the camaraderie in the automotive community. If you had to pick a time to have car trouble, there is no better place than on the Hot Rod Power Tour, as there will be no shortage of people willing to lend a helping hand, a wrench, or a head gasket.
Photo by Jesus R. Garcia

Photo by Jesus R. Garcia

Photo by Jesus R. Garcia
In 2021, over 3,500 cars showed up from all corners of the country, some from other countries, to partake in this traveling car meet. For 2022, the Hot Rod Power Tour saw drag strips in Tennessee, Alabama, Florida, and Georgia. Carolina decided it was a great idea to join in for the two days of the tour representing HH Wheels Pro in a second-gen Dodge Ram Charger that hadn't run in years. They got the truck running the night before setting out, and much to their surprise, the old truck ran beautifully without issue during the 1,200-mile round trip. What I was curious about was the atmosphere. This year's Power Tour occurred during historically high gas prices, and nothing spoils the fun of driving like running out of fuel.
According to Caroline, people didn't seem phased even with gas prices reaching $7 a gallon. As she puts it, "these people are driven – literally. Neither the heat nor gas prices would stop them from enjoying themselves." A positive testament to the car hobby as a whole.
She Bought a Dragster
Caroline's most recent endeavor is getting behind the wheel of a front-engine dragster. Anyone who's ever slapped, taped, or drawn a racing number on a vehicle will tell you that motorsport costs money. So, one's starting point is usually budget based. Her dragster is referred to as a "nostalgia" drag car. It is not NHRA legal, nor would it pass a professional safety tech inspection. It's a drag car for amateur, weekend warriors like Caroline dipping their toes into this motorsport. However, that doesn't mean they are racing lawnmower engines. Her dragster is powered by a 331ci Hemi V8 backed by a two-speed Powerglide automatic transmission.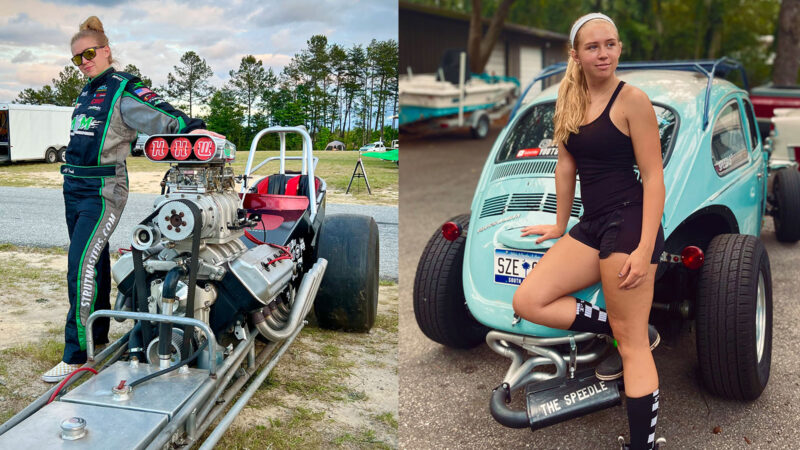 She recently had the opportunity to suit up and run down the 1/8th mile strip earlier in the summer. When asked to summarize her experience of blasting down the horizon, she said, "It was unbelievably empowering, competitive, and exciting. I would love to encourage anyone with interest to just go for it!"
A Cliche Because It Works
Based on current trends, it can feel like the automobile will ultimately be reduced to a giant self-driving electronic device, but the reality is that "old cars" are still plentiful. The curiosity of wanting to drive, restore, and race older analog vehicles will not die off from one generation to another. At the end of the interview, I asked Caroline if she had any tips of wisdom for the younger generation of wrench-turners, to which she responded, "Don't hesitate. Follow your creativity, and opportunity will follow. More importantly, embrace not knowing. Don't waste time thinking about what you don't know and invest that time in asking questions."
"Don't hesitate. Follow your creativity, and opportunity will follow. More importantly, embrace not knowing. Don't waste time thinking about what you don't know and invest that time in asking questions."
Telling someone to "just go for it" is a bit of a cliche, but like any good cliche, it's only a cliche because it works. Caroline gains experience through hands-on training. Naturally, first attempts don't always go as planned. But she sees failed attempts as an opportunity in disguise. She summed it up beautifully by saying, "Sometimes you have to break something to learn something."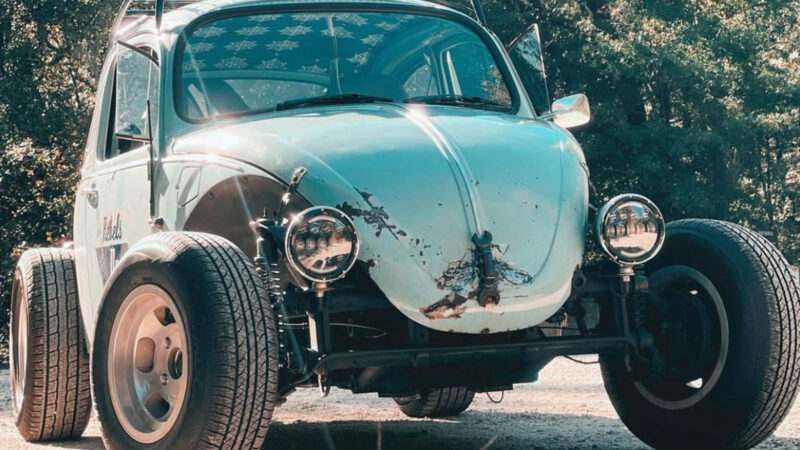 You can follow Caroline Richey on Instagram (@reelcaroline) and subscribe to her YouTube channel, HHWheels, to see what kind of unusual and entertaining projects she's currently wrenching on. Big thanks to her for taking the time to talk to IMBOLDN.