Living on the border of Mexico has its advantages, and don't let anyone who watches too much news tell you otherwise. There is more diversity in food and culture, access to subjectively more affordable healthcare, and you get to see vehicles not sold in the United States when they cross over for a visit. For example, when Ford unveiled the new-gen Ranger, most of us living on the border had already spent years seeing it in Mexico. In addition to other small pickup trucks you probably never heard of, like the Ram 700 (a Fiat) and the versatile Chevrolet "Chevy" offered as a sedan, hatchback, and pickup truck. With the new Ford Maverick and 2022 Hyundai Santa Cruz generating positive response from critics and buyers alike, I expect some of these lightweight, unibody pickup trucks to start making their way stateside under new nameplates. Until then, the new Hyundai Santa Cruz is here to remind America of the joys of owning a small pickup truck.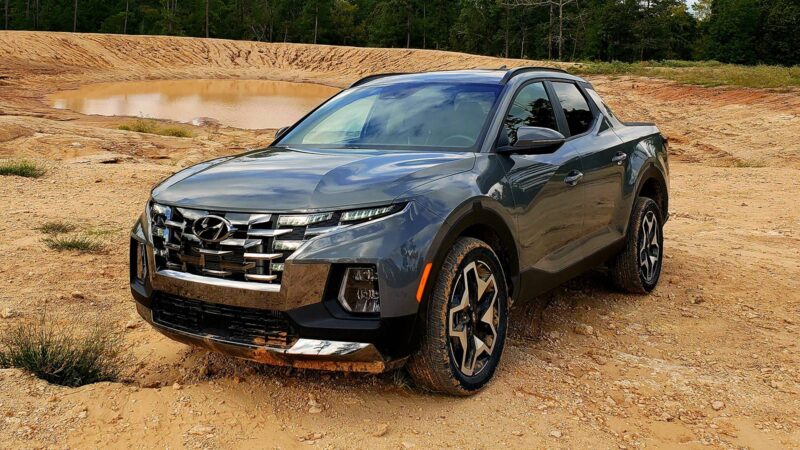 Santa Cruz Exterior Stylish is a Refreshing Sight
It's easy to throw out an "El Camino" reference when looking at the 2022 Hyundai Santa Cruz. It wears the same redesigned face as the Hyundai Tucson. However, the Santa Cruz is not a crossover SUV with a party in the back. Nor does Hyundai call it a compact-pickup truck. Instead, the Santa Cruz is categorized as a Sports Adventure Vehicle (SAV). This collection of words is the latest acronym developed by unnamed marketing teams who gave us CUV and labeled any sloping roofline a "coupe" regardless of the number of doors, but I digress. The new Santa Cruz SAV small pickup truck is a refreshing sight to behold.
The Santa Cruz's exterior styling does what any good 'adventure vehicle' should – inspire.
The car's smooth wraparound front end manifests into sharp diagonal body lines that chisel the vehicle's profile into a shape that is, in my opinion, more exciting to look at than the Santa Cruz's main competitor – the Ford Maverick. The Santa Cruz's exterior styling does what any good 'adventure vehicle' should – inspire. Walk around it, and you'll soon start to see its potential. You'll begin to imagine it with an LED light bar on the roof, bigger all-terrain tires with possibly a one or two-inch lift kit, or maybe a skid plate at the front with a tasteful bush guard.
Moreover, the Hyundai Santa Cruz exterior design will help break up the mundane scenery in parking lots across America. It's a new shape to contrast the sea of cookie-cutter SUVs and grossly proportioned full-size pickup trucks. This is a compact pickup truck that offers much more than easy parking.
Inviting Interior with a Sunroof
As with every Hyundai vehicle in its current lineup, the Santa Cruz's interior is a pleasant place to sit. Lower trim levels get cloth upholstery designed to be both stain and odor-resistant, while the Limited gets leather-trimmed seats. Instead of a dial gear selector, you get a traditional gear lever to slide from Park into Drive. Power sunroof is standard on the Santa Cruz SEL Premium and Limited in addition to lumbar support for the driver, dual climate controls, and wireless device charging. The 2022 Hyundai Santa Cruz is offered as a four-door crew cab with interior space for five passengers. Even though the Santa Cruz is smaller than its main competitors, the interior provides ample room for rear passengers.
Photo via Hyundai

Photo via Hyundai
Upfront, drivers can manage system controls on a standard 8-inch touchscreen or 10.3-inch for higher trim levels. In addition, top-of-the-line models get an 8-speaker Bose premium audio system and additional driver aids like Hyundai's Smart Cruise Control with Stop & go capability. However, all models are equipped with standard features like Apple CarPlay and Android connectivity. Standard safety driver aids on the Santa Cruz include forward-collision warning with automated emergency braking, lane-departure warning with lane-keeping assist, and blind-spot monitoring with rear cross-traffic alert.
Photo via Hyundai

Photo via Hyundai

Photo via Hyundai
Engine and Power on the Santa Cruz
Hyundai offers two engine options for the 2022 Santa Cruz. The standard engine is a 2.5-liter naturally-aspirated four-cylinder producing 191-hp and 181 lb.-ft of torque. Higher trim levels, like the Limited, shown in this article, feature a turbocharged variant of the 2.5-liter engine making 281-hp and 311 lb.-ft of torque. I recommend the turbocharged engine for buyers planning on using the Santa Cruz to partake in "active lifestyle" activities. Both variants are mated to an eight-speed automatic transmission controlled by a console-mounted shifter. In addition, buyers can opt for all-wheel drive for both engine options.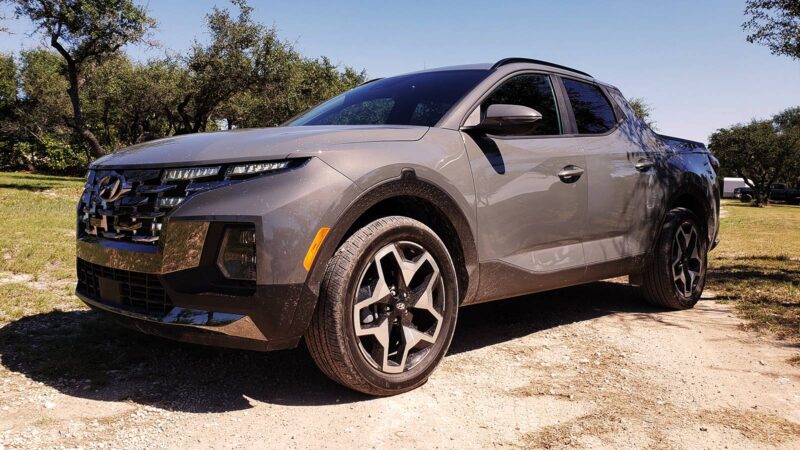 Gas mileage for the 2022 Hyundai Santa Cruz does not vary much between the two engine options. The standard 2.5-liter gets a stated combined 23 MPG with 21 city and 26 highway. In contrast, the 2.5-liter turbo is reported with a combined 22 MPG with 19 city and 27 highway. However, towing capacity does show a gap as the standard engine offers 3,500-lbs max towing. On the other hand, Santa Cruz models using the turbo 2.5-liter engine have a greater towing capacity of 5,000-lbs.
Built for the City, Lives for the Weekend
My favorite feature on the 2022 Hyundai Santa Cruz is its factory lockable tonneau cover. This bed cover is standard on the SEL Premium and Limited trim levels and is available on the lower SEL. The mechanism to open the tonneau cover is done with a center-placed lever that you push forward like the door of a cargo truck. The retractable cover then sides away from you like a garage door. Because the Santa Cruz is small, even people of a petite statue will not have trouble reaching over the side of the truck's bed to pull the tonneau cover back to a closed position.
Photo via Jesus R. Garcia

Photo via Jesus R. Garcia
Anyone who has or currently owns a pickup truck can appreciate the convenience of having a place to secure the miscellaneous objects riding in the back safely. Usually, one has to turn the cab of a truck into a hoarder's den to prevent having stuff in the bed from being stolen. Moreover, all Santa Cruz pickup trucks come standard with a lockable under-bed storage compartment. It takes up half the cargo bed's floor and lifts open like a trunk lid. It offers a convenient space to store toolboxes, camping supplies, or carry-on sized luggage bags. You can even fit it with ice and beverages as the compartment features a drain plug.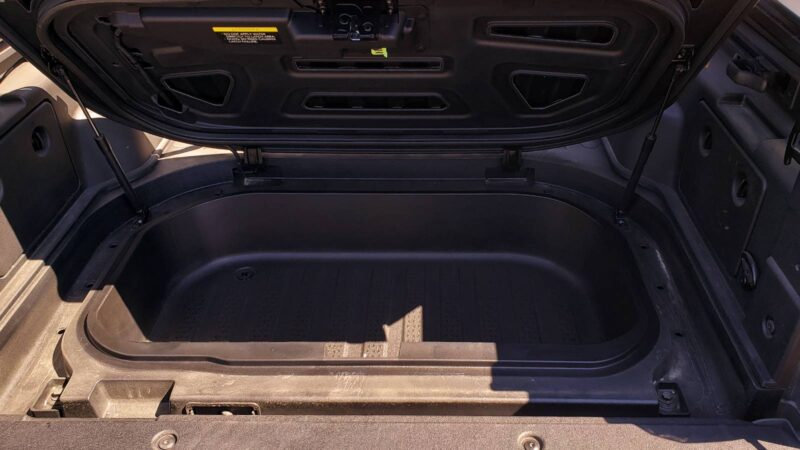 Other standard equipment on the Santa Cruz truck bed includes storage compartments along the side, integrated steps in the rear bumper, and heavy-duty cargo D-rings. In addition, higher trim levels are equipped with a 115-volt power outlet located in a sidewall compartment. As a result, the Hyundai Santa Cruz is a city truck that is always ready for the weekend.
Off-Road Test Drive
I test drove the 2022 Hyundai Santa Cruz at General Sam's Off-Road Park in Huntsville, TX, the venue for the Texas Off-Road Invitational hosted by Texas Motor Press. Here, on this 700+ acre all-terrain playground, I had the opportunity to test the Santa Cruz's all-wheel-drive capabilities. In one instance, I witnessed the little Santa Cruz following the massive Ram 1500 TRX through the ups and downs of a slippery, muddy trail and having no trouble keeping up with the supercharged muscle truck. The steering on the Santa Cruz is as light as sliding your finger across a tablet, while its all-wheel-drive system provides peace of mind for traveling through hydrated earth. It's a good little truck.
Photo via Jesus R. Garcia

Photo via Jesus R. Garcia
The Santa Cruz Brings Its Own Vibe to the Small Truck Segment
While I could only test drive the Hyundai Santa Cruz for a day, it left a good impression. However, a proper week-long road test is needed to test the little sports adventure vehicle in the truck-country state of Texas. The starting price for the 2022 Hyundai Santa Cruz is $23,990. The top-of-line Limited trim level starts at $39,720. As the small pickup truck market begins its reintroduction in America, the Santa Cruz brings its own unique style with competitive performance.