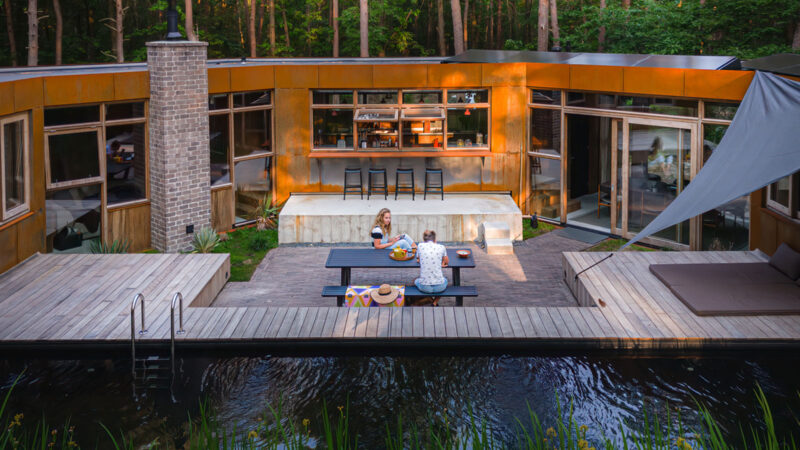 Nestled amidst the scenic woodlands of the eastern Netherlands, C House by GetAway Projects is a stunning architectural masterpiece that seamlessly blends with its natural surroundings. This unique holiday home, located just outside Rijssen in the Dutch province of Overijssel, is an embodiment of modern design harmonizing with nature.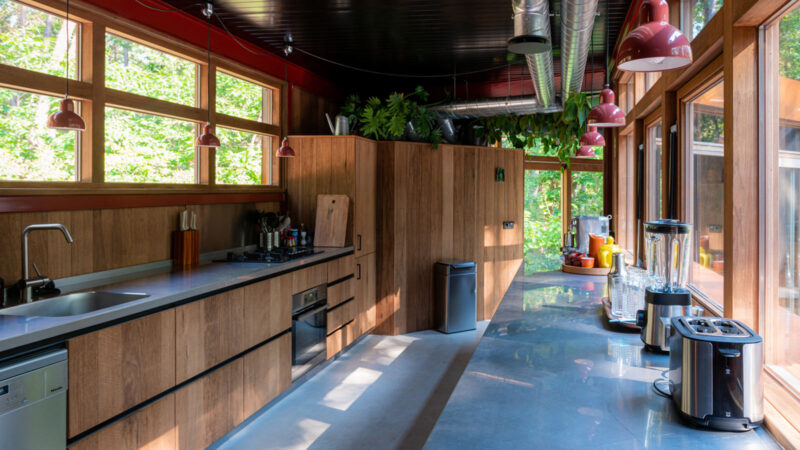 True to its name, the C House boasts a distinctive C-shaped footprint, constructed primarily with durable Corten steel. This rust-hued facade not only adds visual intrigue but also ensures longevity and weather resistance. Complementing this striking exterior, untreated Fraké wood graces the window sills, both inside and out, creating a cohesive design that resonates with the forest environment.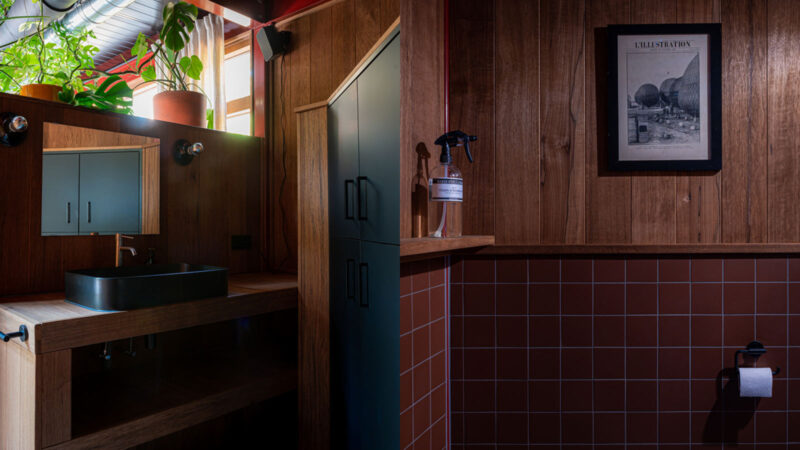 The heart of this extraordinary retreat lies within its central space – a raised kitchen that offers panoramic views of the surrounding forest. This open kitchen concept allows residents to connect with nature while preparing meals, making it a focal point for gatherings with friends and family.
The C House is not just a visual delight; it also incorporates an unheated natural swimming pool that blends seamlessly with the landscape. This 12-meter swimming lane, adorned with a helophyte filter system, not only purifies the water ecologically but also enhances the tranquil atmosphere of the house.
A unique feature of C House is its elevated bedrooms at either end of the structure, each with its attached bath. These carefully designed spaces offer privacy and the opportunity to immerse oneself in the serene natural surroundings, truly making it a private retreat.
Furthermore, a wooden deck surrounds a brick patio, creating an outdoor bar that connects to the kitchen through open windows, facilitating a seamless flow between indoor and outdoor spaces. The clever use of windows and sliding glass doors enhances the feeling of openness, despite the house's narrow footprint.
In summary, the C House by GetAway Projects is a testament to modern architecture's ability to coexist harmoniously with nature. Its innovative design, use of sustainable materials, and integration of natural elements make it a true gem in the heart of the Dutch woodlands, offering a serene escape for those seeking a unique and luxurious retreat.
In other recent architecture news, see Sailing House by IROJE KHM Architects.