If you're an avid traveler, the next few months might be tough for you with the global lockdown and all. But once we can all put social distancing behind us and get back on the road, there will be plenty of new hotels to help satisfy your wanderlust. If you happen to be the sort who obsesses over particulars like contemporary rooms, exquisite dining options, and resplendent amenities that make you never want to leave, you're in luck: there's a spate of hotels opening in 2020 that are well worth the visit. Here are the best of the bunch.
Nobu Hotel Chicago
It's happening. While most recognize Nobu restaurants for their globally renowned Japanese fare, the brand eventually—and sensibly—expanded its hospitality offerings to include hotels way back in 2013. That spurred the launch of several properties—and now they can add Nobu Hotel Chicago to the fold.
Situated in the trendy West Loop district, this luxe property marries beautiful influences from The Land of the Rising Sun with modern touches, yielding rooms that feel largely contemporary yet also verge into warm, inviting territory. Dining is, of course, impressive. Stop by the ground-floor Nobu restaurant, enjoy a bite at the Sushi Bar, or take a ride up to The Rooftop at Nobu Hotel Chicago and take in the views while you nosh. There's also an indoor pool lit by lanterns, steam rooms, and a fitness center. Just minutes from The Loop, United Center, and Navy Pier, it's well worth the visit if your goal is to be in the heart of it all.
Nobu Hotel Chicago

Nobu Hotel Chicago

Nobu Hotel Chicago

Nobu Hotel Chicago

Nobu Hotel Chicago

Nobu Hotel Chicago
Pendry West Hollywood
For Los Angeles natives, WeHo is naturally The Place to Be. There's nothing like wellness-minded experience that bridges the gap between tourist-friendly spots and local's favorites. It's no wonder, then, that there's so much buzz surrounding the debut of Pendry West Hollywood.
The boutique hotel on the Sunset Strip is classic Hollywood, what with its live entertainment venue, members-only social club, spa, and rooftop bar. Naturally, there's also a screening room and a bowling alley, along with luxurious extras like public art collections and a hyper-modern fitness center.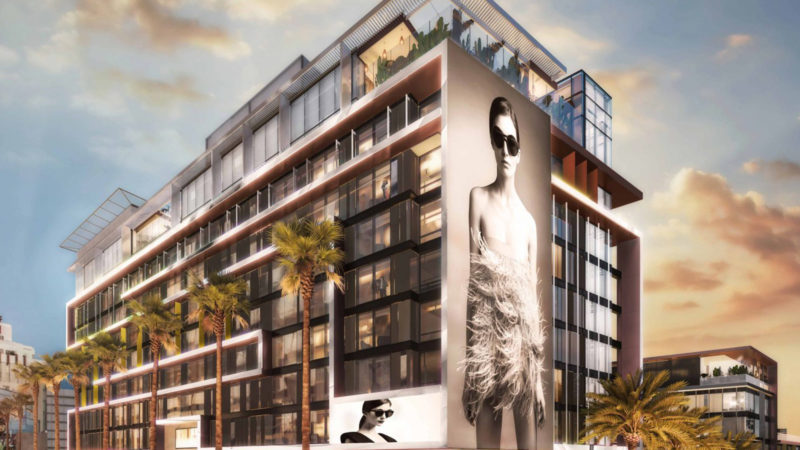 Miraval Berkshires
Set on 380 acres, the pristine Miraval Berkshires will delight anyone whose travel preferences revolve around silence and serenity. The latest addition to the portfolio of wellness resorts is just as lifestyle- and wellbeing-focused as its sibling properties. Situated in Lenox, the tranquil resort is a true sanctuary—a more appealing home away from home, complete with mindful, healing amenities designed to rebalance and restore.
To wit, the rooms are equipped with Tibetan singing bowls, guided meditation networks, and meditation cushions. Even if you don't partake in such behaviors on your own time, you'll likely feel the call to experiment in the comfort of your own room, which comes complete with plush bedding. It's on the experiential level that Berkshires properties truly shine. The Life in Balance Spa is surrounded by mountains and forests, which set the tone for an incomparable visit that encourages relaxation, consciousness, and positivity.
Miraval Berkshires

Miraval Berkshires

Miraval Berkshires
Villa Copenhagen
It's set in the former Central Post & Telegraph Head Office, which opened in 1912. But the Villa Copenhagen is most assuredly a modern offering that offers hints of its rich history. It's a luxurious delight, what with its Nordic aesthetic and incredible attention to detail. It's just minutes from the Meatpacking District and Tivoli Gardens, area highlights that guests will surely want to make some time to visit.
The property's primary focus is sustainable sophistication, and you can expect responsible practices in all areas, from the hotel's cleaning practices to its food production. There's also a deep appreciation for green beauty, which is why there's a chic promenade where guests are encouraged to relax and unwind. That the hotel is an SDG hotel—it commits to the sustainable development goals established by the U.N.—is no surprise.
Villa Copenhagen

Villa Copenhagen

Villa Copenhagen

Villa Copenhagen

Villa Copenhagen
Riggs Washington DC
The Riggs Washington DC has a deeper history than its 2020 grand opening suggestions. You only need look to the name for proof. Once the Riggs National Bank, the former financial institution handled the finances of many an American president, including the likes of Abraham Lincoln, Dwight D. Eisenhower, and Martin Van Buren. It folded in 2005, but the beauty of the circua-1891 building remained—which was advantageous for the hotel developers who eventually decided that Penn Quarter was a great place for a new hotel.
Indeed, construction plans revolved around efforts to preserve much of the old, including the property's original Corinthian columns in the on-site restaurant and the lower level bar situated in the bank's original vault. Even the rooms boast an age-old banking theme, with elements like safety-deposit boxes setting the tone. Even if you don't stay the night, it's worth a visit for the dining opportunities alone. Both the bar and the all-day eatery boast the types of contemporary-meets-historic elements that establish a sense of golden-era sophistication, and it's hard not to be taken in by features like ornamental ceilings and Art Deco-influenced lighting.
Riggs Washington DC

Riggs Washington DC

Riggs Washington DC

Riggs Washington DC

Riggs Washington DC

Riggs Washington DC

Riggs Washington DC

Riggs Washington DC
Palmaïa – The House of AïA
You will need to book those tickets to Mexico stat if you're ready to embark on the adventure of a lifetime. The sustainable property, Palmaïa – The House of AïA, is a true sanctuary—an escape from it all, complete with phenomenal oceanfront suites overlooking the Riviera Maya, along with indulgent extras like infinity pools with swim-up bars, a jungle spa, and, yes, butler service.
Mind you, this is no ordinary escape. The on-site shaman, along with "mind and body guides," are available to nurture your journey to personal growth. Here, the focus isn't just on enjoying a nice view and a cozy bed. It's about tapping into your true potential and reconnecting with your intellectual, physical, emotional, and spiritual health. Activities include sound healing, yoga, sungazing, tai chi, mantras, astrology, and dance.
Palmaïa – The House of AïA

Palmaïa – The House of AïA

Palmaïa – The House of AïA
Valsana Hotel & Appartements Arosa
When you settle in for your stay at Valsana Hotel & Appartements in luxurious Arosa, Switzerland, you'll realize just how incredible life can be. The alpine village serves as the perfect setting for the new, fully sustainable property featuring the types of green luxuries that will make you wonder why they're only just now making the scene. Impressively, guests may choose to financially offset their emissions, which in turn the hotel donates to the mountain gorilla project in Rwanda. And when you book your stay, you can choose to have a tree planted as a gesture of gratitude.
Rooms are equipped with eco-luxe features: think Elky Natur mattresses made with natural materials, mobile phone shields to protect you from radiation, and ethically sourced bath and body products. Even the food is sustainable, and much of it is locally sourced. There's also a beautiful on-site spa offering mountain views, a yoga studio, and reclaimed wood saunas.
Valsana Hotel & Appartements Arosa

Valsana Hotel & Appartements Arosa

Valsana Hotel & Appartements Arosa

Valsana Hotel & Appartements Arosa

Valsana Hotel & Appartements Arosa
Six Senses New York
Some might say it's about time. Slated to open at the end of 2020, Six Senses New York is the celebrated brand's first property in North America. Reflective of unimaginable creativity, the structure is a study in architectural grandeur. That's evident from its privileged position between The High Line and the Hudson River in Manhattan. The pair of towers seemingly twist in the wind, lending the neighborhood a distinctly unique, funky vibe.
Inside, you can expect those elements that have catapulted Six Senses to luxury hotel fame around the world. Restaurants will serve dishes prepared with locally-sourced ingredients, while a holistic spa will offer a wellness-minded menu of gentle, nourishing, and technologically-driven treatments.
Six Senses New York

Six Senses New York

Six Senses New York
InterContinental Hayman Island Resort
Once you arrive, you may never want to leave. The beauty and extravagance offered at the InterContinental Hayman Island Resort is nothing short of breathtaking. Experience the majesty of the Whitsunday Islands, what with their lush rainforests and plush white-sand beaches. The property is worth the trek for its beachfront villas, which put you within walking distance of the water. The property also offers the types of luxurious add-ons you expect of a high-end retreat, like infinity pools and Coral Sea views.
What's most impressive is the property's heartwarming rise from the ashes. It was in the wake of Cyclone Debbie, which all but demolished the islands, that the former Hayman Island Resort was refreshed. This fresh interpretation is designed with efficiency in mind. All rooms are built with eco-conscious features, while sunscreens are thoughtfully safe for reefs and other ocean life. Water bottles are made with glass. In other words, every element sets the tone for a truly green, truly glamorous stay.
InterContinental Hayman Island Resort

InterContinental Hayman Island Resort

InterContinental Hayman Island Resort

InterContinental Hayman Island Resort

InterContinental Hayman Island Resort
Mama Shelter Luxembourg
To visit a Mama Shelter property is to venture into an entirely new world. It's truly awe-inspiring, and now the fast-growing brand is set to open its newest property: Mama Shelter Luxembourg. As funky, eclectic, and outrageous as its sister sites, the newest property is a step-away-from-the-real-world situated in downtown Kirchberg.
You'll find that luxury is never too far, even when it's all wrapped up in the confines of quirk: think pink marble bars, a shop full of oddities, and a dizzyingly vibrant restaurant where the ceiling is as interesting as the menu full of homemade local fare. Rooms have a distinctly warm and cozy vibe, with elements like satin sheets, organic bath products, and even a "Mama Loves You" mirror on the wall.
Mama Shelter Luxembourg

Mama Shelter Luxembourg
Zedwell Piccadilly
A hotel designed exclusively to minimize anxiety could well be the solution to mankind's collective agonies. The new Zedwell Piccadilly in London was imagined with the general idea that sleep is basic necessity. The Zedwell concept is essentially one of comfort and nourishment. The goal is to help you sleep better, which in turn will help you feel better overall. Rooms are more like cocoons—compact and intimate, with warm lighting, no windows, and a distinct lack of furniture so that you can focus on getting those ZZZs.
Purified air helps establish a greater sense of calm and health, while amenities like a chic yoga studio, a hip sky bar with astounding views, and an on-site fitness center contribute to the wellness-minded experience.
Zedwell Piccadilly

Zedwell Piccadilly

Zedwell Piccadilly