While we often think of the word "globalization" in economical and political contexts, it's playing out in everyday life, too — including possibly in your very own living room. If you've been thinking of bringing some international inspiration into your home decor, there's no better time than now to go global. Read on for a roundup of five interior design trends from around the world.

1. Hygge from Scandinavia
This cozy-forward concept — defined by VisitDenmark as "creating a warm atmosphere and enjoying the good things in life with good people" — was all the rage a few years ago. (Some people also say it's why Danes are among the world's happiest people.) Now, it's undergoing a "rebirth," according to Homepolish co-founder Noa Santos. "I live in one of the world's most bustling cities, which makes winding down even more essential in my day to day life," he says. "For those chaotic nights when I really want to Zen out, I practice the Danish art of Hygge — and it's not just a passing trend full of all roaring fires and chunky sweaters. Hygge is a way of life and accessible to all!"

A few of Santos's tips for integrating Hygge into your living space? Par down to essential items for clutter-free comfort, gather with others, and incorporate natural elements. "Artfully arranged flowers and perfectly placed plants help cement your space as an indoor Eden…Organic materials like wood and leather work like a charm as well," he continues.

2. The KonMari Method from Japan
You can't flip on the television or open a magazine without seeing acclaimed "tidying expert" Marie Kondo. Her assertion, guided by "the Japanese art of decluttering"? Rather than spending our days endlessly chipping away at our self-made mess, we should tackle it in one epic cleaning sweep keeping only those things that "spark joy."

Kondo's sensibility has been heralded by many industry pros. Reveals San-Francisco-based designer Jessie Black, "I recently purged my home ahead of the new year using the KonMari Method, so it's all very top of mind. As a minimalist at heart with feng shui tendencies, I love how Kondo's approach subconsciously draws on many of these practices."

3. Maximalism from India
Not everyone is down with minimalism. For those who favor a "more is more" aesthetic, the vibrancy characterized by interior design from India is an appealing alternative. Proposes interior designer Vern Yip, "Like the country itself, Indian design can be characterized as warm, inviting and unabashedly bold without sacrificing sophistication or taste."


Like the country itself, Indian design can be characterized as warm, inviting and unabashedly bold without sacrificing sophistication or taste.
Gemstone colors and other dramatic and luxurious hues, floral and animal patterns, ane elephant and horse figures are a few of the hallmarks of this style.
"Remember, when layering a combination of floral and animal patterns in your own home, ensure that a broad spectrum of scales is employed. Placing small, medium, large and extra-large scaled patterns adjacent to one another allows for easy cohabitation," advises Yip.

4. "Marrakech Marketplace" from Morocco
Another red-hot trend for those who favor the ornate over the austere? The exotic flair embodied by Moroccan interiors. "Morocco's unique style and design has brought about an unsurprising surge in kaleidoscopic interiors. This fabulous trend sees rooms being swathed in brilliant deep blues and intricate detailing," says Homes to Love.

Geometric themes, antique-style pendants and lanterns, intricately carved furniture, decorative tiling, and arch motifs add up to "a sense of laid back luxury that Moroccan style exudes so well."

5. "Soft Tropics" from the Islands
While island-themed interiors aren't new, they're no longer relegated to lake houses and beach cottages. Says Ideal Home in declaring Soft Tropics a "key look for interiors" in 2019, "This uplifting trend is a joyous celebration of nature. The botanical prints are delivered in a softer format, diluted by a desaturated color palette this season. There's a strong painterly element to a lot of the designs, making the look feel less imposing that out-and-out tropical palms."

Palm prints are a main motif in this style, while go-to hues of mustard, nude print, verdant green and blue add up to the ultimate in relaxation. Velvet, wood and buff leather, meanwhile, are popular materials used to create this look and feel.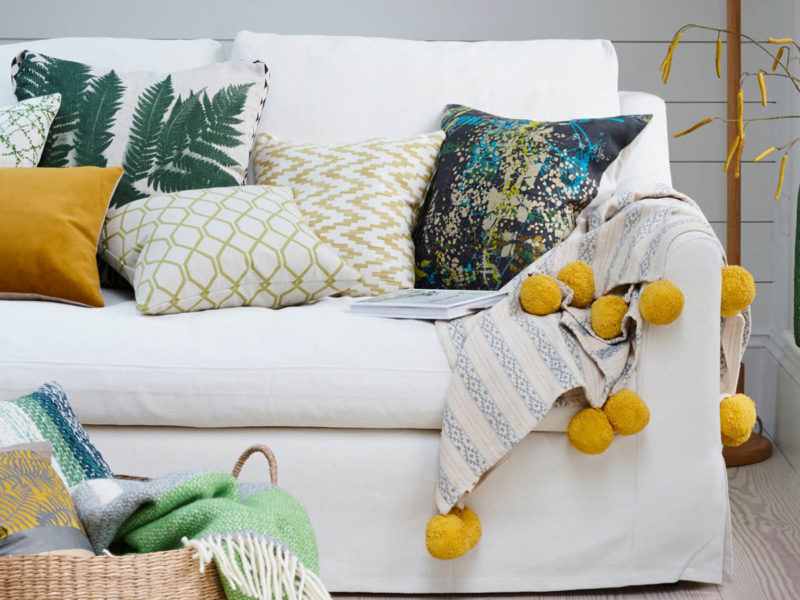 One last thing to keep in mind? When it comes to embracing global decor trends, it doesn't have to be one or the other. HGTV recently highlighted the central role mixing and matching global influences will play in defining home style moving forward. Dubbed "Global Canvas," this "mod meets artisan" style "is a modern take on traditional artisan techniques where a midcentury chair can be combined with fabrics with Aztec or Native American patterns for a fresh, new take."
The takeaway? Whether you go full-on Hygge or bring in bits and pieces of what speaks most to you, 2019 is the perfect time to satisfy your wanderlust without stepping foot out your front door.