Aether Apparel is an outerwear company based in Los Angeles. While the City of Angels might not be known for its killer winters, it's also not too far from snowy wonderlands like Mammoth and Big Bear. Yet the company is more than just jackets made for the mountains. It's a lifestyle brand that has managed to make some big splashes in a pretty competitive market.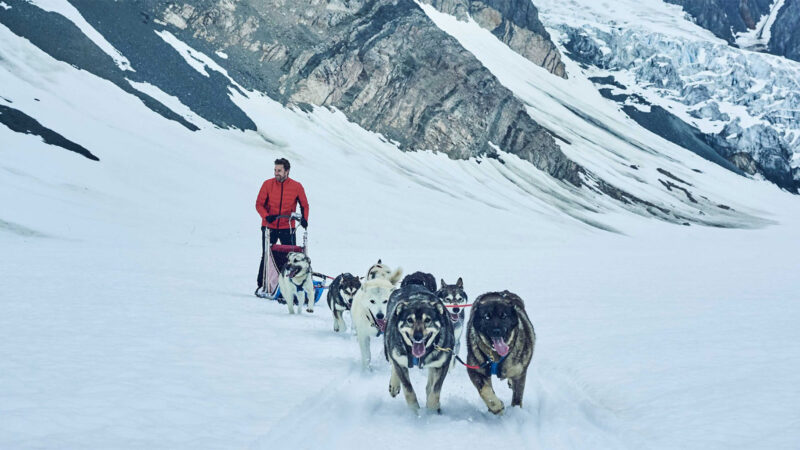 Vogue, Goop, The New York Times, and GQ are just a few of the places that have recognized Aether as fulfilling a need for the weekend warrior in all of us. These pieces keep you warm without leaving you feeling like an Eskimo. The slim look helps you move everywhere from the slopes to the city streets. Zips, pockets, seals: the wearer stays dry without getting overheated. Learn more about the history and, of course, which styles have managed to catch our eyes.
From Film to Fashion
Jonah Smith and Palmer West were originally partner producers for independent movies like Requiem for a Dream and Religulous. But as they lived their life in LA and explored all there was to find outside their doorstep, they found they were tired of the standard winter clothes that were nothing but logos plastered over obnoxiously bright colors.
If they were going to ski anyway, they might as well wear something they loved. In 2009, they set out to make a men's jacket that they would actually wear. It started off with a small collection of men's technical outerwear. but it wasn't long before that one piece of apparel turned into a range of performance gear for both men and women.
Without falling prey to the standard fleece that was the bread-and-butter of other well-known brands at the time, Aether Apparel can be taken from gym to street to trail. Aether refers to the air up there, and its brand ethos is rooted in playing as hard as you work. Whether you climb the mountain or snowboard down it, you create the memories and the adventures. Smith and Palmer just created something that you can wear while you do it.
Whether you climb the mountain or snowboard down it, you create the memories and the adventures. Smith and Palmer just created something that you can wear while you do it.
The pair has taken their styles all over the world and found their duds were able to hold up to some of the most demanding climates. More than that, they saw that plenty of other go-getters were interested in wearing something that was as warm as it was stylish.
More Stores
Aether opened a number of retail locations as the brand took off, and Smith and Palmer targeted the cutting-edge cities where fashion was king. In 2011, the headquarters for Aether was established on the trendy Melrose Ave in the trendy neighborhood of Hancock Park, Los Angeles. (Half the power used in the office is courtesy of the solar panels on site.)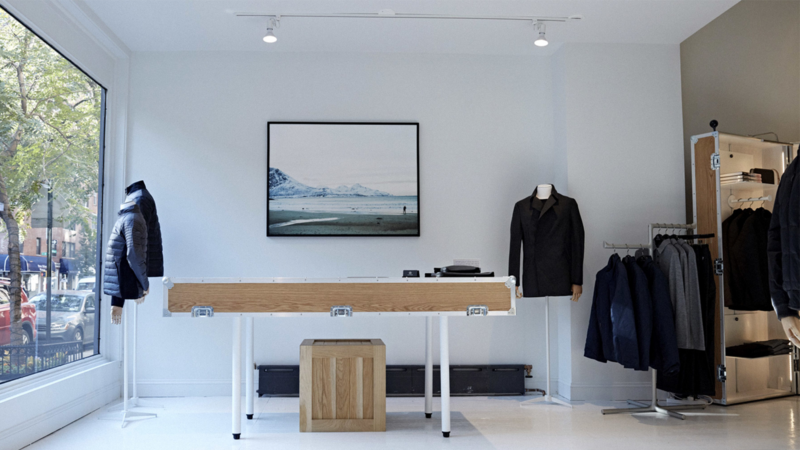 In the same year, the company literally thought outside the box by opening a mobile store in an Airstream PanAmerica. These trailers had become icons in the state, known for their distinctive style and ubiquitous presence at such fashion events as Coachella. The Airstream took to the streets in late 2011 and made its first stop in New York City.
The first retail store was opened in San Francisco in 2013 and was constructed from an old shipping crate. The company made high-end outerwear a possibility where it once didn't exist. It blended the city and the country with such expert precision that it's become an icon for those who don't mind getting a little dirty.
The LA store has a walk-in freezer that's set at 9 degrees to test out the coats and see how they fare against some brutal temperatures.
Today, people love shopping at Aether for its hip atmosphere, but they love it just as much for its commitment to quality. The LA store has a walk-in freezer that's set at 9 degrees to test out the coats and see how they fare against some brutal temperatures. Shoppers will also find a number of fun accessories to the clothing — like kayaks and axes. For those who want to stay awhile, they can read up on how containers can be recycled into buildings. Coffee table books are just one of the ways that the company draws you into a different world — one that isn't dominated by big-box stores and strip malls.
Collaborations
This brand has collaborated with a number of well-respected players in the industry. Most notably, Aether partnered with Italian-based Spidi to launch its first leather motorcycle jacket in 2014, called the Eclipse. In 2015, the brand partnered with SALT, a luxury eyewear company in LA, to create moto-inspired sunglasses. It partnered with the brand again in 2018 to create another version, this time with flexible memory metal and silicone side shields. Dubbed the Voyage, these limited-edition sunglasses had all the features that make apparel memorable.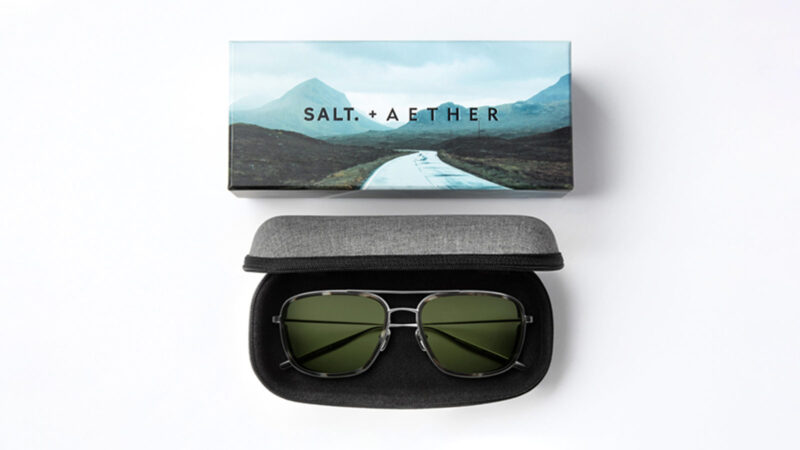 This brand has managed to find a balance between mass production and ultra-niche. Instead of only churning out one or two items, the brand has managed to build up its resources without turning into just another carbon copy of what was already available. Its customers are people who know what makes for great outdoor clothing. They look for apparel that's been engineered from the inside out, but they also looked for the kind of fashionable details that would put them in a league of their own.
Modern Takes
Aether draws inspiration from traditional styles, like quilted jackets, and gives them their own spin. The creators ask themselves if they could conceivably go from a mountain to a restaurant (or even the office!) without having to change. Only when they're assured of versatility will they end up with a new piece for their collection.
The entire brand is based on the idea that a functional piece of clothing doesn't have to sit on the sidelines. Their leather moto jacket made with Spidi has all the armored protection that a driver would need in even the worst winds, yet it's equally at home if the driver happens to be tooling around the fashionable districts of the most cosmopolitan cities.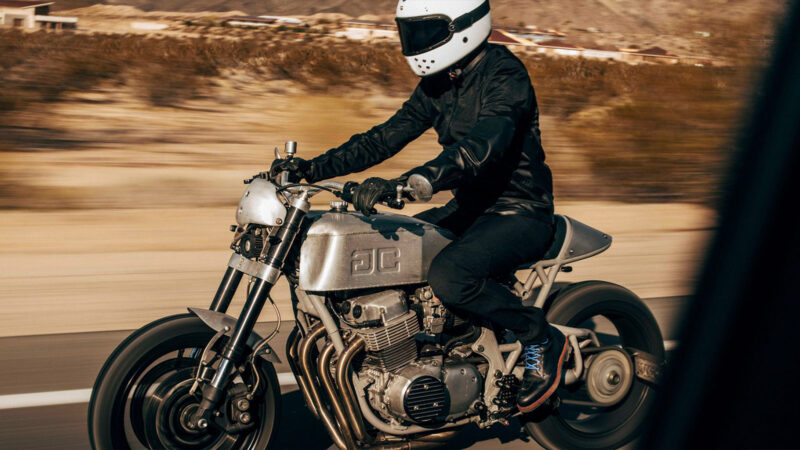 It's why the shells from Aether were designed with helmets in mind. After all, few people would want to take off their protective coverings every time they got a little overheated in the sun. There are also hoodies and drawstring pants for lounging around, board shorts to catch some waves, and parkas that won't hide your figure.
Lifetime Guarantee
One of the reasons why Aether has managed to stand out is because the brand is very much willing to put their money where their mouth is. Every piece comes with a guarantee that it will hold up to whatever you have to throw at it. From the first-layer basics to limited-edition jackets, fans of the brand have found the wintertime wear to be a staple in their wardrobes.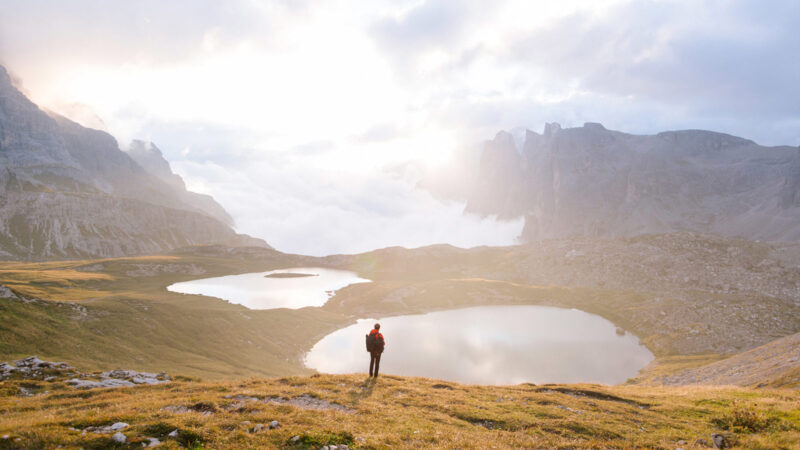 While every city has its own patterns, the cold should never keep us from venturing outside. Aether has solved a lot of the problems that keep people from feeling good out in the winds, rays, and snows. You can layer tank tops, hoodies, coats, and accessories that will insulate you from the worst of the weather. In fact, some people have reported braving Icelandic winters in their car with nothing more than an Aether jacket.
Camber Jacket
The Camber Jacket is an excellent illustration of how Smith and Palmer found inspiration in a classic style but then updated it to create a technical achievement that was far and away above what the original designers managed to create. The two added Merino wool to the rib, wrist, and collar interior to ensure that the wearer would welcome the touch of the jacket to their skin. This kind of fortification allows the jacket to be understated and sophisticated without sacrificing comfort.
The construction of this jacket is also a testament to the duo's commitment to advancing the industry. They consider how they can adapt the fashions to fit the needs of other activities. For instance, can the collar of a sailor be changed to protect someone on a motorcycle? Does it need to even be changed in the first place? This meeting of two different spaces, classical and technical, is where Aether really has the chance to shine.
Preston Jacket
Made from Italian-made leather, this jacket is insulated, wind-resistant, and water-resistant. While most people will leave their leather jackets behind when they see a rainy day lies ahead, there's no need to set this one aside. Instead of being made with the down, the Preston is insulated with Freudenberg Comfortemp® alternative made with recycled fiber balls that are both breathable and durable.
The rugged design could be equally fitting for a dive bar or an upscale club alike. Features four interior pockets and a knitted material in the hand-pocket bags that will make it an especially nice barrier from the cold.
Core Vest
The Core Vest is made with PrimaLoft® Silver insulation that is both wind- and water-resistant. It's a great way to layer up when the temperatures plunge down. One side of the vest is a solid color and the reverse features a warming quilt pattern. There's also welt hand and zippered pockets on both sides of the vest.
While Aether is known for their jackets, the company continues to update its collections as the times change. Stylish work-from-home clothes, sweaters, helmets, shoes, bags, gears: the company continues to innovate and add to their inventory. Smith and Palmer see themselves as designers first and foremost who just happened to land in the fashion industry. It all boils down to a brand that has deep roots in challenging the status quo of outerwear and for pushing it to new heights — both literally and figuratively.