Abimelec Arellano is a self taught automotive graphic artist. The odds are that you probably don't recognize the name. However, if you enjoy any kind of automotive content on the internet there's no doubt you've already seen his work. Abimelec's digital renderings of modified concept vehicles strike a nerve within our own imagination. He brings ideas that most of us have thought of, or wonder why we never did, into a visual media. Ideas like a Trans Am themed Pontiac Aztek, rat rod Bugatti Type 57, or 1959 Cadillac Eldorado gasser convertible.
One of the great things the internet offers is that it gives artists a platform to show their work to the entire world almost instantly. One of the not-so-great things is that it can spread an artist's work without including the artist's name through an endless chain of reposts, and straight up plagiarism. Even if the artist is given credit all we see is a name without context. After seeing Abimelec's work repeatedly being shared on Facebook automotive groups and used as the topic of fluff pieces on automotive websites we wanted to find out who this artist was.
We reached out to Abimelec and conducted a phone interview with the young artist. Our hope was to find out more about his unique take on automotive graphic design. More importantly, learn more about him as a person.
When one thinks of an automotive designer you think of people working for major manufactures. A designer working tirelessly over a drawing board for the latest generation Toyota Corolla that needs to fit a strict set of engineering specifications. Or people like legendary Kustom car builder George Barris designing ionic machines like the original Batmobile. Abimelec Arellano fits somewhere in the middle. He is an automotive concept graphic designer who simply designs fantasy cars. Ideas for cars that gearheads can dream about. Concepts that could be real with the right about of commas in a bank account.
Judging by his work you'd never guess that Abimelec Arellano is a self taught graphic artist. Part of the reason he developed an interest for automotive design is credited to designer Chip Foose. In his youth, Abimelec grew up watching the show Overhaulin. He was immediately inspired by Foose's ability to create dream cars using only his imagination. It didn't take long for Abimelec to decide, as a kid, to start designing his own hot rods.
Around the same time, Abimelec found himself behind a computer keyboard at age eight. He quickly discovered that Photoshop was a suitable medium for his art. Some artists feel more comfortable with a paint brush, others with a welding torch, for Abimelec it was photo editing software. He finished his first automotive rendering using Photoshop at age 11. Over time his talent outgrew the software and moved on to more advanced programs like Blender and Keyshot. Here he started to play about with 360 images that allowed him to capture every angle for his concept vehicles.
Inspirations for his renderings are always spontaneous, but every idea has to meet one specification. It has to be a vehicle he would want to drive. Coming up with an idea is so often the easiest part. The challenge is bringing that idea into the world. 3D moldings, texture matching, laying down a background, and rendering takes several hours spread out over several days to create a single idea. Usually it will take him 8-10 hours to finish one rendering, but the results always live up to anticipation.
Abimelec's automotive art is the clearest evidence that he is a true automotive enthusiast. His concepts often fool other enthusiasts into believing they actually exist. Ideas like the 1959 Escalade which has caused some people into thinking it was just an ultra rare model that only experts of the fin-era had heard of. Beyond the art Abimelec is like all other car obsessed individuals. It is a lifestyle.
Like with many creative people, his never meant for his art to be anything more than a hobby. Abimelec does this for the joy of it. To express and vent an idea that would otherwise be festering inside the mind. However, Abimelec's hobby shifted into high gear in 2015 when he entered "The Ultimate Hot-Rod Challenge" hosted by an automotive Photoshop forum called Autemo. It was the first art competition he had entered in his life. The challenge was to design a king amongst kings style hot rod.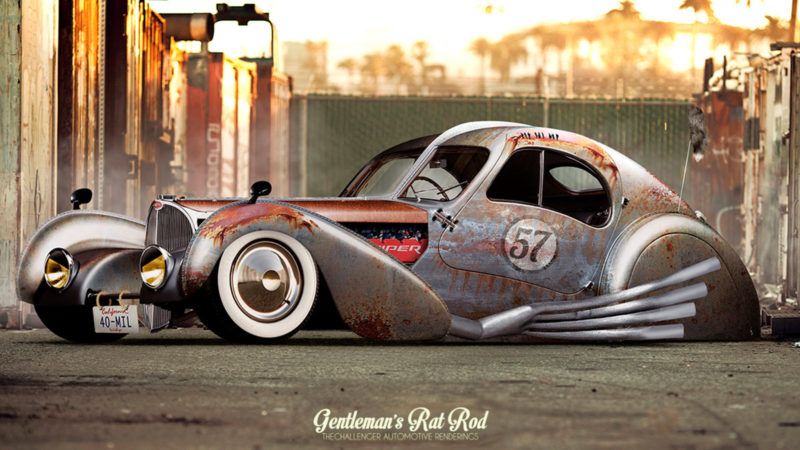 It took several days for inspiration to arrive but when it did Abimelec went all out. He submitted a rendering of a 1937 Bugatti Type 57 retro fitted with a Dodge Viper V10 engine. The Type 57 was also slammed to the ground with a set of wicked zoomie side exhaust pipes, white wall tires, and just the right amount of patina. He called it the Gentleman's Rat Rod. Abimelec ended up winning in the novice category. It was that sense of validation that fuel injected his ambition to pursue this activity into something more than just a creative outlet.
In recent years, Abimelec's hobby has evolved into a growing endeavor, giving him an ultra rare opportunity to pursue a career doing what he loves – designing badass cars. Thanks to social media people from all over the internet write to him. They ask him to use his ability to create visual aids of their vehicles to find out how specific medications will look.
Clients can range from people wanting to see how their new truck will look with a four inch lift and 35 inch tires. Wanting to see how a barn find Oldsmobile will look once restored. Or helping to decide which animal print vinyl wrap will look best on their Nissan 370Z. Abimelec has the ability to turn a gearhead's imagination into a visual media. It's why custom car shops often hire him to create renderings of their latest build ideas. Sort of like an automotive architect. Why sketch it out when you can have a 360 image of exactly what your four wheeled idea could look like?
Abimelec's social media feeds on Facebook and Instagram are like scrolling through a virtual SEMA show. Each post brings a new original idea that'll make you wish you had the checkbook to make it real. The only thing more impressive than Abimelec's creativity is his modesty as he is the first to tell you that his skill is far from perfect. We should point out that Abimelec is his very early 20's so most of the work he has done as a self taught graphic artist was completed as a teenager – an admirable achievement even if he doesn't see it that way. One can only imagine the level of work he will be producing five years from now.
The next time you see a radical realistic rendering of a car check to see if it's an Arellano design. When you think of the effort artists invest into their work you realize the importance of simply knowing their name. Like when you discover new music and feel an overwhelming need to find out who made it. This article also serves as a lesson – if you share art, always try to give credit to the artist. It's a small detail that makes a big difference.
If you have an idea for a concept car you'd like to see rendered. The best way to reach out to Abimelec is through his email abimelecoscar@gmail.com for quotes and questions about renderings.