Ahhh, summer. Time to roll out your grill, roll up your sleeves, and flip meat over hot coals (or a hot propane burner, your choice) like a man. Something about BBQ make you want to forget how to speak and regress into a series of Tim "The Tool Man" Taylor grunts, but backyard cookouts don't have to be primitive. There's life beyond burgers and beer (not that there's anything wrong with that time-honored pairing), and it looks a lot like the ideas below.
You can find a general guide to BBQ and wine pairings almost anywhere these days, but our duos eat and drink a little bit outside the box. After all, you don't throw boring parties, so shouldn't your food have a little pizazz, too?
Grilled Oysters with Albarino
Start off your shindig with an amuse bouche of grilled oysters with a tangy topping or produce an entire platter for guests to snack on as they sip and chat. Tossing oysters on the heat eliminates the risk factor associated with a raw bar sitting out on a hot summer day, and drizzling the mollusks with an herbaceous, booze-tinged butter adds a ton of interest.
Albarino has a bright acidity and crisp elegance that's lovely alongside the salinity of oysters, and both parts of the pairing have an unmistakable minerality. Even the tequila, which is known for being a bit vegetal and floral, bring something special to the pairing. This pairing is just right for a casual-yet-chic party with friends who enjoy the finer things without a ton of frippery.
The Recipe: Grilled Oysters with Spiced Tequila Butter
The Wine: Martin Codax Albarino, 2017 – $13
Grilled Southeast Asian Chicken with Riesling
Chicken has a bad rep. It's often flavorless or dry—sometimes both. Even grilled versions that retain some juiciness tend to veer into same old-same old territory of tomatoey barbecue slathered on various cuts and maybe a side of potato salad. Not anymore. You'll need to root around for a few extra ingredients to make this dish happen, but the result is so insanely good it's worth the effort.*
Pair the sticky, zippy, slightly funky flavors of the Asian chicken and spicy miso mayo with a good Riesling. The wine's residual sugar helps temper the chicken's heat and the floral and citrus qualities play nicely with the marinade.
*There is no true substitute for the floral-citrus magic that is yuzu, but in a pinch you can do a 6:1 ratio of lime juice to orange juice.
The Recipe: Grilled Chicken Thighs with Spicy Miso Mayo
The Wine: Domaines Schlumberger Grand Cru Saering Riesling, 2015 – $26
Grilled Pizza and Tempranillo
That deep, intoxicating, charred flavor you love about pizza from your local 800-degree-oven joint and can never replicate at home? Ditch your oven and throw the dough right on your grill's grate. Let it puff, then flip, add toppings, and close the lid so your pizza cooks from the bottom as well as the top. It's ridiculously simple, and you can put out an array of veggies and meats and let everyone make their own pie.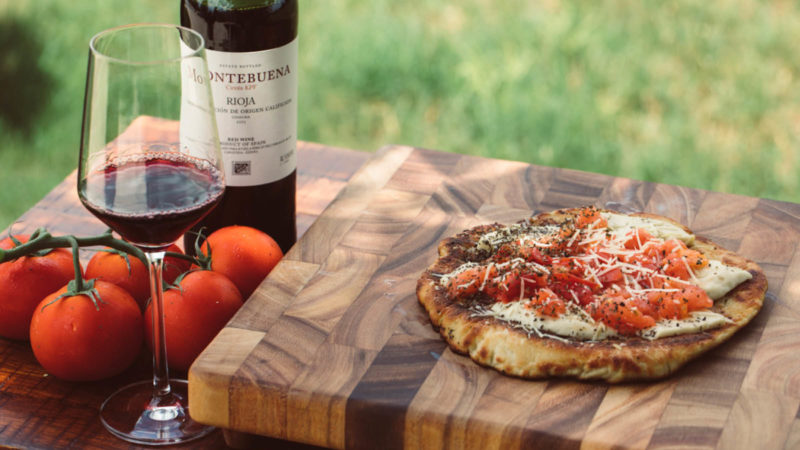 Grilled pizza dough really soaks up that irresistible smoky taste we all known and love, so you'll need a robust wine to match. Try a Spanish Tempranillo; there's a great balance between fruit and earth and plenty of character without sacrificing the wine's drinkability.
P.S.: No one's going to tell if you buy pre-made pizza crust—it's delicious and you know it'll rise and cook just like it's supposed to.
The Recipe: Alton Brown's Grilled Pizza Three Ways
The Wine: La Rioja Alta Vina Alberdi Reserva, 2012 – $21
Tandoori Lamb Ribs and Sparkling Rosé
This pairing is only for more adventurous cooks, diners, and drinkers. It takes all the finger-lickin' deliciousness of ribs, the layered spice inherent to great Indian food, the smoke of the grill, and the unctuous fat of lamb and turns it into an elevated cookout dish that will blow minds.
Sparkling wine is practically a mandate here, but not just any sparkling—a sparkling rosé. The bubbles cut through the lamb's marbling while lighter fruit flavors create an intriguing interplay with the garam masala and ginger.
The Recipe: Tandoori Champ Indian Lamb Ribs
The Wine: Mumm Brut Rosé – $48
Grilled Peaches & Ice Cream with Cream Sherry
Most American desserts teeter on the edge of sugar bomb, but grilling your favorite fruits brings out a depth that helps balance out your favorite ice cream. You can grill almost any fruit, but peaches, pears, strawberries, and even melon tend to fare particularly well. Dream up your own combo by selecting one fruit, one bread, and one creamy element; bananas, gingerbread, and black pepper whipped cream also works ridiculously well.
Good Spanish is smooth and sweet but hardly saccharine. You can typically expect deep caramel and raisinated notes with a hint of dried fruit, molasses, nuts, and spice—perfect for sipping alongside your grill-brûléed peaches and toasty brioche.
The Recipe: Grilled Apricots with Brioche and Vanilla Ice Cream
The Wine: Lustau San Emilio Solera Reserva Pedro Ximénez Sherry – $28