Louisville, Kentucky, is just a day's drive from over half the population of the United States, making this vibrant, culture-filled city an easy getaway. Whether you're looking for a weekend retreat or a longer exploration of a place that exudes Southern charm with a modern twist, the home of the Kentucky Derby has much to offer aside from horse racing and bourbon—though neither of those should be skipped.
Book a Room
Book into The Brown Hotel and you'll be joining a long list of impressive guests including Eva Marie Saint, Joan Crawford, and Elizabeth Taylor. The hotel may be big, but it oozes luxury out from the ornately carved ceilings to the embossed wallpaper in the guest rooms. Be sure to check out the rooftop garden and try the iconic Hot Brown a Louisville staple invented right on the premises. The Seelbach Hilton Louisville is another celeb hotspot, this one attracting an intriguing mix of politicians and gangsters. Revel in soaring ceilings and warm, wood décor combined with upgrades like a convenient fitness center.
A stay at 21C Museum Hotel comes with a hefty price tag, but what else would expect from a contemporary hotel that doubles as an impressive art exhibit? Enjoy incredible chef-driven cuisine at the on-site restaurant, stunningly appointment rooms stocked with avant-garde furniture and lush fabrics, and rotating installations.
Dine & Drink
Start with breakfast at Wild Eggs, a Best of Louisville winner for best brunch. Their biscuits and gravy and house-made cinnamon rolls are eye-rollingly good, the chili verde huevos rancheros will cure any hangover, and there's a gluten-free menu to boot. Another option: Please & Thank You, a bakery and coffee house with three locations serving up rich, perfectly brewed beans and a short but tasty slate of dishes like the peppercorn-laced Chive Ass Biscuit.
Visit Porkland BBQ and dive unashamedly into piles of smoked pulled chicken, "churched up tater tots", and street-style corn on the cob deep friend and covered in chili powder, season salt, and white BBQ sauce. Wagner's Pharmacy, which is a favorite of Derby jockeys, has been in operation since 1922. Plate presentation may not impress, but the wall-to-wall artifacts, burgers, and pimento cheese sandwich more than make up for the lack of microgreens.
Mayan Café is a soul-satisfying exploration of Chef Bruce Ucán's Yucatan heritage. Dishes like pan-fried chicken with jicama and pickled onion salpicon and tok-sel lima beans dole out spicy, complex flavors buoyed by the use of local meat, cheese, and produce. For an authentic Louisville culinary treat, you can't do much better than Jack Fry's. Spicy fried oysters, shrimp * grits, lamb shank, Wagyu marinated and seared in duck fat—it's an entire list of standards elevated way beyond the norm.
There are plenty of bars in Louisville, but to experience the best of Bourbon City go straight to the source. Book a custom Bourbon Trail Tour and hit some of the best distilleries in the state, or pick and choose from must-see spots like Old Forester, Bulleit, the Jim Beam Urban Stillhouse, and Copper & Kings (which also has incredible brandy).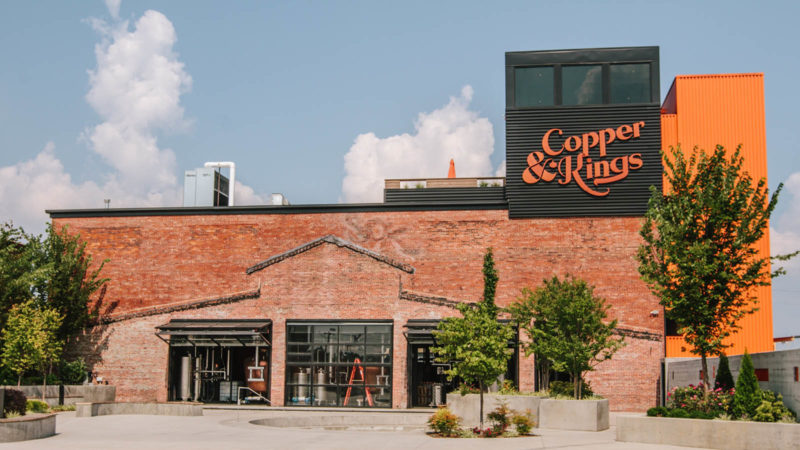 See the Sights
You can't talk Louisville without talking Churchill Downs, the home of the Kentucky Derby. Since 1875, this thoroughbred racetrack has played host to the biggest event in horse racing, the Kentucky Derby, as well as nine Breeders' Cups. Live racing starts in April, but if you visit when things are quieter you can stop by the Kentucky Derby Museum for a walking tour of the racetrack, multimedia experiences, interactive exhibits, and more family-friendly fun.
Indulge your love of America's favorite pastime at the Louisville Slugger Museum & Factory, where you can see how baseball bats are made and get your fill of exclusive memorabilia representing everyone from Ted Williams to Babe Ruth. If you'd rather float like a butterfly than take yourself out to a ballgame, spend the afternoon at the Muhammad Ali Center. Ali was passionate about promoting respect, hope, and understanding, and the center continues his legacy with a slew of community programs and a fascinating museum celebrating some of Ali's most pivotal personal and professional moments.
Stop & Shop
Walk up and down Frankfort Avenue and pop in and out of the locally owned shops selling everything from vintage trinkets to handicrafts from around the world or take home a piece of Louisville with decorative pottery and kitchenware from Louisville Stoneware (they also offer twice-daily behind-the-scenes tours).
Fleur de Flea Vintage Urban Market features unique items such as books, vintage clothes, antiques, upcycled creations, collectables and records—it's as fun to look as it is to buy—or you can get local flavor (literally) and kitschy Derby souvenirs at A Taste of Kentucky.
What to Know Before You Go
The Best Way to Travel: Fly into Louisville International Airport, which is just six miles from the downtown area, or take a train or bus from almost anywhere in the U.S. The city is also accessible via a network of highways should you choose to drive.
When to Go: Winter tends to be snowy, while summers are hot but come with cheaper room rates. The Kentucky Derby is typically the first week of May, so visit then if you like a crowd or stay far away if hustle and bustle isn't your thing.
Local Currency: U.S. Dollar
Native Language: English
Plan To: Fall in love with bluegrass music. It's incredible live.
Here's a Hint: Come with an open mind. Louisville is a loving, welcoming city that embraces anyone and everyone from immigrants and refugees to members of the LGBTQ community. Share a bourbon with a new buddy and bond over whatever makes you weird.