Ford debuted the original Maverick compact sedan in 1970 as an "import fighter" against the rising popularity of Toyota, Honda, and Nissan products. Now, Ford has rebooted the Maverick nameplate to fight in a different weight class. The 2022 Ford Maverick is classified as a compact pickup truck. Yet, after spending a week driving it, I've realized that this vehicle is more Ute than a truck.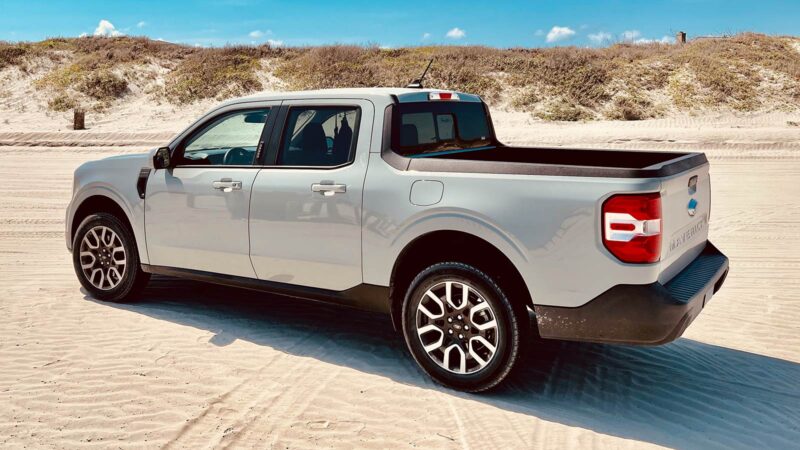 A Ute is short for "Utility" and is mainly used in Australia and New Zealand to describe a pickup truck based on a sedan or coupe. In the United States, the closest we have to a Ute is the original Ford Ranchero and Chevrolet El Camino. However, a four-door cabin, standard hybrid drivetrain, and wide range of factory accessories put the 2022 Ford Maverick in a new league.
The Charm of Versatility in a Compact Size
Pocket knives, fanny packs, Jack Russell terriers, tacos, and the smartphone you're probably reading this on are all small objects with big versatility. The Ford Maverick follows this formula to the tee. Modern pickup trucks have been bulking in size for decades, and mid-size trucks are following in their ever-widening tire tracks. So, I'm glad the Maverick stays true to its classification by being a compact pickup truck in name and size. Its stocky dimensions provide a satisfying middle ground between park-anywhere size and interior space to fit five passengers in the same comfort as a conventional crossover SUV.
Styling, Thinking Inside the Box
When I first saw the new Ford Maverick, I thought it looked a little dorky. The large square headlights reminded me of magnified eyeballs hiding behind thick glasses. In addition, its boxy exterior meant I immediately lumped in with the Jeep Renegade, Nissan Cube, and Scion XB. However, during a week of road testing the Maverick, the little pickup truck grew on me, like a four-week-old tabby cat winning over a dad who didn't want pets.
During a week of road testing the Maverick, the little pickup truck grew on me, like a four-week-old tabby cat winning over a dad who didn't want pets.
Ford offers the Maverick in eleven exterior colors, including Cactus Grey seen in this article. Inside, the model shown came equipped with the Lariat package featuring Desert Brown with contrasting blue and copper trim. Interior space for front and rear passengers is vast, thanks to a tall roofline and a broad cabin. My only criticism of the Ford Maverick's interior is the quality of the plastics. The model tested had clocked 10,000 miles by the time I got it, and evidence of wear and tear was already starting to show as light scratch marks.
Ford Maverick Drivetrain Options
The Ford Maverick featured in this article is the top-tier XLT with the optional EcoBoost gasoline engine ($1,095). The 2.0-liter four-cylinder produces a healthy 250-hp and 277 lb.-ft of torque with an eight-speed automatic transmission controlled on a rotary gear selector dial. All-wheel drive is only available with the EcoBoost engine, but the model shown uses the standard front-wheel drive.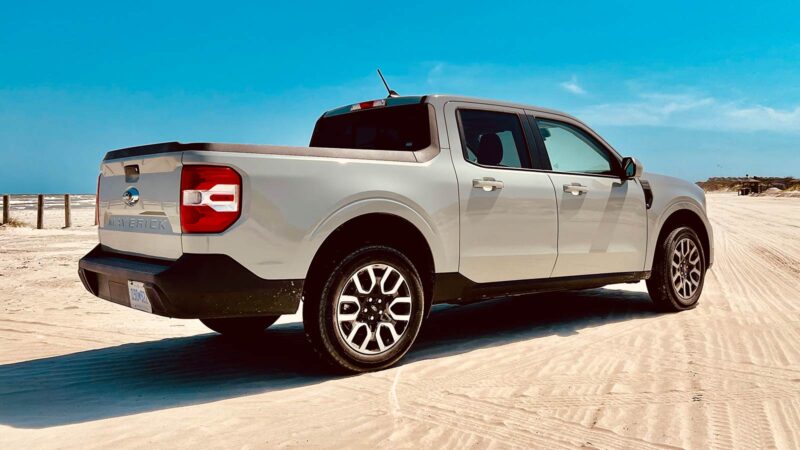 The standard engine option for all Ford Maverick trim levels is the 2.5-liter Hybrid drivetrain with an electronic CVT (Continuously Variable Transmission). This Hybrid engine offers a combined output of 191-hp and 155 lb.-ft of torque. Buyers who plan on keeping the Ford Maverick in an urban environment may favor the Hybrid engine's EPA-rated 42 mpg in the city and combined 37 mpg.
In total, I averaged 27 mpg over 724 miles of test driving.
That is not to say that the EcoBoost is a gas guzzler. EPA rating for the EcoBoost engine is 23 mpg in the city and a combined 26 mpg. To confirm these numbers, I took the 2022 Ford Maverick on a beach-day trip to Mustang Island near Corpus Christi, TX. The one-day grand tour spanned 310 miles. Unfortunately, getting to the beach meant driving against the wind, hurting the Maverick's mpg performance. Even in Eco Mode, the Maverick averaged 24 mpg. But the 155-mile drive back, going with the wind, boosted its efficiency to an impressive 36 mpg, which allowed me to reach my destination without needing to stop for gas. In total, I averaged 27 mpg over 724 miles of test driving.
Pricing for the Ford Maverick
One of the most alluring qualities of the Maverick is its $20k starting price with a 40+ mpg rated Hybrid drivetrain as standard. According to Ford.com, the 2022 Ford Maverick comes in three trim levels: XL, XLT, and the Lariat. The top-tier XLT Lariat starts at $25,860. However, it quickly crosses the 30k mark once you start checking off the options like the FX4 off-road package (EcoBoost only) or factory accessories for the all-new Ford Flexbed ™.
Ford Maverick Flexbed ™ and Towing
Photo by Jesus R. Garcia

Photo by Jesus R. Garcia

Photo by Jesus R. Garcia

Photo by Jesus R. Garcia
Ford developed the Flexbed ™ exclusively for the 2022 Ford Maverick. Like a Swiss Army knife, the Maverick's truck bed has multiple built-in features. Standard features include two tailgate cleats for tiring down objects and double as a bottle opener. Plus, ten cargo bed tie-downs and cubby storage space on both sides. At its mid-position, the Maverick's tailgate is rated for 400 pounds. The truck's bed size is wide enough to stack 4×8 sheets of wood/drywall over the bed's wheelhouses. Max payload for the Ford Maverick is rated at 1,500-pounds.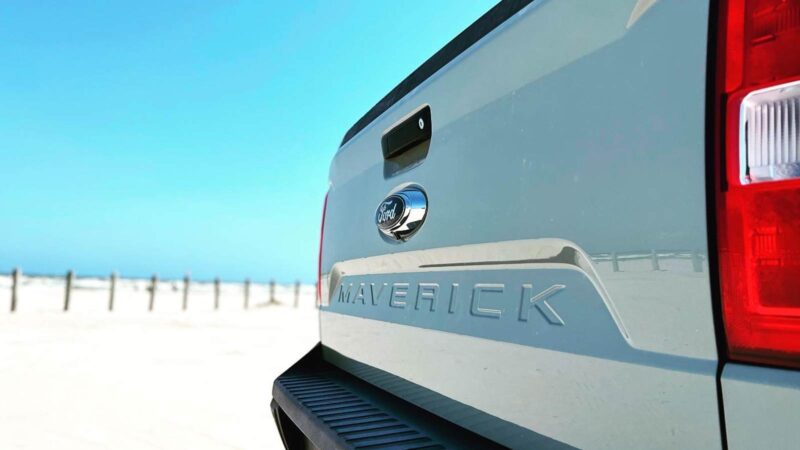 There are two 12-volt plug-ins and an optional 110-volt power outlet. In addition, there are eight threaded holes in the bed for DIY projects suggested by Ford for the Flexbed via a QR code located in the corner of the bed. Ford's website offers an extensive range of accessories for the Ford Maverick Flexbed. One of my favorites is the $280 Toolbox Swing Case that tucks between the side of the bed and wheelhouse like a saddle bag.
Moreover, a truck of this size means the tailgate is shorter than 30-inches off the ground when lowered. It makes loading heavy objects, like 80-pound bags of concrete, a lot easier. The downside of the Maverick's truck bed is its only 54.4-inches long. It's large enough to fit a mountain bike but too short for a canoe without using the roof or a bed extender (an available option).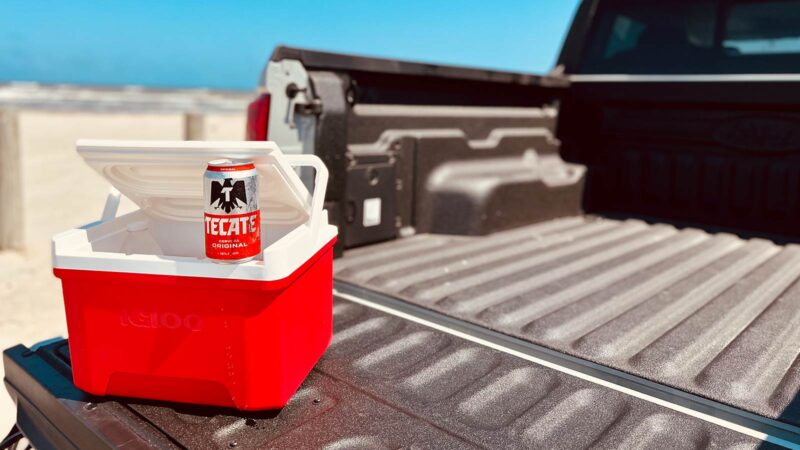 For towing, the 2022 Ford Maverick offers a max towing capacity of 2,000-pounds for the Hybrid and EcoBoost engines. However, EcoBoost models can be equipped with Ford's 4K Tow Pack ($725), which increases the truck's towing capacity to 4,000-pounds. How? By upgrading the EcoBoost's radiator and cooling fan, adding a transmission oil cooler, integrating a trailer brake controller, and altering the axle's gear ratio to compensate for heavier loads. The tow package also adds a two-inch trailer hitch and a seven-pin trailer wiring plug.
A Truck in Name Only
I have trouble calling the Ford Maverick a pickup truck for the same reason ranchers don't refer to a mule as a horse. It wears the body of a pickup truck but does not feel like one. Instead, it drives like a compact sedan with a taller ride height, which is the core personality trait of a crossover SUV. The steering is responsive but numb, as is the throttle, which has a noticeable signal delay from the moment you press down on the pedal to hearing/feeling the EcoBoost engine react. If I were unaware of the open truck bed, I would confuse the Maverick for the Ford Escape based only on its driving characteristics.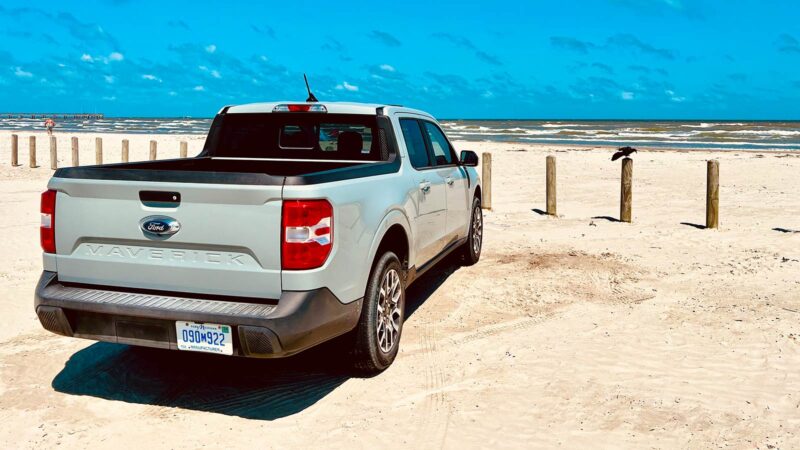 The Maverick is not a pickup truck, it's a Ute that identifies as a compact truck, and that's fine. It's part of the Ford Maverick's main selling point – versatility. It can be a fuel-efficient hybrid city commuter or an all-wheel-drive weekend escape vessel while providing a comfortable space for up to five passengers. The 2022 Ford Maverick is a small, spacious, practical vehicle.
Suppose a Ford F-350 Super Duty is the Budweiser Clydesdale of the F-Series stable. In that case, the Maverick is a docile mule. Like a mule, the Maverick is a result of two different species (truck and sedan) used to create a strong, capable, and durable hybrid. Moreover, like a good mule, the Ford Maverick's size and adaptability are not only charming but endearing.