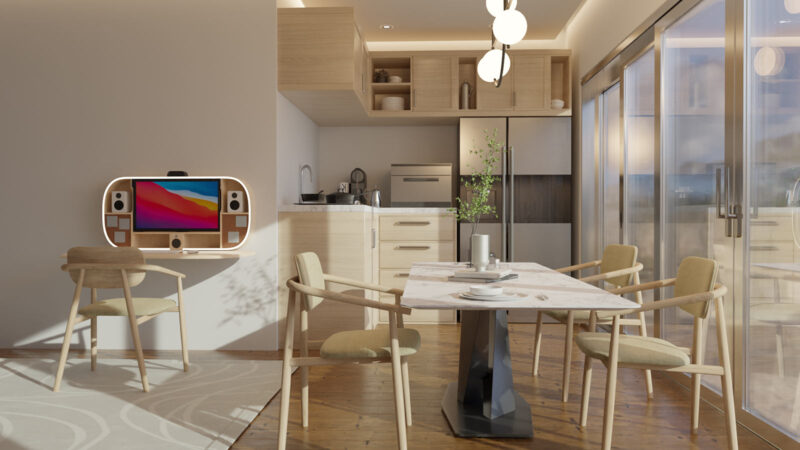 San Francisco-based Friday Furniture presents the Clamshell Desk, a game-changer for those seeking a stylish and functional workspace. This innovative desk offers a space-saving alternative to bulky tables, making it an ideal choice for individuals with limited living space.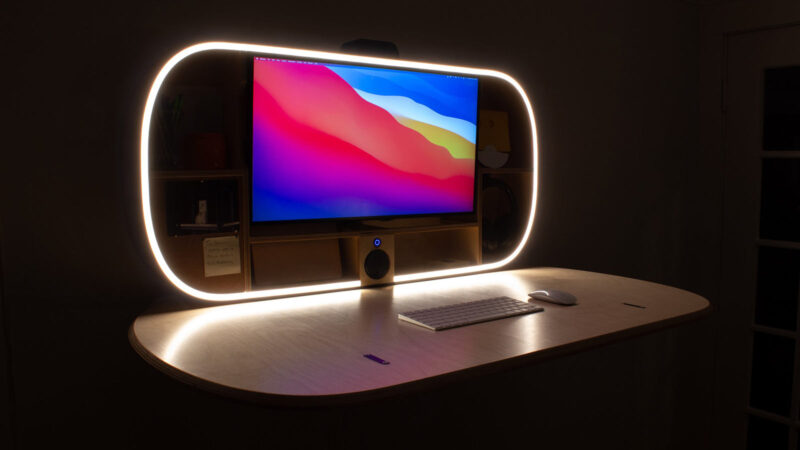 The Clamshell Desk features a foldable design that sits just 6.6 inches off the wall when closed, making it virtually invisible. When opened, it transforms into a spacious workstation with ample room for a monitor, peripherals, speakers, and stationery. The desk even includes a built-in webcam notch on the top and an integrated warm LED strip ring light, perfect for video calls and late-night work sessions.
Not only does the Clamshell Desk marry aesthetics and function seamlessly, but it also boasts several practical features. The desk's vertical portion includes cork pinboards, USB ports, and a button to activate the LED strip. Additionally, it offers a crawl space behind the monitor to store your laptop, keeping your workspace organized and clutter-free.
Constructed from birch plywood, the Clamshell Desk ensures durability and longevity. It offers a built-in monitor arm capable of accommodating a 27″ display and a headphone hook for convenient storage. Additional optional upgrades include cork pinboards and the Logitech Brio 4K webcam, further enhancing the desk's capabilities.
With its dimmable LEDs and adjustable design, the Clamshell Desk offers a customizable work setup that complements both your decor and your requirements. Priced at $1,400, this handcrafted masterpiece is a worthwhile investment for those seeking a sleek, functional, and space-saving workstation.
In other furniture news, check out the Carl Hansen & Søn TK8 | Daybed.