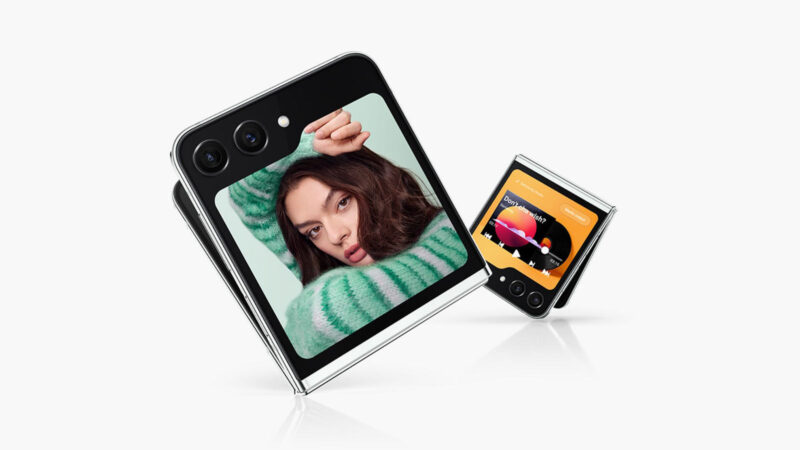 In a much-anticipated event today, Samsung wowed tech enthusiasts with the grand unveiling of their newest line of mobile phones – the Galaxy Z Flip5 and Galaxy Z Fold5. These new smartphones boast cutting-edge features that will elevate the mobile experience.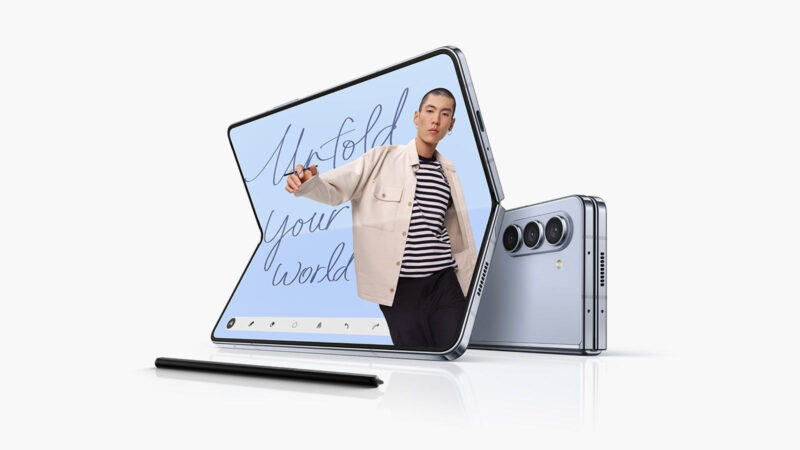 The Galaxy Z Flip5, already renowned as the most popular flip-style smartphone on the market, has received an eye-catching upgrade for its 5th generation – the new Flex Window. This 3.4-inch AMOLED screen (748 x 720) on the outside of the phone allows easy one-handed use even when the phone is snapped shut, offering quick access to notifications and apps.
A significant enhancement comes from the powerful Qualcomm Snapdragon 8 Gen 2 chip that powers both the Galaxy Z Flip5 and Galaxy Z Fold5. This translates to better performance than previous generations, ensuring seamless multitasking and faster app launches.
The Galaxy Z Flip5 boasts an impressive 6.7″ AMOLED FHD+ screen with 120 Hz refresh rate, delivering stunning visuals with a pixel density of 425 ppi. With 8 GB RAM and storage options of 256 GB and 512 GB, this phone ensures ample space for all your data needs. The 3700 mAh battery keeps you going throughout the day, while the 12MP wide camera, 12MP ultrawide camera, and 10x digital zoom capture stunning photos and videos.
On the other hand, the Samsung Galaxy Z Fold5, with its larger 7.6″ AMOLED QXGA+ screen with a 120 Hz refresh rate and a pixel density of 374 ppi, promises an immersive viewing experience. The 12 GB RAM and storage options of 256 GB and 512 GB ensure smooth performance and ample space for your files. The 4400 mAh battery ensures all-day usage, while the 50MP wide camera, 12MP ultrawide camera, 10MP telephoto with 3x optical zoom, and 30x space zoom deliver exceptional photography capabilities.
Both phones feature IPX8 waterproofing, protecting them against continuous submersion, making them ideal companions for adventures and unpredictable weather. Available for preorder now, the Samsung Galaxy Z Flip5 is priced at $1,000 and the Galaxy Z Fold5 starts at $1,800.
Mark your calendars for August 11, as that's when these futuristic devices hit the shelves, ready to redefine the way you interact with your mobile world. Whether it's the compact elegance of the Galaxy Z Flip5 or the expansive versatility of the Galaxy Z Fold5, Samsung's latest offerings are bound to impress.
For more recent news from Samsung, check out the Samsung Odyssey OLED G9.