There's a beautiful car parked in your garage. You go out there from time to time just to look at it. Occasionally you'll dust it off and maybe you'll even wash it, just for an excuse to run your hands over that sensuous bodywork.
But when was the last time you actually drove it? Sure, it looks gorgeous just sitting there, but cars were made to be driven. Maybe the problem is that you've got nowhere to go. Every car enthusiast agrees, most roads are too crowded, too straight and offer little to look at. What you need is a great driving road, one that lets you enjoy your pride and joy. Here's a look at four of the best, and if there isn't one near you, what better excuse for a road trip?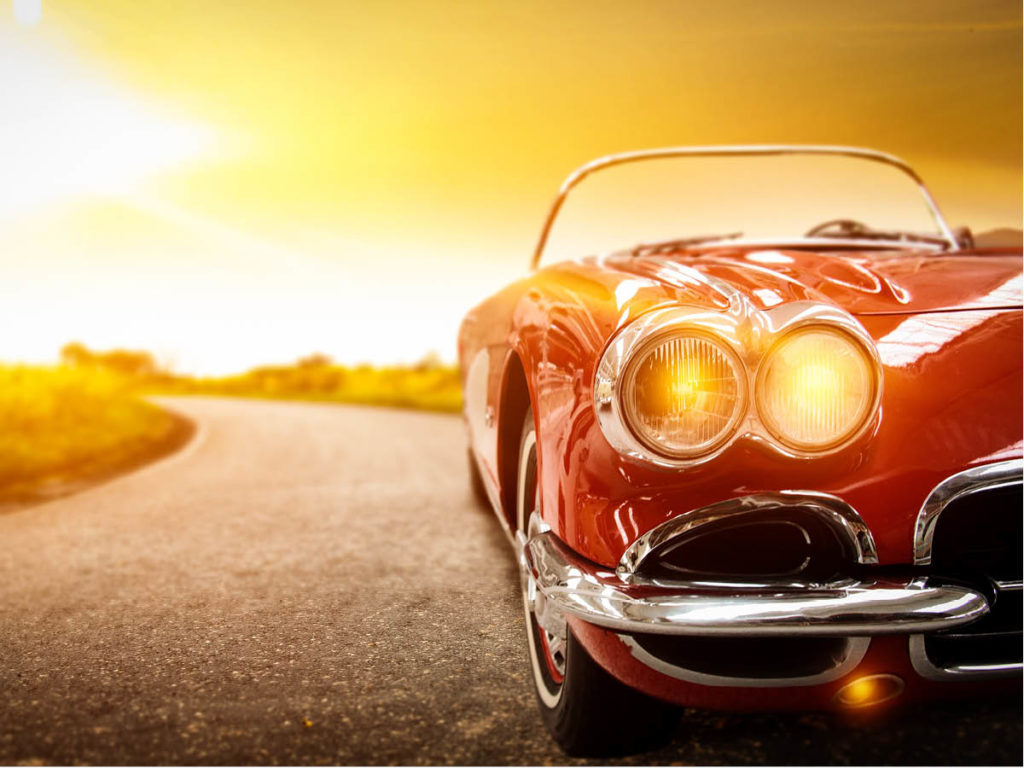 Pacific Coast Highway
Also known as Highway 1 or California State Route 1, this is the road everyone knows. Even if you can't place it on a map you've seen it on TV, especially the Bixby Bridge. Featured in multiple car commercials, this spectacular concrete structure is at the northern end, where it parallels the Pacific Ocean near Big Sur. Parking areas at each end let you drop off a passenger/photographer to record your drive across.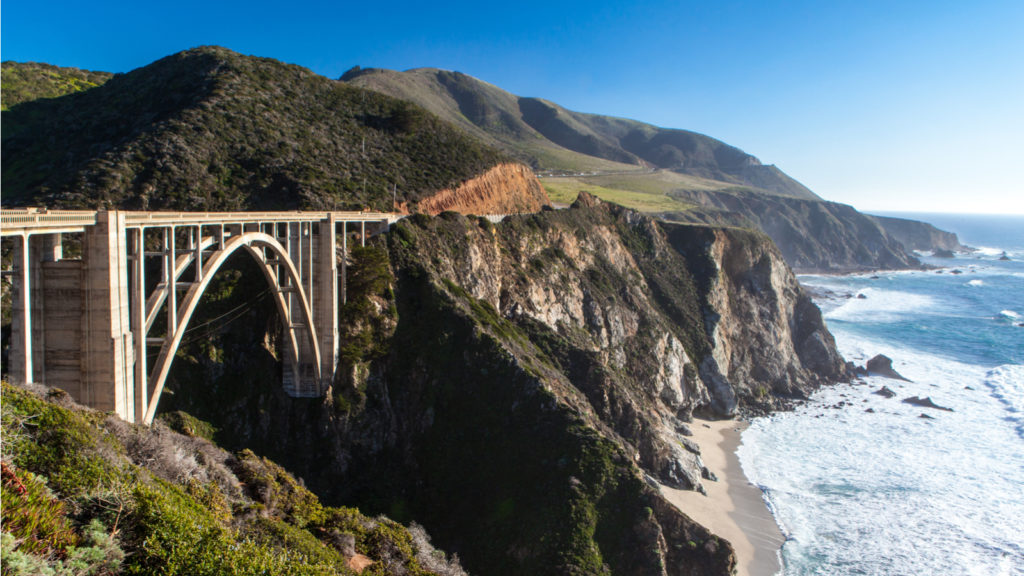 The PCH, as it's known, runs from San Francisco to San Diego but there's one section everyone should drive: Monterey south to LA. Heading south puts mountains on your left and the ocean on your right. (It also puts your passenger near a few precipitous drops, which might be reason enough for driving south-to-north.)
This two lane road twists and turns as it follows the coast, rising to climb onto clifftops before dropping back to beach level.
This two lane road twists and turns as it follows the coast, rising to climb onto clifftops before dropping back to beach level. It's not a fast road but speed isn't the point: you're driving it for the views and the sunshine.
Should hunger pangs strike, there are a few fabulous places to stop for food. Nepenthe, perched hundreds of feet above the water near Big Sur is one. Be aware though that many stretches of this route are quite empty and cellphone coverage is patchy. Stopping overnight almost certainly means making a detour inland.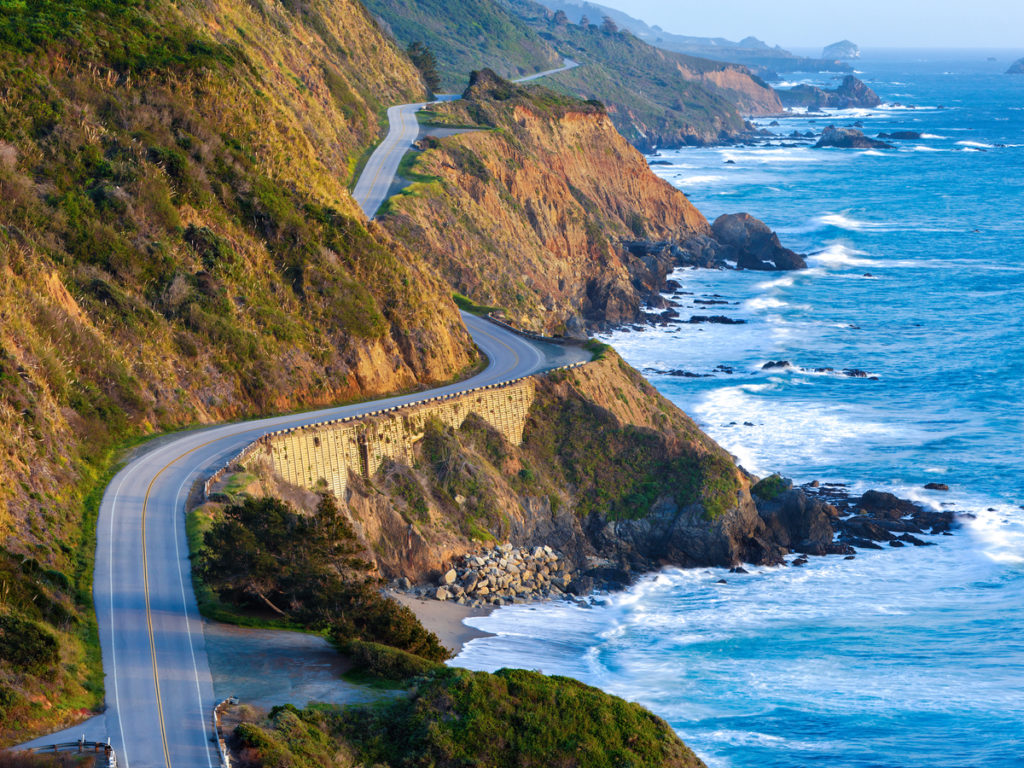 Blue Ridge Parkway
Another well-known road with a view, the Parkway winds along the Smoky Mountains from Afton, Virginia to Cherokee, North Carolina. Its 469 miles take you through pastures and rolling meadows, through Rocky Knob and Fancy Gap, past Asheville and down to the Great Smokey Mountains National Park.
Like the PCH, this is not a road for driving quickly. Just take your time and enjoy the often spectacular views. Note though that you will be among trees in may places, with not so much to see. Wildlife is plentiful but get up early if you want to see a bear!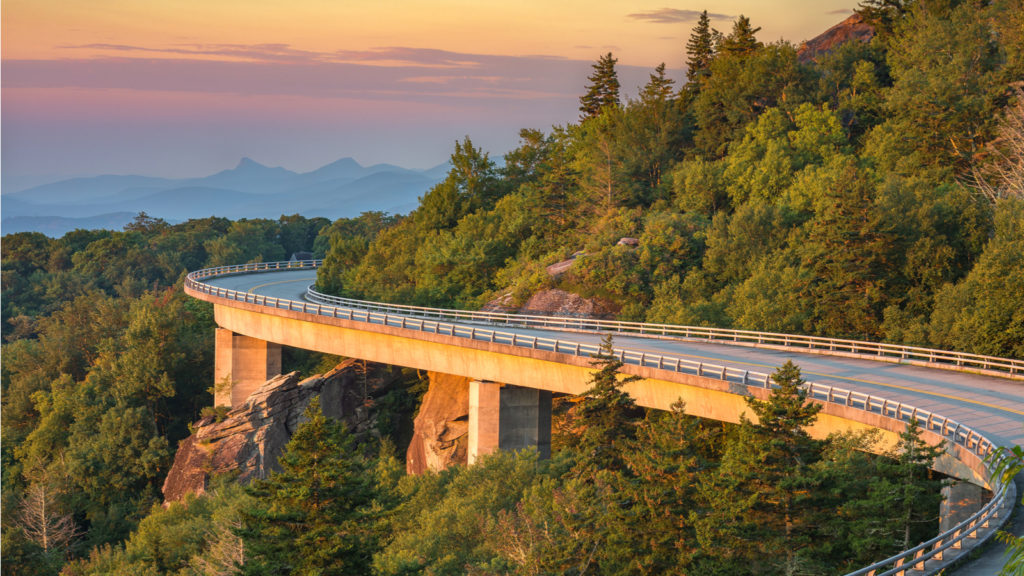 For many people the best time to drive the Blue Ridge Parkway is Fall, when the changing leaves make for breathtaking views. That inevitably means a lot of traffic, which could take away from the experience.
Tail of the Dragon
While the PCH and Blue Ridge Parkway are long leisurely drives, this is quite the opposite. It's just 11 miles from end-to-end yet incorporates 318 curves. (Yes someone counted 'em!) For many of the drivers and motorcyclists who take the challenge, the goal is to go as fast as possible. Sadly, some never make it to the end, so please take care!
It's just 11 miles from end-to-end yet incorporates 318 curves. (Yes someone counted 'em!)
You'll find the Tail at Deals Gap where North Carolina meets Tennessee. This puts it in the Great Smoky Mountains National Park and it's those mountains that give the road its twists and turns. There are almost no elevation changes though as it runs more-or-less alongside a river. Being a National Park, there are also no driveways or intersecting side roads, which is part of the appeal for more enthusiastic motorists. The scenery by the way is beautiful with trees and wildflowers lining the road. Just leave it to your passengers to look at them!
The Turquoise Trail
Few trees line this desert road running from Tijeras, east of Albuquerque NM to Santa Fe. Instead, you'll take in mountains and stunning views along a road that combines sweeping curves, straights and elevation changes.
Heading north out of Tijeras puts first the San Pedro and then the Ortiz Mountains on your right. Over to the left there's the Cobola National Forest and Sandia Crest. At 10,678 feet it's one of the highest points in New Mexico and delivers wonderful views over the Rio Grande River and Albuquerque, almost a mile below. While not strictly part of the Trail, it's an easy and tempting diversion.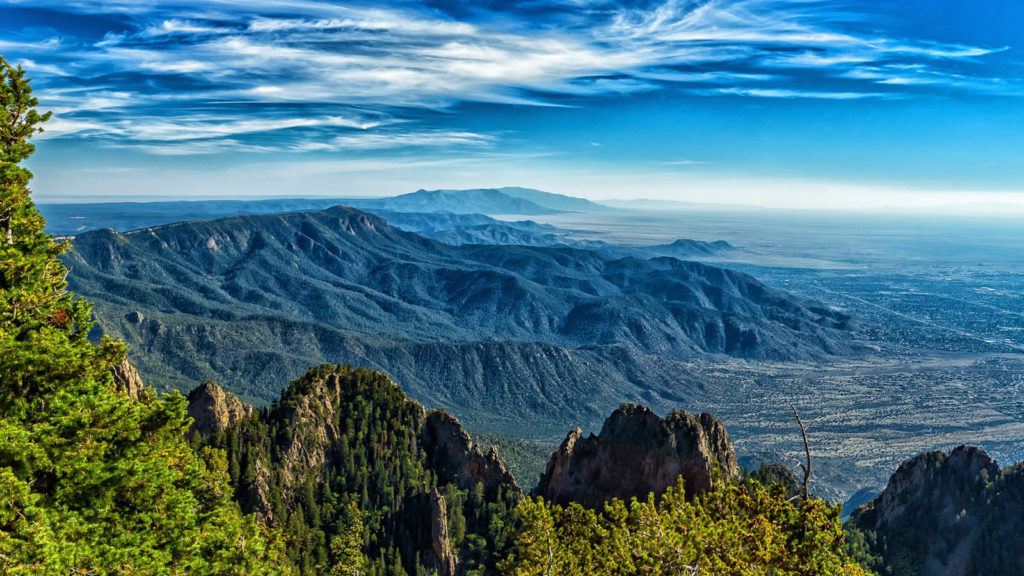 Dawn and sunset are perhaps the best times to drive the Turquoise Trail. The low sun highlights the mountains and really brings out the desert colors. Sunsets can be especially dramatic.
Hit the road
Cars were built to be driven, but crowded city streets and potholed highways are no fun. Maximize your motoring pleasure by heading out to one of America's great driving roads. Whether you'll spend minutes on the Tail of the Dragon or a week on the Blue Ridge Parkway, there's nothing like being out on a road that twists and turns it's way through great scenery. One last tip though: it might be prudent to check for road closings before leaving home. Especially common on the Parkway and the PCH, these will definitely put a damper on your fun.