Indoor plants not only brighten up your exterior space and complement your interior design, but they may also boost spirits and even improve your indoor air quality. Is there any reason you wouldn't want to sharpen your green thumb and become an indoor planter extraordinaire? If you're intrigued by the idea, get started with this handy guide.
Popular Houseplants to Consider Growing
The key to maintaining a healthy indoor garden is to select the right plants. In general, plants ideal for indoor growth are very low maintenance and don't require excessive moisture or sunlight to thrive. They're also unlikely to attract pests and won't grow rapidly, which is something that you want to avoid or you won't be able to enjoy it for very long. Here are a few examples of plants that perform well inside the house:
Aloe: You know the name, but did you know that aloe makes an awesome indoor houseplant? It's renowned for its medicinal value and is capable of growing approximately three feet tall. It makes a statement with its lean, pointed leaves, but won't overwhelm the room. The best part about growing aloe indoors is that it doesn't demand anything unusual—an average 70-degree temperature is perfectly suitable, so long as you keep it in the sunlight and plant it in dry soil.
Dieffenbachia: At a glance, dieffenbachia is enough to remind anyone of a sultry summer in the tropics. But it's more than just a pretty face: this plant grows upwards of six feet tall and grows well in 65-degree spaces. Make sure that the soil is just moist enough—not soaking—and maintain low light exposure. Soon you'll have a beautiful piece of greenery to serve as an accent in the room.
Shamrock Plant: Do you love the idea of growing a plant that is vibrant, colorful, and may even throw a little good luck your way? Acquaint yourself with the brilliant shamrock. Clover-shaped leaves bloom in different shades of green, and it will display delicate blossoms throughout winter, spring, and fall. Because they're so viable for most of the year, they add a uplifting touch to any area of the home. Lightly damp soil, 70-degree temperatures, and bright light are all that this cheerful houseplant requires.
Snake Plant: If you're all about tough plants that are more robust than delicate, turn to the notoriously strong snake plant. This striking perennial is available in numerous styles and colors, and generally handles any room temperature and even low levels of light exposure quite well. Root rot is an issue when the soil is too damp and compacted, so err on the side of less frequent watering.
Do you love the idea of growing a plant that is vibrant, colorful, and may even throw a little good luck your way?
Dracaena: For many, the appeal of the dracaena is that it's a natural air purifier. Many of the chemical components found in paint, building materials, and furniture can contaminate indoor air and cause health issues for people with allergies or otherwise compromised immune systems. Dracaena removes many of these pollutants, helping to improve breathing and general comfort in the process. It's a drought-tolerant houseplant, performs well in low light, and handles average indoor temperatures of 70 degrees perfectly.
How to Embrace the Trend
There's more to indoor planting than shoving a pot in the corner of a barely used room. You want to maximize the beauty and usefulness of your greenery. It helps to think of each plant as a home accessory—a complement to your décor and furnishings, and a fresh way to rejuvenate spaces that need a little love and attention. That could be anything from the guest bedroom to the home office to the family room. Any space where you spend time can benefit, as you'll also reap the rewards of day-brightening foliage and potentially cleaner air.
Before you choose your plants, however, make sure that you've taken stock of the size of the room where you plan to place your plants. Avoid overwhelming any single space with a whole slew of pots, as that can take away from the singular beauty of different varieties. If some of them require ample window space, make sure that you've made accommodations for them. And if some are expected to grow considerably high or have wide leaf spans, take that into consideration, too. You'll need the room!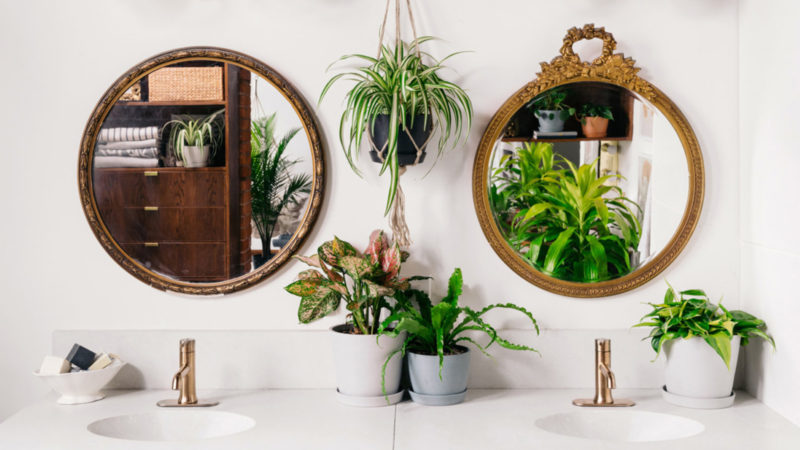 Brands to Watch
Where would you be without a few helpful products and brands to help you get started on your journey to a greener life? Here are a few must-have and must-watch companies to get you started on the path to brightness.
FYTA
The FYTA Beam is a sensor that works with your smartphone to help you keep track of your plants and maintain their health. Hey, we're all busy, and sometimes it's hard to remember what you ate for breakfast, let alone when you last watered the plants. To the rescue comes this innovative sensor that makes a virtual connection with your plants and informs you when it's time to fertilize, water, or move them to a better location. It takes into consideration all of the important factors, like nutrition, soil quality, light exposure, and temperature.
Bloomscape
So you know what you want but you aren't at all familiar with how to navigate the wide world of plants. Enter Bloomscape, which is designed to simplify the shopping process by securely packaging the plants in pots that you love and sending them straight to your door. These fully grown beauties are ready to go—all you need to do is find a place to put them. They also include care information, so you can be sure that your fresh greenery remains that way for as long as possible.
Leaf & Clay
You like everything—including the kind of unusual plants that steal the spotlight right away. The beauty of the Leaf & Clay selection is that almost everything does exactly that. These are striking, brilliantly designed greens available in interesting textures, dramatic colors, and beautiful shapes. They're artisan-quality plants, and you can use them to either brighten up a table or to complement some of the simpler greens in your home.
The Sill
If you're fully on board the subscription box train and would love if someone came up with one for plant life—well, you're in luck. The Sill makes it easy to add some fresh options to your indoor garden every month. They'll send a handpicked plant in a ceramic planter, and you can also shop for all of the essentials that you need to make sure your indoor garden thrives.