Fall and winter all but insist that you change your wardrobe at the first sign of a gust of wind. No longer is it practical to wear those well-worn sandals you lived in all summer. The obvious shift in temperature demands that you swap the usual footwear for more substantial options that keep your feet warm. Whether you live in a frosty climate or an area where snow is unlikely to fall but the mercury certainly will, you'll feel a lot cozier in some of these shoes.
Work
Even if you wear the same pair of shoes to work almost every day of the year, it's important to have a few choices at the ready when an unexpected weather event occurs. It's not unusual to wake up to a storm, for example, or colder than usual conditions that make you want to stay cocooned inside your house. When that's not possible, the right pair of office-perfect shoes will have to do.
A sturdy driving shoe featuring a thick rubber sole and awash in autumnal hues is the perfect introduction to the season. A pair of Boulder Driving Loafers ($195) from Allen Edmonds is an especially wise option if you're stepping out in your suit and tie and want something that offers more practical coverage for the weather. A pair of Lug-Sole Loafers ($595) from the Salvatore Ferragamo collection offers a more hip, all-leather take on the classic shoe style.
Workouts
You likely put plenty of energy into selecting a pair of workout shoes that best meets your unique needs. Things change a little at the end of the year, when you need to make an even greater effort to get out there and break a sweat. Features like moisture-wicking materials and cushioning help your feet stay dry and warm on brisk morning runs and help you deal with unexpected weather more efficiently.
If you're an avid runner, you know how crucial it is to wear shoes that offer optimal stability and help prevent injury. A pair of adidas Tubular Runner Sneakers ($70) fits neatly into your wardrobe with its fiery color palette and top-tier construction. The rubber sole is deeply ridged for extra skid protection. A lightweight shoe, such as the Altra Paradigm 4.5 Road-Running Shoe ($150), is equally welcome at this time of year. It's designed to minimize impact, and thanks to its roomy toe box you'll never experience that unpleasant tingling sensation when it's cold outside.
Weekends
If you don't already own a pair of boots that is quintessentially autumnal, now is a great time to plan for the coming months. This is the pair that you wear when you're off duty and need something comfortable to see you through a busy weekend with the family, running errands, or grabbing a drink with friends at the end of the day. No matter what your schedule brings, the right shoes are sturdy and pair well with the rest of your cold-weather wardrobe.
A pair of Rover Burnished Leather Boots ($270) from Red Wing Shoes not only begs to be worn every day of the season, but also adds serious rugged appeal to your look. Paired with everything from khakis to jeans, these handsome shoes with shock-absorbent soles are perfect for a chilly day. You can't go wrong with a classic pair of UGG boots either, especially the Neumel Chukka ($139.95). It's an everyday-appropriate style that's designed with comfort in mind, thanks to the signature UGGpure lining for instant warmth and a side zipper for easy wear.
Travel
Whether you're already planning ahead for your annual winter ski trip or brainstorming ideas for a quick fall getaway, you've got to make sure that your footwear game is secure. Showing up to the resort with a pair of worn boots isn't going to help your situation much—and if you don't have the right shoes, you're going to feel it.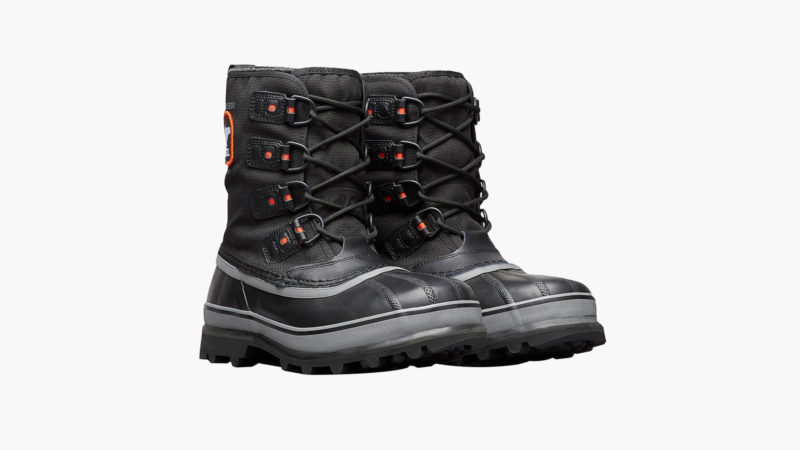 If you're headed to a snowy environment, go big in a pair of tough, weather-proof boots that keeps your feet and ankles dry while promoting optimal comfort on the slopes, like the Sorel Caribou XT Winter Boot ($170). It will serve you well whether you're stomping up a hill or gliding down. When it's not snowing, think all-day comfort—you need shoes that you can trust will keep your feet warm as you navigate the unfamiliar streets of a new city or explore a tourist attraction at a far-flung destination. A pair of Cole Haan Grandpro Leather Tennis Sneakers ($99.99) is a dream; they're versatile thanks to the rich whiskey hue, and look fantastic with everything from jeans to wrinkle-free travel pants.
Dress
Fall and winter come with a slew of activities that you don't really think much about until the holiday season starts to creep up on you. Suddenly you're searching for your tailored pants and crisp blazers and wishing you had a better pair of shoes to complement the outfit. Now is the right time to bulk up on a few choices to see you through all of the festivities.
Never underestimate the power of a pair of fierce Jeffery West Pino Lightning Bolt Lace-Up Shoes ($151.50). In glossy mahogany, they stand out for miles and add a touch of polish to anything that you wear. Prefer a lighter hue? Rock a warm hue in these Johnston & Murphy McClain Cap Toe Oxfords ($169), which are versatile enough to work on date night and fancy parties alike.