Whether you're moving into a new apartment, moving back home, or finally taking the leap and moving in with a significant other, creating a warm and comforting home can be easier than you think. We chatted with the design experts at Décor Aid, who gave us advice on how to create an elevated bachelor pad or family home, providing a helpful list of things to consider as you design your space. After all, the firm has seen a record increase in male clients year after year who understand the value investing the time and energy to make their house (or apartment) a home.
What People Are Requesting
Inventive storage solutions
Ways to make their home feel larger
Shortcuts to grown-up design
Help with curating and installing art
Furnishings that don't have a generic big-box store feel
Strategies to make their home reflect their passions and lifestyle without being heavy-handed or too literal
As when taking on any project, approach transforming your home with a plan of action to get the most out of the space without having to spend a small fortune or a ton of time. The less complicated, the better.
What The Experts Suggest
There is a lot to consider when decorating a new abode. The team at Décor Aid compiled some of their top tips to help you navigate the murky waters of elevated interior design.
Add Art
By adding a well-curated collection of framed wall art and decorative accessories, you can instantly make your space feel more grown-up. There's nothing more immature than seeing an array of unframed posters limply hanging on a wall, is there? Use this as an opportunity to show off the unique collection of art and photography and you've amassed over the years.
Simple Color Palette
By sticking to a neutral color palette peppered with hints of your go-to colors, you can make your place feel timeless while ensuring that it never looks dated or comes off as heavy-handed.
Add Leather Accents
Because it wouldn't be a bachelor pad without the comforting feel of club-worthy leather seating, Décor Aid often suggests more modern and unique options boasting the sturdy fabrication for an unexpected alternative to a club chair, and the like.
Create An Entertaining Zone
It goes without saying that every bachelor pad should have a dedicated area for entertaining that's both comfortable and stylish.
Opt For Sleek Surfaces
In just about any space, sleek, uncomplicated surfaces and matte finishes lend a timeless feel that's gender neutral to boot.
Be Playful In Doses
Show off your personality and flair for design by creating a personalized mix with character that'll prevent a home from coming off as a lifeless space.
A Well-Designed Dining Area
It may seem obvious, but make sure that your dining area is open, inviting, and has plenty of seating.
Mix Traditional And Modern
A thoughtful mix of eras and design styles will lend an air of authority to a home while working to create an inspiring mix that'll make any home stand out.
Add A Bar Cart (Of Course)
A fully stocked bar cart featuring an array of decanters, proper serving glasses, and high quality booze that will make entertaining feel all grown up.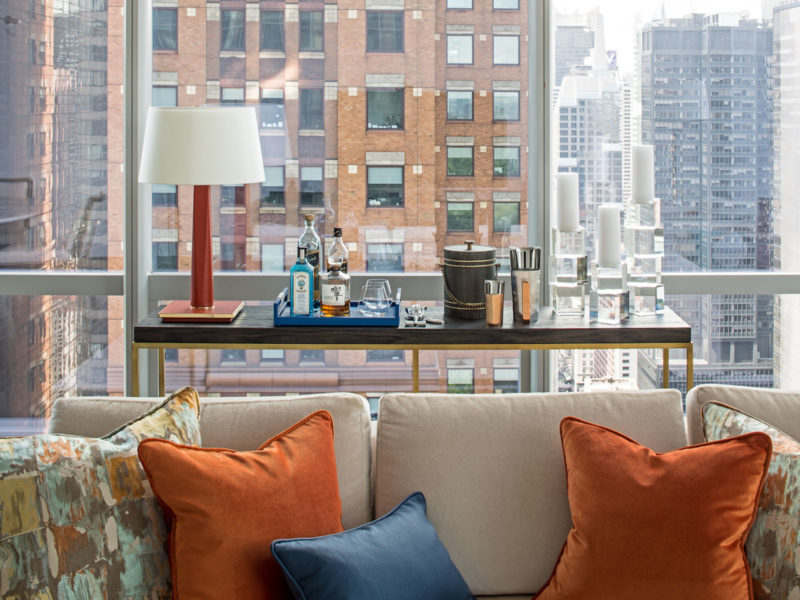 Don't forget About Tech
Décor Aid's interior designers often spend a significant amount of time working to conceal tech gadgets and wiring in clever and stylish solutions. This will keep the eye focused on quality design and not distracted by a jumble of cords and kits.
Storage Units
Keep your space tidy with stylish storage units that conceal everything you don't need out in the open. You'll know where everything is (and it will be within easy reach) while clutter will be kept at bay and your home will be expertly organized.
A Handy Valet
Plan the next day's outfit with ease with a handsome valet that will keep everything wrinkle free and off of the floor.
For even more inspiration, take a look at this elegant loft that Décor Aid revitalized for a client. Here, their designer used shelving to create different zones in what was otherwise one large open loft. Everything was kept tonal for an easy on the eye route to timelessly stylish design.
For more great interior design ideas and inspiration, or to book a complimentary in-home walk through in your home with a local Décor Aid designer, visit them online.