Paris. London. Rome. Vienna. The heavy hitters of European travel tend to crowd out more regional destinations, but it's time to broaden your horizons—and augment your passport—with a visit to the picturesque town of Rovinj. Or is it Rovigno? Actually, it's both.
Located on the heart-shaped Croatian peninsula known as Istria, Rovinj dangles off the edge of the land mass. The city is made up of cobblestone streets, steep hills, and more charm than you can shake a fish at (and there are plenty of fish). A tall church juts up from the middle of the otherwise low-lying, colorful buildings, and the Adriatic swirls around on three sides.
It's that bobbing stretch of water that connects Croatia to Italy, and the trans-Adriatic influence is strong. In 1911, nearly 98% of Rovinj's inhabitants still spoke Italian, and it remains one of the official languages today. It's yet another sign that this seaside enclave is a bit of a cultural melting pot, and that's just one of many things that makes it so special.
Book a Room
Check out the townhouse-turned-boutique hotel charm of this warm and inviting spot in the old town area of Rovinj. Spirito Santo Palazzo Storico is full of details preserved from the original 1920s structure, but the seven rooms have been updated with luxurious touches. History is also the star at Villa Tuttorotto, but this stunning hotel dates all the way back to the 1500s when it served as part of the fortress walls that surrounded Rovinj, protecting it from would-be invaders.

For sea views, book a balcony room at Hotel Delfin and enjoy modern, 4-star accommodations close to both the beach and the city center, or hop on a boat to St. Andrews Island and the stunning Istra Island Hotel. The spa offers state-of-the-art treatments and a Mediterranean garden for relaxation.
Dine & Drink
Buffet Trevisol is exactly what you'd hope a little European street café would look like. Sit on the colorfully upholstered chairs perched on the cobblestone steps outside as you down a strong cup of coffee, a croissant, and some fresh fruit.

Sit on the colorfully upholstered chairs perched on the cobblestone steps outside as you down a strong cup of coffee, a croissant, and some fresh fruit.
For lunch, tuck into a whole roasted fish and big platters of pasta at Torkolo—it's surprising affordable, centrally located, and they're known for giving out tastes of their favorite local liquors.
Barba Danilo closes for the winter, but if you visit Rovinj in spring or summer you have to stop by this family-run restaurant to sample local cuisine that runs the gamut from Istrian sausage and sea bass seasoned with apple and vanilla to homemade pasta with mushrooms and speck. Rio Mediterranean classics get new life at Rio Bar, where you can enjoy small plates and local wine on the waterfront terrace.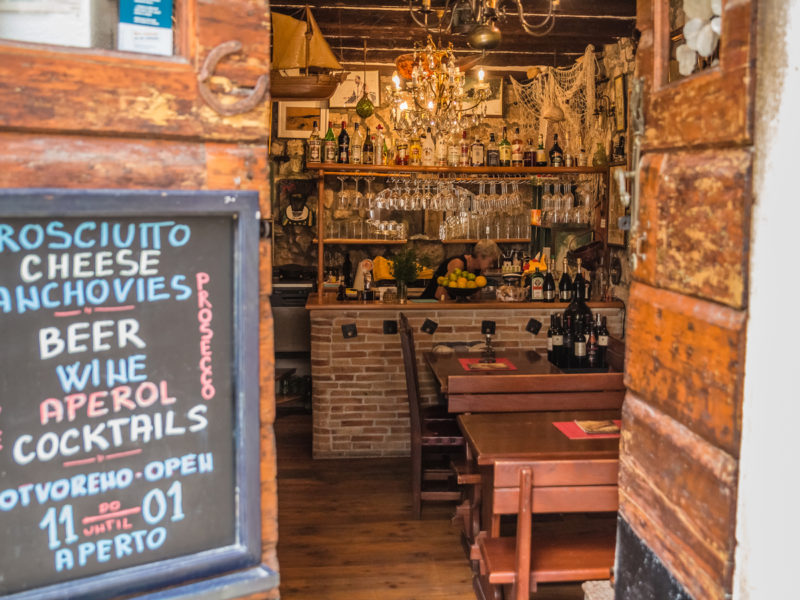 See the Sights
Take your camera to Old Town and capture some of the most romantic, postcard-worthy snaps you'll ever produce. It's easy to be artistic when you surrounded by wind-swept archways, small boutiques, houses built in the 1500s, and passageways that deliver peeping glimpses of the see. You can also shop for art there, visit the century's old Balbi's Arch, browse the 80,000 literary works at the library, or pay your respects at St. Euphemia's Church, a baroque masterpiece with a gargantuan bell tower modeled after St. Marks in Venice.
Spend some time in the great outdoors at Punta Corrente, a lush park area that welcomes anyone who wants to free climb, run, cycle, picnic, or simply wander through the cypress trees and Aleppo pines.
Archaeological buffs will love an afternoon at Monkodonja, a Bronze Age hill fort excavated in 1953. It's an informal attraction, with information boards providing most of the guidance for tourists as they ramble around the ruins, but the site itself is impressive enough (and free) and views of the countryside and sea below are well worth the trip.
Stop & Shop
Don't come to Rovinj expecting to stock up on Rodeo-style luxury brands. Instead, stuff your suitcase with handmade goodies like upcycled jewelry at Atelier Galerija Brek and nautically inspired bracelets at Break Time.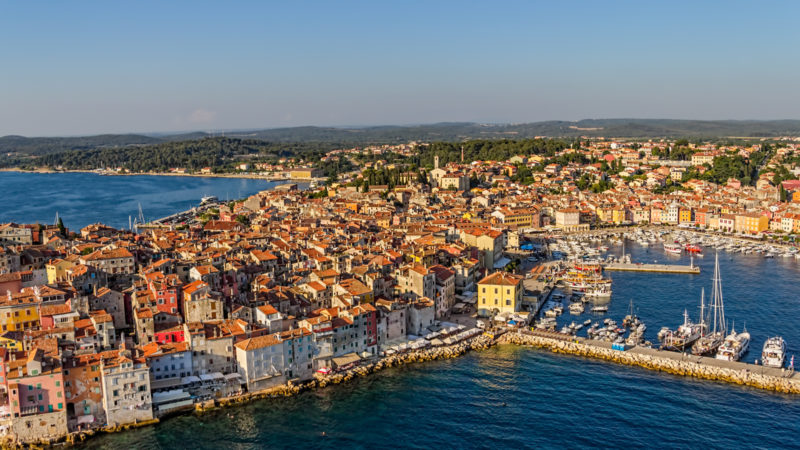 The homemade natural soaps at Soap Shop Kami are as vibrant as they are intoxicatingly fragrant—get a whiff of the bars made with fresh Istrian lavender—and Koza stocks handmade, high-quality leather goods like wallets and sandals.
Truffles are a big deal in Rovinj, and that obsession is on full display at Zigante Tartufi. Pick up truffle potato chips, truffle-infused chocolate, truffle butter, truffle olive oil, whole summer truffles and so much more, plus wine to round out your umami-rich meal.
What to Know Before You Go
The Best Way to Travel: It's about 40 minutes by car to Pula Airport, but you can also get to Rovinj by boat (there are ferries across the Adriatic, including one that runs between Rovinj and Venice), by car, or by train.
When to Go: Any time but windy, chilly winter, when many business close for the season
Local Currency: Croatian Kuna
Native Language: Italian and Croatian (plus Istriot—or an intriguing combination of all three)
How to Get Around: Rovinj is just 34 square miles in size, making it easy to cover a lot of ground by foot or you can rent a bike on the cheap.
Plan To: Find a way to cook or at least sneak some ready-to-eat goods from the market on Valdibora. The truffles and olive oil here are amazing—find a loaf of bread and go to town.
Here's a Hint: Carry cash. Credit cards still aren't the norm everywhere, and processing machines are often very purposely "out of order."