Colmar is a living monument to a continent shaped and reshaped by war. It's interesting that a place once dripping in Nazi flags now looks so much like a fairytale village, but perhaps that dichotomy is part of the draw. The city originated in the 9th century, was conquered by Sweden in 1632 then France in 1673, with a large pocket of autonomy in between. Annexed by Germany in 1871, then back to France after WWI, then to Germany again, this time under Hitler's orders, in 1940.
It's interesting that a place once dripping in Nazi flags now looks so much like a fairytale village, but perhaps that dichotomy is part of the draw.
Today, Colmar is French once again, at least technically. Colorful, timbered houses line the canals and vines and flowers adorn almost every doorway, rail, fence, and windowsill. It's easy to get lost in the twisting network of tiny alleyways but you almost always emerge into a square populated by hawkers and walkers, cute shops and welcoming cafes. Rumor has it the city inspired Belle's hometown in Beauty and the Beast. It's easy to see why Disney would want to capture Colmar for posterity.
This "Capital of Alsatian Wine" and photographer's dream is a place you could spend a lifetime loving but if you only have 48 hours, narrow down your focus to these can't-miss spots.
Book a Room
If it's romance you're after, head to Le Maréchal, a home built in 1565 and swathed in soft fabrics and curved furniture seemingly designed to get occupants in the mood. It's beautifully opulent. Be sure to make it down for breakfast overlooking the canal.
Accomodations at Le Colombier.
Le Colombier offers four-star accommodations right in the city center. Enjoy access to the best of Colmar plus decidedly modern accommodations, high-end amenities, a little Renaissance touches like the 16th-century spiral staircase that infuses the place with charm.
Splurge on two nights at La Maison des Tetes, and sleep like royalty in one of 21 rooms encompassing four different styles. The décor is a tantalizing blend of old and new, but the pièce de résistance is the 106 heads and faces tucked along the façade. Check out the much ballyhooed on-site restaurant for a mouthwatering introduction to Alsatian cuisine.
Dine & Drink
Grab a book and a coffee at La Libellule, a café-cum-library that also serves organic food. At Bistrot Gourmand, brunch gets an international twist thanks to a combo of German-inspired sausage platters, French galettes, Italian bruschetta and pizza, and a kids' menu that's straight up American. Try to grab a table outside.
La Table du Brocanteur pairs rustic bric-a-brac with French classics such as scallop carpaccio, vegetable tarts, tender sweetbreads, and of course foie gras—an Alsatian signature. Indulge in a Michelin-starred meal at L'atelier du Peintre. The surroundings are sleek and chic and the food is equally forward-thinking but rooted in Alsatian tradition. The menu changes with the seasons but dishes are always stunningly presented and gastronomically adventurous.
The menu [at L'atelier de Peintre] changes with the seasons but dishes are always stunningly presented and gastronomically adventurous.
Cap off your night with cocktails at Chez Moi, a cozy pub with good drinks and live music, or work your way through the wine list at L'un des sens.
See the Sights
In a town full of postcard-worthy sights, Petit Venice ups the ante with rows of timbered homes in Easter egg pastels and a canal dotted with bobbing boats. Locals say each color used to signify the trade of the merchant housed within; blue for fishmonger, for example, or yellow for the baker. True or not, it's a lovely story and walking through the area is downright transportative.
Dig into Alsatian history at Unterlinden Museum, where the architecture is just as impressive as the artifacts, Instagram the medieval glory that is Pfister House.
Work wine into your trip via an organized tour, like the kind offered by Ophorus and Alsace Original Experiences, or go it alone and stop into top wineries (call ahead, some require reservations and keep unusual tasting room hours). A few favorites: Domaine Robert Karcher et Fils, Domaine Zind-Humbrecht, Domaine du Bouxhof, and Jean-Marc Simonis.
Stop & Shop
Bring an extra suitcase, because the shopping scene in Colmar is a retail enthusiast's dream. From the whimsical handmade textiles at Avenue d'Alsace (the perfect souvenir for Mom) to Au Vieux Pignon (a specialty gift shop housed in the oldest home in the city) to the European men's fashion at Jules, options abound.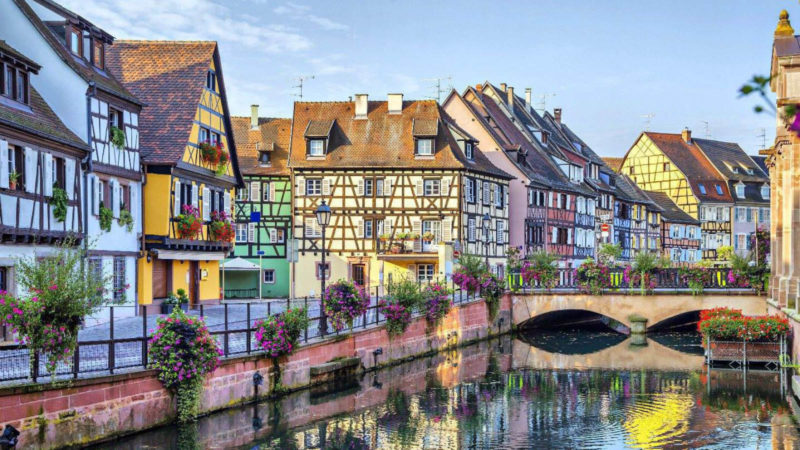 For edibles, check out Chocolaterie Ganache, a sugary wonderland Wonka himself would salivate over, or stock up on local staples such as Alsatian wine, foie gras, microbrews, charcuterie, cookies, candy, gourmet lemonades, and the cutest jars of mustard and jam known to man at Au Brin de Paille.
What to Know Before You Go
The Best Way to Travel: Strasbourg-Entzheim Airport is just a 50-minute train ride from Colmar. EuroAirport is a 45-minute drive. Flights from the U.S. require a transfer somewhere in Europe (Frankfurt is a popular choice). Trains from Paris to Colmar run frequently and take 3 to 4 hours depending on connections.
When to Go: Go in spring to explore the incredible Easter markets or before Christmas when the picturesque town transforms into a twinkling, festive wonderland. Also good: harvest time from late September to late October.
Local Currency: Euro
Native Language: French, German, Alsatian dialect
How to Get Around: The bus and train lines in around Colmar are well developed. Stick to public transportation and walking when possible. Biking is also popular and you can take your bikes on many of the trains for free (high-speed trains and peak hours excluded).
Plan To: Eat. From sausage to chocolate to cheese to pastry, Colmar is packed with deliciousness and life is too short to say anything but "oui".
Here's a Hint: Endear yourself to older locals who learned Alsatian as their first language and wish them "güete morge" (good morning) or politely ask for directions to the bathroom ("Wo isch 's Kabinee?").