The sun, beach, and global surfing lifestyle have served as the inspiration for men's apparel brand Wellen since its founding in 2007; in fact, the word "wellen" means "waves" in German. So it should come as no surprise that head designer Sunny Chang turns to the sea not only for ideas, but also for materials. The brand, which works exclusively with ethical and sustainable factories and organic or recycled materials, puts a premium on ensuring its goods are planet-friendly. The discovery of the innovative material Seawool, is helping them to deliver on that promise.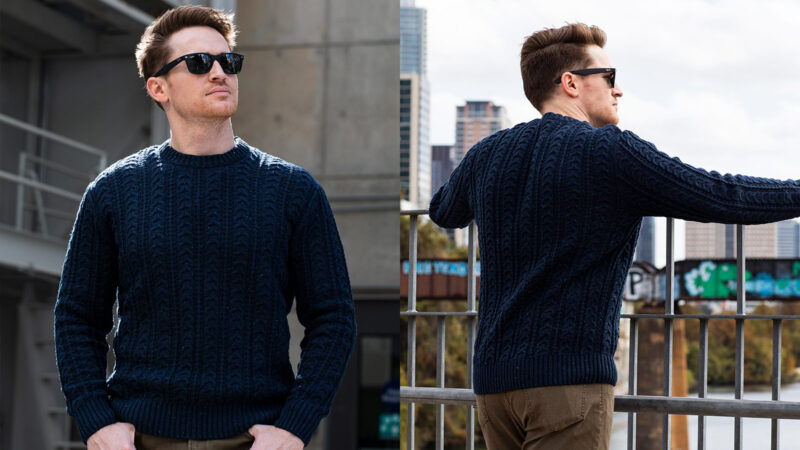 Woven from discarded plastic bottles and crushed oyster shells, Seawool sounds almost too good to be true. Used oyster shells (of which there are 4 million tons out there) are pulverized and fused with nylon yarns from old recycled bottles. The result is a material that's as soft as merino wool, moisture-wicking, odor resistant, and anti-static. So what did the team at Wellen do with this wonder fabric? They made, we would argue, the perfect sweater.
Aside from the eco-friendly fabric, which helps to keep used oyster shells from piling up, the Seawool Fisherman Sweater is just a great piece to have in your closet. The classic silhouette can be dressed up or down, and is designed to last. Ribbing at cuffs and waist offer a snug fit that keeps out the cold, while the colorways will never go out of style. Thanks to thermoregulating properties, it's perfect for staving off the winter chill, but also great as the temperatures rise in the spring. Simply put, it will quickly become a wardrobe staple you'll wonder how you lived without.