Rami Malek shot to fame in a short amount of time with the television series, "Mr. Robot." As the character, Elliot Alderson, he played a computer hacker whose style mostly consisted of dark jeans and a black hoodie. The show is intense, deep, and allows Rami to display his full acting chops in a role alongside veteran actor, Christian Slater. Being a part of a successful television show with a slew of hardcore followers led Rami to a bounty of movie roles that earned him critical acclaim and a spot on the red carpet as a regular nominee at many different awards shows.
Embed from Getty Images
In 2018, he played Freddie Mercury, the lead singer of the band Queen, in a biopic called "Bohemian Rhapsody." Channeling Freddie's outlandish styles and unique singing voice earned him all the top awards in the movie industry, including a Golden Globe, a BAFTA, a SAG award, and the best award of all, the Oscar for Best Male Actor in a lead role.
The costuming in that movie really stood out with Freddie Mercury being known for his outrageous looks that catered to the dynamic showman he truly was. Rami said that part of the reason he was able to blend so seamlessly into the role was due to the extravagant costumes that marked the part from costume designer, Julian Day. Freddie Mercury even said that his concerts were more like a "fashion show."
Embed from Getty Images
As a native Californian with parents who were from Egypt, Rami has an appeal that is undeniable even though he felt like an outcast as a kid with an unconventional name. With dark wavy hair, piercing stormy blue-grey eyes, and an impressive talent that surpasses many of his peers, at 39-years-old you can easily see why Rami will be a part of Hollywood's radar for many years to come. Although most of his early roles were as a supporting actor in films like "Twilight: Breaking Dawn Part 2", "Battleship," and "The Master," currently he can be seen in the drama, "The Little Things" with fellow style icon, Jared Leto, in a leading role.
When it comes to style, Rami is a standout on the red carpet. He regularly attends fashion shows of major houses like Dior, Gucci, and Miu Miu with his girlfriend, actress Lucy Boynton who he met while filming "Bohemian Rhapsody." Plus, he made an appearance in Anthony Vaccarello's menswear campaign for Saint Laurent in Spring 2020, and regularly wears custom clothing from the designer.
Embed from Getty Images
The style in the Saint Laurent campaign was a series of black and white shots where Rami wore a pair of slim-cut sequin pants with the unconventional look of a military-style jacket that channeled popstar icon Michael Jackson in the 80s with his trademark style. Other looks that were featured included sunglasses, a star neck chain, and a black fedora. Overall, the campaign was well-received and the photos taken by David Sims showed off Rami's handsome bone structure and timeless appeal.
A Bold Oscar Winner With Undeniable Style
On the red carpet, Rami is a standout with looks that are a little offbeat, but always very cool. It's a slight hipster style that looks effortless but with well-tailored luxury basics that deliver on star quality. The overall feel is modern with upscale pieces that have a certain vintage appeal. The yin and yang of old and new style together are what makes many of his looks timeless.
Most of the time he works with a stylist, Ilaria Urbinati, who is known to work with a variety of male stars like Bradley Cooper and Dwayne "The Rock" Johnson. She's able to put together looks for Rami that shows off his fit frame. Although he's only 5'7" tall, you would never be able to tell since his presence is powerful and dynamic. You definitely wouldn't guess that he's under six feet tall!
Embed from Getty Images
One of his best looks was at the premiere of "Mr. Robot" for season four in 2019. On the red carpet for the event, he wore a fitted black pin-striped suit from Saint Laurent with a silk patterned shirt and tie. The clashing patterns on the shirt and tie looked phenomenal with the old school suit made modern with tapered pants and a double-breasted jacket. It did help that the entire ensemble was in shades of black, white, and grey.
Even though he accidentally fell off the stage after he won the Oscar, his style was never in question.
Another memorable style session was, of course, the night he won the Academy Award for Best Actor that same year in 2019. Even though he accidentally fell off the stage after he won the Oscar, his style was never in question. Wearing a classic three-piece black tuxedo by his buddy Anthony Vaccarello for Saint Laurent, it's a look that stands the test of time and one that he will no doubt look back on with pleasure for having worn that important night.
Embed from Getty Images
In a more daring red carpet appearance, Rami wore an all-black velvet tuxedo with a shiny black shirt, an 18-carat diamond brooch from Cartier, and striped red shoes to the Met Gala. He was clearly one of the best-dressed men at the event which is said to be the best fashion display of the year put on by Vogue's editor-in-chief, Anna Wintour. Everyone shows up in their most interesting and stylish best. A couple of years before in 2017, Rami wore an all-red tuxedo to the Met Gala that was by Dior Homme in wool and mohair. A touch of black was displayed in his pocket square and on his feet were black calfskin leather boots. As a man, it's harder to stand out in a sea of women wearing insanely gorgeous designer gowns, but Rami manages to turn heads wherever he goes.

What He Wears In His Daily Life
When Rami is photographed in his off time, his style is no less notable. He loves a well-cut jacket including many bomber styles, fur collars, and suit coats. This Emmy-award winning actor can also be seen in printed shirts and tailored pants, like the time he appeared at Comic-Con in San Diego with a floral shirt and black pants. He could not have looked more like the picture of a quintessential male movie star alongside such Marvel megastars such as Chris Evans and Chris Hemsworth.
It's a combination of Frank Sinatra and Dean Martin with the modern style of today's hot stars like Mahershala Ali and Robert Downey Jr.
For sunglasses, his favorite style is a rounded lens pair that not many people can wear with ease. He looks great though with a comfort level that makes him look like he's happy in his own skin. Think of his daily style as being a little bit of a homage to the look that the Rat Pack made famous in the 60s. It's a combination of Frank Sinatra and Dean Martin with the modern style of today's hot stars like Mahershala Ali and Robert Downey Jr.
Embed from Getty Images
Rami oozes a keen style appeal and will continue to impress with his cool attitude and amazing talent on screen. It also helps that he's photographed with his gorgeous and talented girlfriend by his side. Lucy Boynton's style is that of the perfect "it girl" with looks that coordinate well with her boyfriend in any event appearance or just walking around together grabbing a cup of coffee.
Dare to Dress Like Rami
If you aspire to dress like Rami Malek, and you should, it's easy to do with the right pieces. First of all start with your shoes. Don't be afraid to jump outside of the box with shoes that stand out with interesting details. Think patterns, textures, colors, and slick shoes that make a statement. Look towards Gucci with whimsical colors and details that delight like this pair of Gucci Men's Loafer With Double G in dark green leather. It's definitely fun to follow in his footsteps by taking risks with your shoe choices.
Another way to emulate his iconic style is with patterns, especially shirts that have surprising prints in button-up styles. This is a shirt that Rami probably has in his own closet since it's by his favorite designer, Saint Laurent. It's their Shark-Collar Shirt in Tropical Silk Crepe de Chine with a bold black and white print of tropical palm leaf motif. Pair this shirt with the right pair of tailored pants to complete the look. 
Of course, Rami's jacket style is top-notch so you'll need to invest in the right style of bomber jacket. John Varvatos' Easy Fit Bomber Jacket w/Texture is great for everyday wear. You can pair this black and grey ribbed style with jeans and a t-shirt or go with an all-black button-up shirt and slick dress pants. Either way, you'll be a rockstar among men.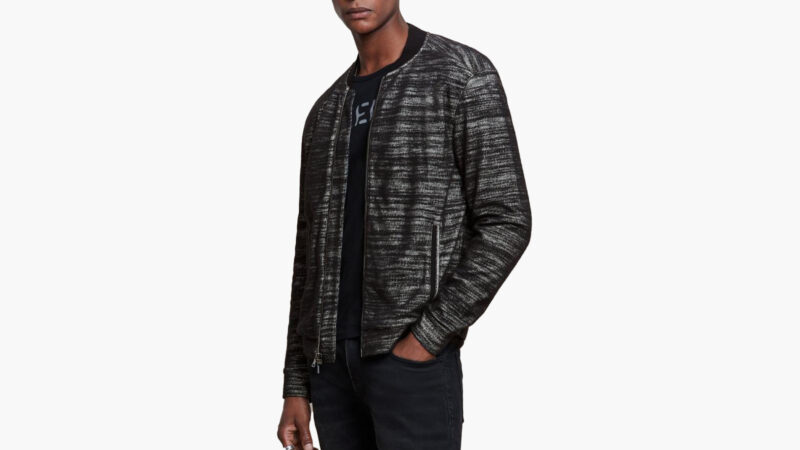 And if you truly want to capitalize on everything Rami Malek, you need the right pair of round sunglasses. Tom Ford's Jamieson Sunglasses fill this bill to a "T." The shades come in black frames with dark blue lenses or in a "Dark Havana" pair which is a tortoise style frame and yellow lenses. They would look perfect on Rami with his intense blue eyes and razor-sharp jawline.
For dressed-up looks, you will never see Rami in a bulky or sloppy suit. Everything he wears is finely tailored to perfection to show off his slim but muscular frame. You'll want to spice up any suit with some memorable details, like the right pocket square, subtle jewelry, or a fine watch. You can't go wrong with a Dior suit. Start with this Dior Jacket With Detachable Zipped Vest in black wool twill. Sometimes Rami goes without a tie on the red carpet, or in daily life, so this jacket from Dior fits that style aesthetic. 
A Bond Villain is Rami's Next Big Movie
You can imagine as the next Bond villain in the movie, "No Time to Die," Rami is going to impress and astound. All the Bond movies have an amazing sense of style that not only works for the lead (the incomparable Daniel Craig) but everyone in the movie as well. Rami is going to play Safin, an anarchist that is a former hitman for SPECTRE. In the images from the set, you can see Rami in a dark suit with a long blue wool trench jacket.
Rami's intensity in every part he does shows his full commitment to all of his roles. We can't wait to see how his style excels in future red carpet appearances. You know he's going to be an important part of the Hollywood style scene for years to come.