Mahershala Ali knows how to win at red-carpet style. Even though he's been a working actor for almost two decades, he became a household name in 2017 after winning a Best Supporting Actor Oscar for the movie, "Moonlight." With a style that is elegant, classic, and dares to show off his fit, 6'2" inch frame, Mahershala even in his off time manages to put together a look that is truly his own.
Embed from Getty Images
Mahershala in his acting career tends to play roles that will stick with the audience. On-screen, he's a man you want to root for as the hero, but can easily swing into a villainous role because this is an actor with a range of emotions at his fingertips. And come awards season, he's always high on everyone's list to achieve movie making's highest honors. He not only has one Academy Award, but two, and is the first black actor to win multiple times in the same category. The second time he received this honor was for the movie, "Green Book," a period piece set in the 1960s. A Golden Globe, Emmy, a BAFTA award, and three Screen Actor Guild awards all grace his shelves at home, so you can clearly see just how talented an actor he is.
So obviously with all of these awards on his mantle, over the years through his red carpet style, Marhershala has had some memorable formal wear to his credit. Of course, he has a little bit of help from his stylist, Van Van Alonso, who likes to put together looks for him that stand out, have a few personal touches, and aren't afraid to use textured fabrics.

Award-Winning Looks
Embed from Getty Images
For the 2017 Oscars, Mahershala wore an all-black tuxedo from Ermenegildo Zegna that was custom made for him. The couture look had a couple of special touches, including a pocket square that was black and white checkered. In a sea of famous men wearing some standard and non-standard issue tuxedos, Mahershala was considered one of the best dressed of the night and took home a gold statue to boot.
He paired this look with some subtle platinum-toned jewelry and a two-toned button shirt. Even though the ensemble was all-black, the textures of the fabric in each piece created a look that was interesting and regal.
The following year for the 2018 Oscars, Mahershala didn't disappoint again. Berluti was the designer of choice for his emerald and velvet tuxedo that featured an untraditional look. There wasn't a bow tie! That didn't matter though because Mahershala still looked quite debonair.
Embed from Getty Images
In 2019, the year he won his second Oscar, Mahershala made a very specific style choice to go with his tuxedo. A hat. But not just any hat, the headpiece was a rabbit-fur black beanie called a Sharina from designer Gigi Burris. She considers the style more of a formal beanie, but it was still an odd choice for such an important event. That didn't matter though because, with his cream-colored mandarin-style shirt and black tuxedo, the hat clearly made the look. The felt of the hat has a velour-style finish with a large cuff and ribbed dome. Super chic and utterly cool.
If you're curious about what he wore on his feet, they were a pair of Christian Louboutin shoes that had three different fabrics featured in all black–velvet, leather, and suede.
One of the best things about Mahershala in all of his red carpet looks is that he manages to look modern and unique, but wouldn't be out of place if he had to go back in time and stand on a red carpet in any decade of Hollywood's glamour.

In Mahershala Ali's Off Time
It may be one thing to dress like a king on the red carpet, but it's another to look at Mahershala's style in his off time. At 46-years-old, he's been married to his wife, Amatus Sami-Karim since 2013, and they have a baby girl together who is 3-years-old. He's definitely not at risk of developing that "dad bod" anytime soon though. With a trim and athletic body, his style during day-to-day life still manages to catch attention.
Embed from Getty Images
He wears a lot of denim, neutrals, but isn't afraid of a bit of color. He's partial to patterned shirts and loves a Nehru collar, which stands up straight from the jacket and doesn't fold down like a regular traditional collar. The Nehru collar is definitely one of Mahershala's signature style moves, and it's inspired by an Indian Prime Minister, Jawaharlal Nehru, who was in power starting in the 1940s. Luckily for Marhershala in today's modern times, it's one of his best looks.
In other less formal appearances, like at Comic-Con or casual premiers, you can see Mahershala in different styles of hats, cool suits, and fun pairs of kicks (sneakers).
Embed from Getty Images
In looking at his hair and facial hair choices, he's mainly clean cut with what's considered a "tight fade" and a flat top. For facial hair, it's a very trim mustache and beard that is well-kept and subtle on the sharp contours of his handsome face.
For sunglasses, he favors a classic aviator style, but isn't afraid to rock a pair of custom specs from luxe eyewear brand, Oliver Peoples. In a look that he wore to the Emmys in 2019, the sunglasses were made with blue-washed lenses and silver frames.

Get His Style
If you want to emulate Mahershala's style, it's pretty easy if you stick to a few basics. One of those is the hat. Wearing a hat is one of his key style moves that even makes it to the red carpet on occasion. Other than his famous Oscar hat, he's been seen in structured baseball caps, and multiple-colored fedoras.
Grab one in black, like this fedora from Gucci, which features black GG canvas and the gold logo. Wear it with confidence and style, just like Mahershala can do.
Gucci canvas bucket hat with Double G

Gucci canvas bucket hat with Double G
Another way to mimic Mahershala's look is by wearing a collared shirt. The Nehru shirt is popular on both formal evening looks and in regular streetwear. Andamen makes luxury Nehru shirts in a variety of colors and styles that will look amazing with a pair of dark denim jeans. You can just picture Mahershala walking through the airport in any one of these types of shirts.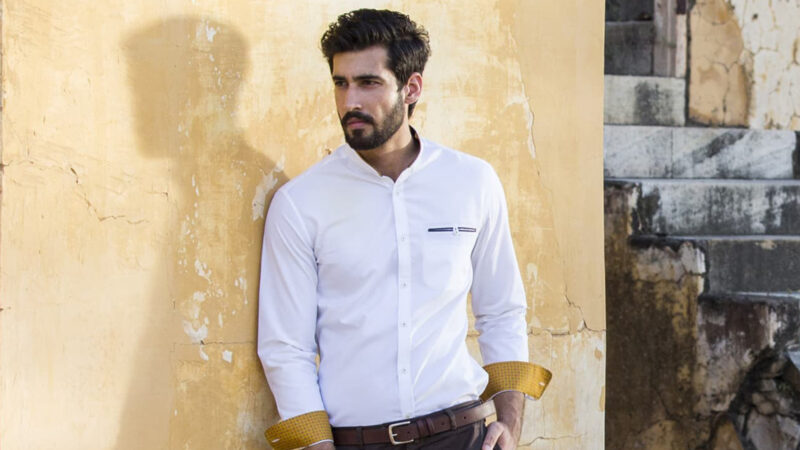 Another casual style that Mahershala has been photographed in is the turtleneck. This is a tricky look for any guy to pull off, but with the right ribbed texture, it will look stylish in a suit or with a pair of khaki pants. Go for one in black, grey, or navy that's neutral enough like this one from Ted Baker. The navy color will pair well with any style of jacket and everyday pants.
In order to truly bask in the style that is everything Mahershala Ali, you need a killer suit. Mahershala is a fan of Tom Ford, and you can see him rock a classic Tom Ford tux on the red carpet in 2019 at the BAFTA awards.
Ted Baker Ovatake Textured Jumper

Ted Baker Ovatake Textured Jumper

Ted Baker Ovatake Textured Jumper
Looking over all of the suit options at Tom Ford's website, you can easily picture Mahershala in any of these tailor-made and classic styles. There is nothing hotter than a man in a great fitting suit with all of Tom Ford's looks easily fitting that bill. This military green mohair silk suit is stunning and slightly non-traditional enough to be interesting.
Tom Ford Mohair Silk Atticus Suit

Tom Ford Mohair Silk Atticus Suit
That's one of the best things about all of Mahershala's style is that it's never boring. He's able to set trends, look his absolute best, and stand out above many of his peers in the industry. Everyone in the fashion world will be interested to find out what he's wearing at the next upcoming award season. His next big-screen appearance is in the Marvel reboot of the movie, "Blade" in which he takes over the iconic title role of this comic book character.