The fact that A$AP Rocky uses a dollar sign in his name – and can get away with it – signals a level of confidence that the vast majority of us will never achieve. (Just a guess that selling millions of records and dating Rihanna doesn't hurt.) But regardless of where it comes from, one of the ways Rocky, real name Rakim Mayers, expresses that confidence is through his sartorial choices. The rapper wears things that, quite frankly, would look absurd on most people. But on him they look cool, creative, and polished. Don't believe us? Scroll down for some of his most rule-bending looks and ideas on how to get his style for yourself.
In talking about his style, you can't miss the fact that he recently appeared at the Met Gala 2021 in a puffy, jaw-dropping quilt that looked like something your grandmother might have hanging off the back of her couch. It was a look created from a thrift shop quilt by designer Eli Russell Linnetz of ERL. Colorful. Bold. Unique. Just like A$AP with his killer smile and undeniable swagger. All personality and good looks are what led him to dating one of the biggest pop stars in the world, Rihanna. She, of course, was his best accessory on the red carpet at the Met Gala dressed head-to-toe in a giant, black Balenciaga coat. Few couples would look this cool wearing what some may mistake for bedding.
Rocky's style is some of the best of any male celebrity, with GQ calling him, "the best dressed man in hip hop." Sorry Jay-Z! Let's go deep into some of Rocky's memorable looks with some of the styles you can add to your own wardrobe to pay tribute to his natural sense of fashion.
Performance Goals and Fashion Muse
Rocky has been the muse for some very big fashion houses, including Dior, Gucci, and Loewe. He's not afraid to think outside of traditional masculine norms in dressing with some feminine touches to enhance any look. A pearl necklace? He's done it many times, looking phenomenal in the process. He did this recently during an outing in New York wearing a sharp Celine suit that made him look like a movie star.
Another stellar look was for the 2019 Fashion Awards in London, wearing Fenty menswear, alongside Rihanna, in a black tuxedo jacket, black t-shirt, and oversized pants with sneakers.
When Rocky is on stage performing, he sports a variety of looks, with one of his most memorable being a concert that he held in Sweden at the end of 2019. It was especially memorable since it was the first time Rocky had performed in the country since he was arrested and detained there that summer. Remember the #FreeRocky movement? Even then-President Trump got involved to get him out of Sweden.
He donated a portion of proceeds from the content to Swedish charity FARR, which works to support refugees and immigrants throughout the country. Before the concert, he also visited some underprivileged areas in the city to hand out free concert tickets. It's nice to know about his charitable endeavors, but what was he wearing? Standing on top of a large cage, he wore a bright green tracksuit with the words PROMENVD on the front with an X printed on the back. No one really knows what that means, but Rocky apparently sent something like the outfit to the Swedish prison where he was detained to fellow inmates as a potential uniform, as a way to "give back" to the men he knew in lockup. A strange but interesting fashion note for a man who is at the top of his game both professionally and personally.
Out on the Red Carpet
For his many red carpet appearances, Rocky pulls out some amazing looks along with the vision of his longtime stylist, Matthew Henson. They manage to mix high-end fashion with a streetwear edge for all of Rocky's many incarnations. Henson has said in interviews that Rocky has an "natural sense of style" and is a perfect collaborator. Rocky tends to think of him more like a friend, rather than a stylist because he doesn't like the word.
At the pre-Grammy Gala in 2019, Rocky wore an oversized suit in blush pink by Loewe designer, Jonathan Anderson. The white shirt he wore open style and half-tucked in for a statement that got everyone talking.
Another look that pushed the boundaries of traditional menswear was the combinations of silver pants and sheer blouse with layers of pearls he wore to the Dior show in Japan the year before. Overall, this was a bold look that not many men could pull off with ease, but Rocky did it with unapologetic flair.
Again in 2018, he managed to turn heads wearing a headscarf usually associated with Russian grandmothers. Rocky rocked it in a silk Gucci scarf, sunglasses, and long printed baby blue coat. And now there is a Vogue article titled "How to Tie a Babushka, According to A$AP Rocky" proving that he can pull off just about anything.
Get Rocky's Look A$AP
If you want to emulate this rapper's style, you have to go big and bold. Don't be afraid to mix up looks from different genres and styles. You want to stand out, but also make sure that the clothes aren't wearing you. Rocky is always at the helm of each look he wears, it's effortless and timeless.
An unusual suit is a great place to start. Keep in mind that the tailoring has to be impeccable. Rocky often changes up his suit looks, even though he has been known to rock a classic black look top-to-bottom. But if you want to turn heads like he does, choose a colorful suit from Gucci, like this Linen Blend Tailored Jacket in a golden yellow. Building a suit look around this blazer would make you stand out in any crowd.
Gucci Linen Blend Tailored Jacket

Gucci Linen Blend Tailored Jacket
A street/high-end mix is a style that Rocky wears quite often. This means combining a more casual look, like a sweatshirt hoodie, with a nice jacket and tailored pants. Go with this Balenciaga WFP Medium Fit Hoodie in nude. Rocky probably has a closet full of these cozy hoodies to wear with just about anything in comfortable streetwear.
Balenciaga WFP Medium Fit Hoodie

Balenciaga WFP Medium Fit Hoodie
Are you man enough to wear pearls? Rocky is. You can do it too. Bijouterie Gonin makes some of the actual ones that he's worn. They've named these the A$AP Rocky Pearl Necklace Freshwater Pearls. They come in different lengths and styles, so that you can layer exactly like Rocky does, if you dare.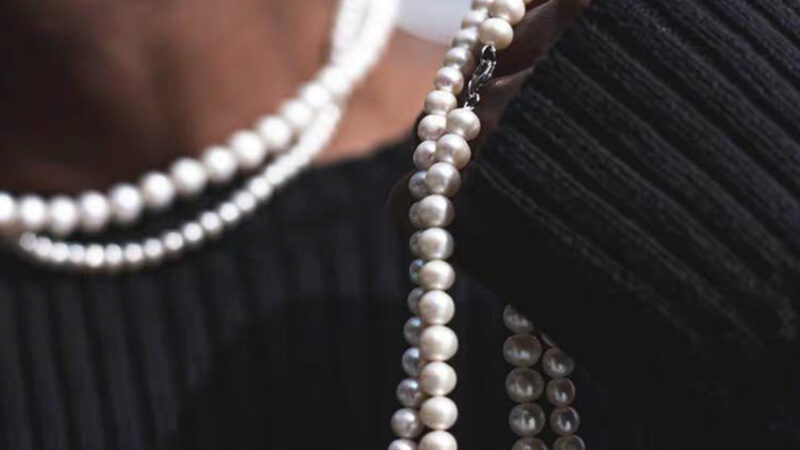 Having a killer sneaker collection is a must-have for any rap star. Plus, Rocky has collaborated with a number of brands like Adidas, Under Armour, and Vans to put his stamp on their collections. So no matter how vast your kicks are, if you want to have some like Rocky, you need the ultimate fresh and glowing white pair. Go designer with the Prada PRAX 1 Sneakers, which Rocky has worn before with an all white Prada suit.
Prada PRAX 1 Sneakers

Prada PRAX 1 Sneakers

Prada PRAX 1 Sneakers

Prada PRAX 1 Sneakers

Prada PRAX 1 Sneakers

Prada PRAX 1 Sneakers
Rocky's coat style is on point all the time. This is probably due to the fact that he spends a lot of time in his hometown of Manhattan. So whether you are rocking a leather jacket, puffy down coat, or trench, Rocky has probably been seen in an incarnation of this warm weather gear.
This Raf Simons black oversized puffy coat is one that Rocky was photographed in the city during January 2017. It's sold out, but you can emulate this style with Moncler Men's Gebroulaz coat. Just buy it in the biggest size you can find.
Moncler Men's Gebroulaz

Moncler Men's Gebroulaz
Of course, A$AP Rocky has a bright future of music and fashion ahead of him. Being with Rihanna does make his fashion star shine just a little stronger, but he has been an influence on the industry since he came on the scene in 2011. Hopefully, we'll see more designer collabs with notable fashion houses since everything Rocky does is with class, fun, and an innate sense of purpose.
Next up as rap's most stylish man, according to the cover story that he did for GQ's summer issue in a vintage kilt by Vivienne Westwood, he's going to make the world his own with music that resonates deeply with millions of people. The next record that he's releasing, hopefully later this year, is potentially titled, All Smiles. It's fitting, since A$AP Rocky truly does have so much to be happy about.