Up until a few decades ago, when you talked about great electric guitars, the two brands that came to mind were Gibson and Fender. After all, they were the household name companies who produced the iconic instruments by which all other electric guitars are measured, and that our favorite guitar heroes play to this day.
Towards the middle of the 80s, however, things were changing: guitar players were steering towards DIY instruments, new and innovative shapes, and they were losing faith in the big brands, who were churning out uninspired instruments with severe quality defects. As a result, guitar players began steering away from investing in a beautiful, classic-looking electric instrument – it wasn't the best of times for high-end guitar making.
The tide shifted with the creations of Paul Reed Smith (PRS), whose passion and craftsmanship reflected itself in the superb instruments that he brought to the market. Smith's story began in Maryland in the late 70s, where the mathematics major was the go-to luthier for impossible guitar repairs. During that time, he worked on instruments from the late 50s golden age of electric guitar making, thanks to which he honed his hands and ears and developed his skills to then build instruments of his own. His entrepreneurial spirit led him to many rock concerts, where Smith would knock on the backstage door to try to convince whatever rock star playing that night to buy one of his creations.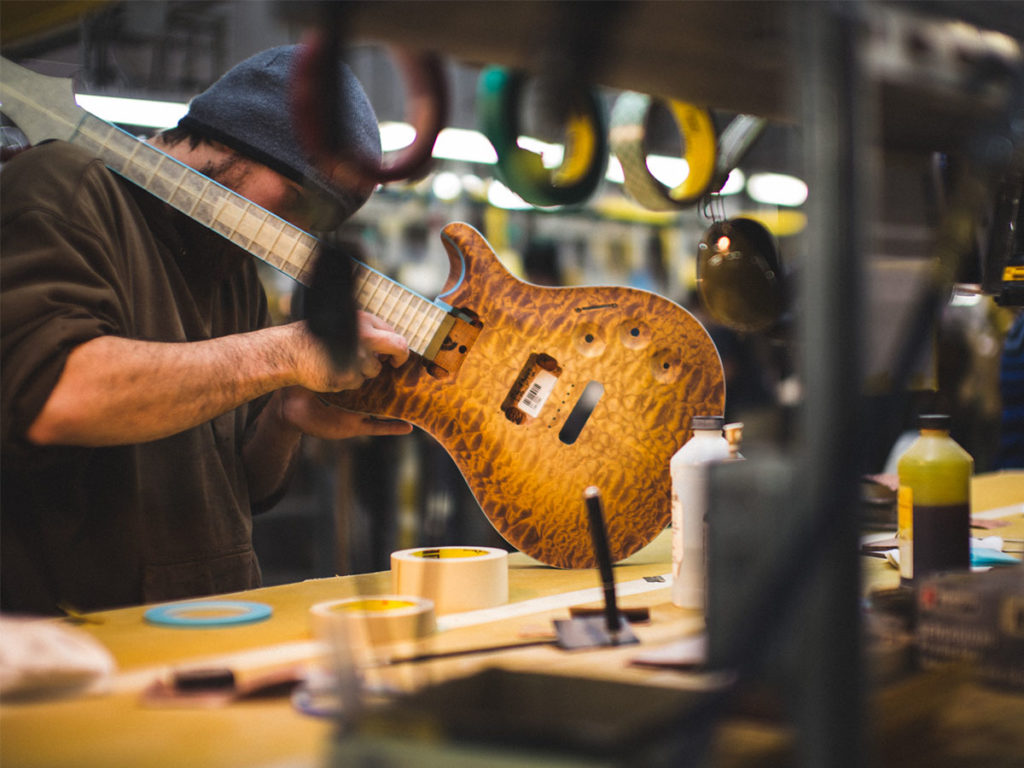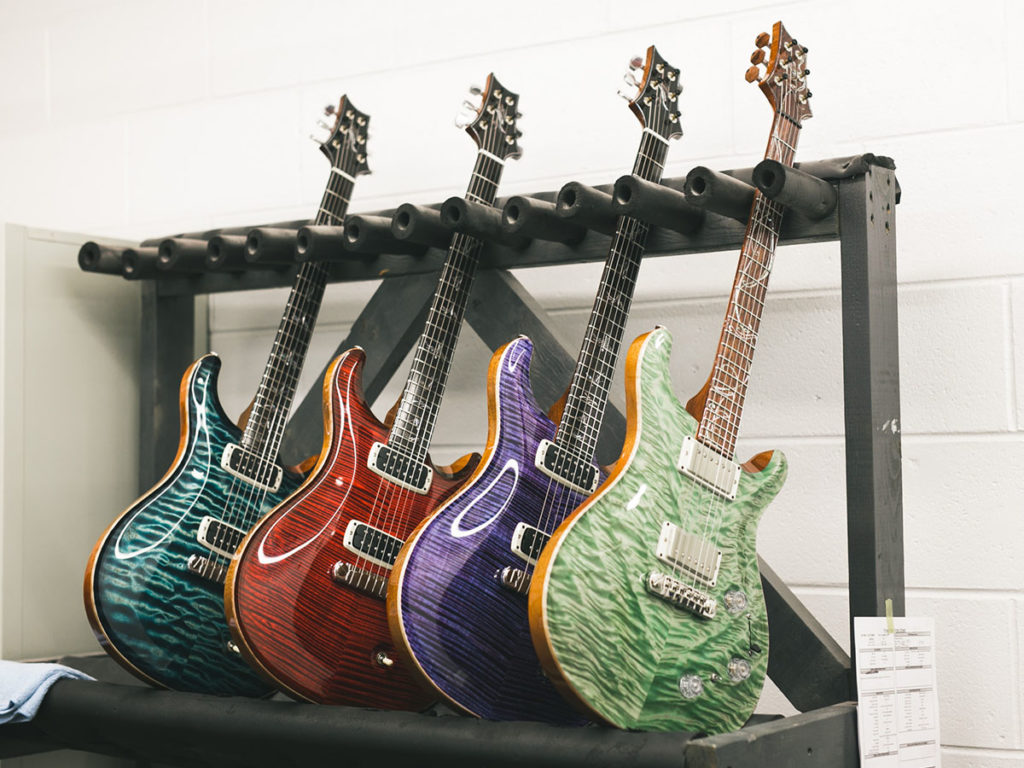 Eventually, no less than Carlos Santana acquired one of his instruments. But Carlos was not easily impressed; Smith had to earn his trust. According to Santana, the guitar that the young Smith built him was "an accident of God", and such a stroke of luck could not be replicated. So the craftsman built him another instrument, then another one. Finally, when Smith brought him a double neck guitar that Carlos fell in love with, the guitarist proclaimed that Smith was indeed, a master guitar builder.
While Santana's endorsement was an invaluable affirmation that credibilized Smith's designs, the designs themselves were not formalized until around 1984. But his idea eventually became clear: in order to appeal to both Fender and Gibson guitar players, he had to draw a line through the middle, and create a guitar that combined the best of both worlds, as to offer players the right balance between familiar comfort and novelty. He achieved this with the Custom Model, a guitar that he presented to retailers, and that generated the initial 30 orders from the Sam Ash guitar store chain. It remains the most widely recognized PRS guitar model to this day.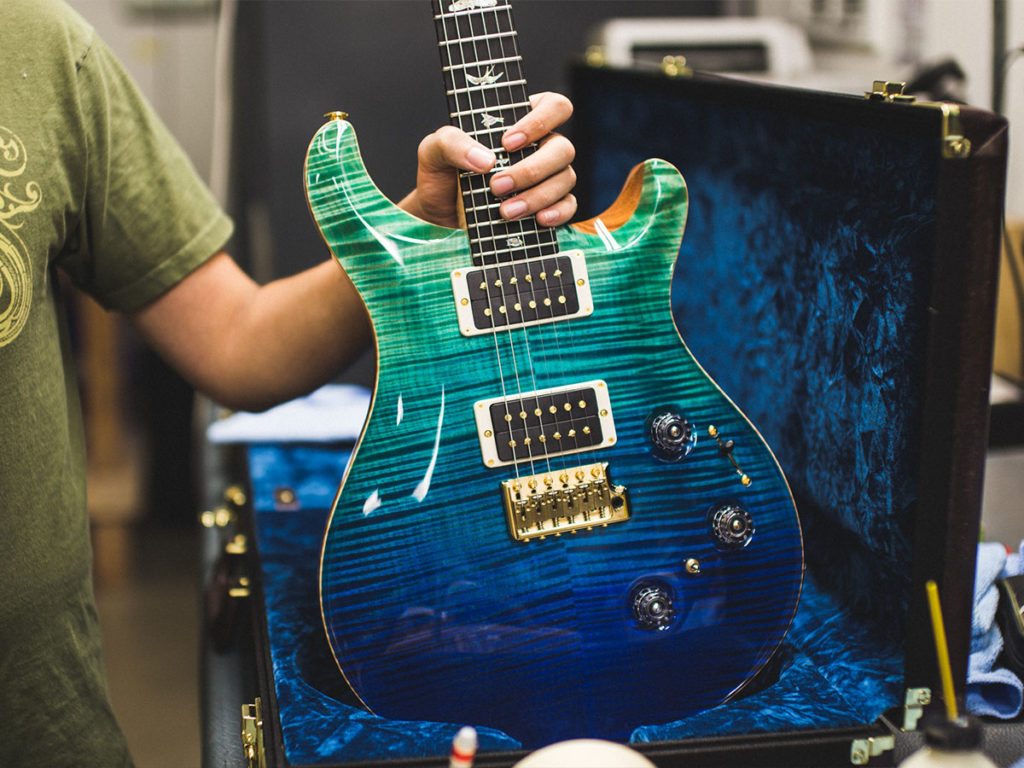 By the mid-80's, PRS was not yet a bona-fide guitar company, but the luthier's fresh new brand was present at the 1985 winter NAMM trade show, which led to the introduction of his creations to the wider market. Soon after, he began working from a newly-established factory, increasing production to meet demands. Finally, in it's April 1986 edition, Guitar Player Magazine published a glowing review of the PRS Custom Guitar, claiming that it was a "wonderful, subtle instrument for the discerning players who know the difference." Paul Reed Smith had succeeded in building a brand that produced valuable electric guitars that were worth the investment, at a time when the art of high-end craftsmanship seemed lost.
Today, Paul Reed Smith continues to lead his company with the same enthusiasm as the young man who knocked on dressing room doors with his creations in hand. He is one to often meet with the players, to explain why he feels his guitars are the right tool for the job. He wants the PRS guitar to be the first guitar you think of when you want a reliable instrument. It is safe to say that he has achieved this: with endorsements from Dave Navarro, Mark Tremonti, John McLaughlin, Carlos Santana of course, and most recently, John Mayer, PRS continues to produce a vast and varied array of high quality instruments that sound and feel perfect right out of the box, and that is no small achievement.