As we approach spring, it's important to have apparel that's suited for the unique in-between conditions of the approaching season. Transitional style pieces are the perfect way to help you get settled into spring with ease. With this in mind, IMBOLDN's editors have curated a selection of practical, stylish outerwear and footwear to make the transition as easy as possible.
---
Everlane Filled Canvas Jacket
Greet the change of seasons with Everlane's Filled Canvas Jacket which provides just the right coverage with its durable cotton canvas exterior and 100% PrimaLoft insulation to keep the chill at bay. The jacket has a smooth quilted sleeve, making it easy to put on and take off. Use the interior pocket with Velcro closure to stash your EDC.
Wellen The Maker's Stretch Chore Jacket
Lightweight, but super durable, Wellen's Chore Jacket is perfect for layering in cool weather. Its button closure flap front pockets are just what you need for carrying your EDC. Made from a blend of organic cotton and spandex, count on this jacket to effortlessly move with you,  regardless of your activities. Available in Natural and Tobala Green.
Rhythm Worn Path Jacket
Great for those chilly spring days, Rhythm's Worn Path Jacket is made from a brushed cotton canvas exterior that is super soft and warm. Its contrasting corduroy collar gives the jacket a timeless look. The jacket's two button hand pockets keep your hands warm and there's an internal patch pocket that is perfect for your EDC.
Wellen Blanket Chore Coat
For those coastal dwellers, Wellen's Blanket Chore Coat boasts a striped jacquard pattern inspired by vintage blankets. The perfect solution for layering in cool coastal weather – put the jacket on over a t-shirt with jeans and you've got a classic look going. Lots of pocket options from the open chest pocket to button closure flap front pockets, plus an interior chest pocket.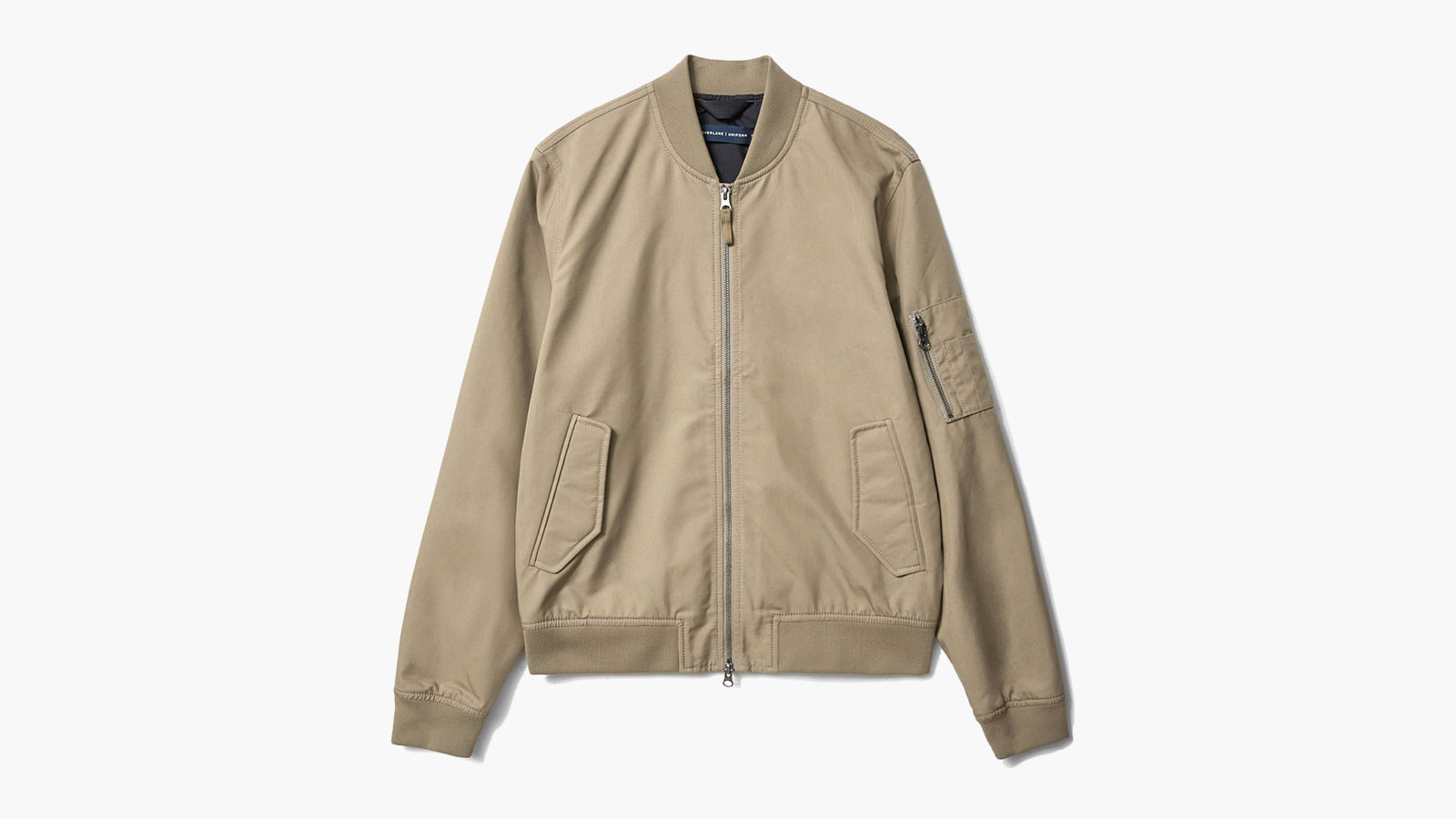 Everlane Bomber Jacket
Everlane's Bomber Jacket is a new take on the MA-1 flight jacket style. Made from a recycled, water-resistant cotton-polyester blend, the jacket is available in three colorways – Trench Coat Khaki, Navy, and Black. The jacket boasts a two-way zipper and magnetic closure pockets.
Everlane ReNew Fleece-Lined Heavyweight Overshirt
Everlane took its best overshirt and lined it with the brand's ReNew fleece to make it into a jacket. Pair the jacket with chinos for a relaxed look, the jacket comes in two colorways – Heathered Green and Slate. Sporting two button chest pockets and an inside pocket that's perfect to stash your EDC.
Everlane Canvas Organic Cotton Overshirt
Part of Everlane's noted Canvas Collection, the handsome Organic Cotton Overshirt has a structured, yet relaxed fit that is perfect to pair with just about anything for a great, finished look. Available in three colorways including Bone Black and Cappuccino, this jacket is a versatile addition to your wardrobe.
Flint and Tinder Bone Button Western Shirt
No wardrobe is complete without a denim shirt. Enter Flint and Tinder's Bone Button Western Shirt with its burnt cow bone snaps and stonewashed denim for an authentic cowboy look. Made from 100% cotton, the shirt is available in Medium Dark Wash Denim, Stonewash Denim, and Salt and Pepper.
Everlane No-Sweat Ribbed Cardigan
Made from OCS-certified organic cotton, Everlane's No-Sweat Ribbed Cardigan also uses a no-sweat recycled COOLMAX EcoMade polyester that effectively wicks away moisture from your skin. This relaxed collarless silhouette cardigan can be paired with a tee, button-down or crew for an effortless, relaxed style.
Wellen Seawool Bubble Vest
Inspired by the classic Western style of a retro quilted vest, Wellen's Seawool Bubble Vest has a soft, brushed Seawool outer and is insulated with Seawool down, making it a perfect layering piece. Seawool fabric is made from recycled plastic bottles and upcycled oyster shells that provides temperature-regulating warmth and quick-drying properties.
Crescent Down Works Down Italian Vest
This premium down puffer vest from Crescent Down Works is constructed with water-resistant 60/40 fabric and is packed with five full ounces of 700 fill power, ethically sourced goose down that will keep you toasty warm in the late winter/early spring months. The vest boasts an interior lining pocket to keep your essentials tucked away and two down-filled hand pockets.
Patagonia Reversible Bivvy Down Vest

A fresh take on a classic vest, the Patagonia Reversible Bivvy Down Vest is durable, rugged, and water-resistant thanks to the long-lasting DWR coating and tough nylon exterior on one side. Reverse the vest and you've got a fleece outer for a classic outdoor-casual look. Warm, comfy down-stuffed collar protects your neck from chills, while the reinforced yoke offers durability, extra weather protection, and classic Western style.
Red Wing Heritage Weekender Chukka Boot

A great everyday casual shoe, Red Wing's Chukka Boot is made with oil-tanned leather that is water, stain, and perspiration resistant. The Chukka Boot is flexible, lightweight, and made with the brand's noted high-quality construction methods. It boasts the brand's ComfortForce footbed, Texon board insole, with a Hill outsole – all contributing to this boot's ultra-comfortable fit.
Allbirds Wool Runner Mizzles
Combining supersoft merino wool and a bio-based water repellent shield, the men's Allbirds Wool Runner Mizzle sneakers are wet-weather shoes that will keep your feet cozy in unpredictable weather. The sneakers sport a SweetFoam midsole made with sugarcane-based green EVA and an FSC-certified natural rubber outsole.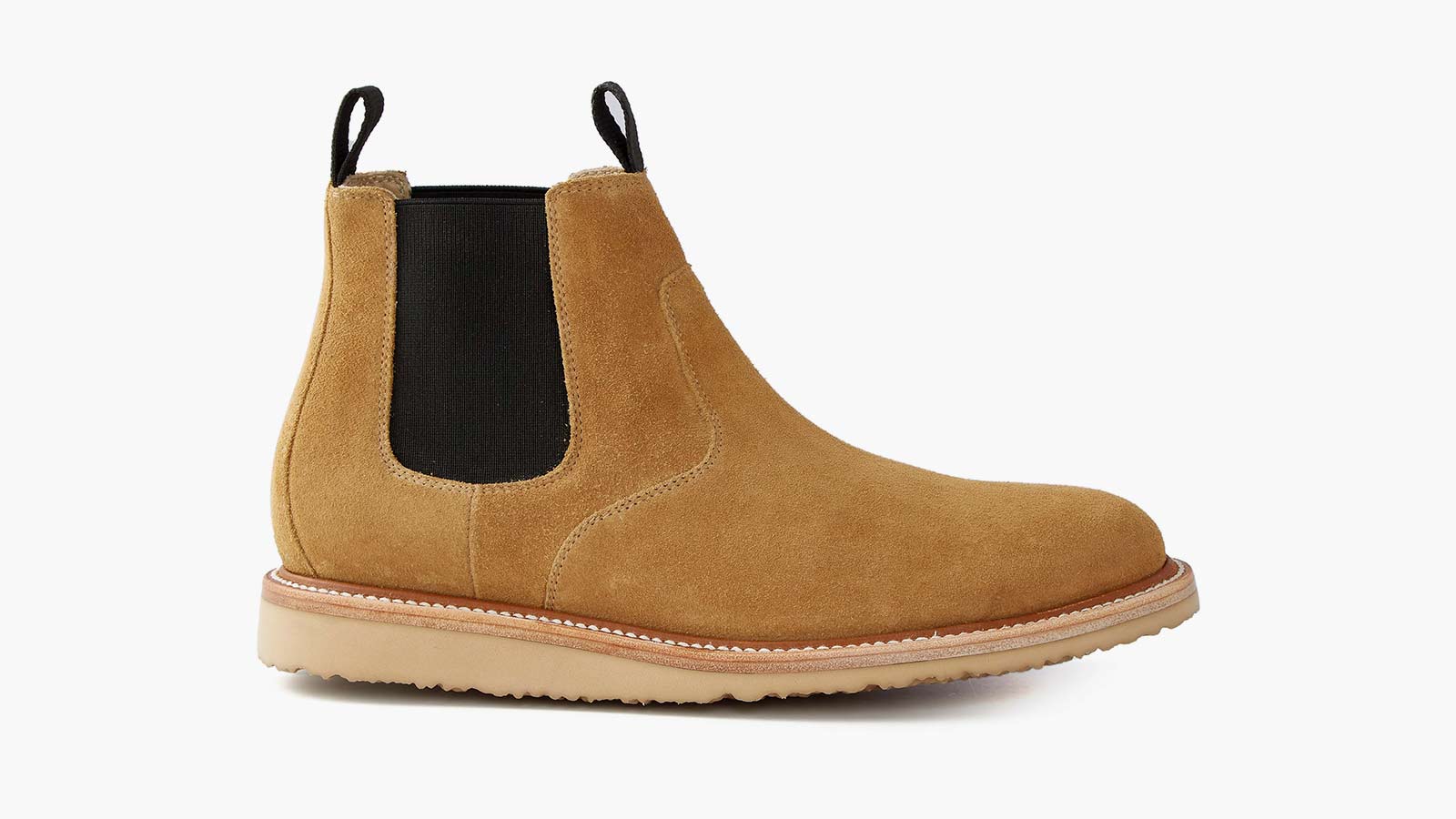 Rhodes Footwear Blake Chelsea Boot
A refined take on the classic Chelsea style, Rhodes' Blake Boot is made in Leon, Mexico, the heart of Mexico's shoe industry. The boots are cut from full-grain roughout leather that's soft and broken-in from the moment you put them on. They sit atop a Meramec PU cushioned outsole that combines cushion, durability, and slip resistance.