With the new season comes an onslaught of fresh trends destined to take pride of place in your wardrobe. Whether you look back fondly on the grunge era, dream of unleashing your inner Brit punk, or are ready to go mad for plaid, you'll find a versatile hodgepodge of looks that ran rampant on this year's fall/winter runways. And yes, there's even something for you if you favor something mild, unassuming, and polished. Here, your guide to everything hot for the season.
Brown Revival
Issuing a brief nod to seventies styles, designers embraced the rich warmth of brown in its many iterations. Whether your preference is UPS-friendly or more of a caramel-tinged shade is no matter—because they all reign supreme when the weather cools down. This means two things: it's time to swap your reliable blacks, navies, and grays for this decidedly more temperate hue, and you can never have too much of this good thing.
A great starting point is a Cole Haan Wool Cashmere Topper Coat ($598), an investment piece that captures the spirit of old-world style with its relaxed silhouette and straightforward, no-fuss design. And brown jeans? They're out there—and they're amazing when they look like these John Varvatos Collection Woodward Pick Stitch Corduroy Jeans ($149.97). Bonus points for the fabric that's destined to keep you warm when it's brisk out there.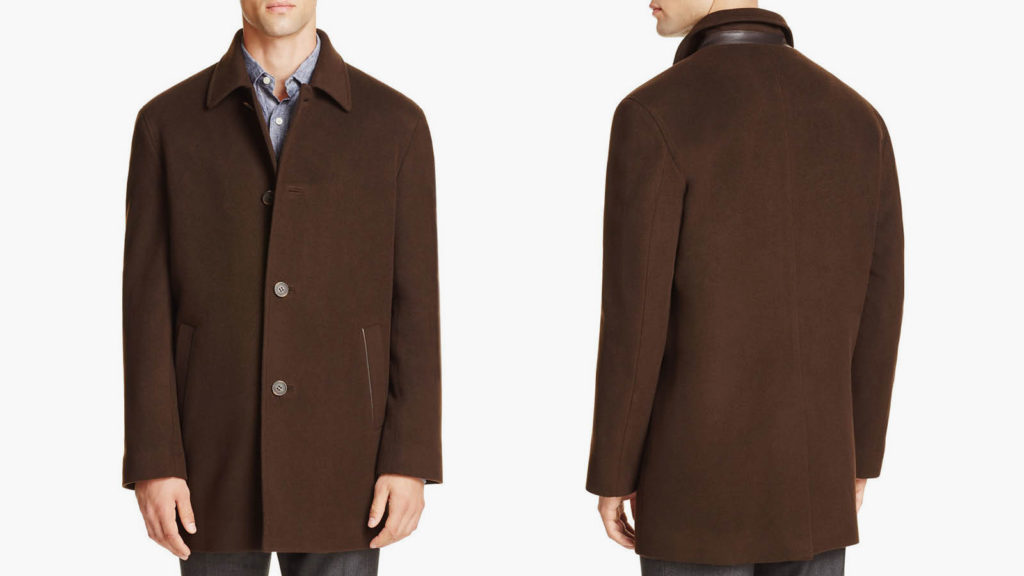 Check Yourself
Call on yourself to be a little bit bolder and braver with your fashion choices. It's one of the best ways to embrace the check trend with enthusiasm and confidence, and you just may find a single piece that becomes an enduring favorite. If you're not accustomed to prints, the key is to keep it minimal. Mix a sole plaid piece with something neutral and monochromatic for balance. If, however, there's that inner wild child just itching to come out, don't hesitate to mix your prints. 
If there's that inner wild child just itching to come out, don't hesitate to mix your prints.
Designers like Marni and Versace showed it's entirely possible to pair plaids with plaids and look, well, like a runway model. Keep it easy and low-key in a pair of Topman Check Side Stripe Slim Fit Joggers ($80), or brighten up your cool-weather wardrobe with a distinctively colorful Stussy Zip Up Plaid Shirt ($73.50).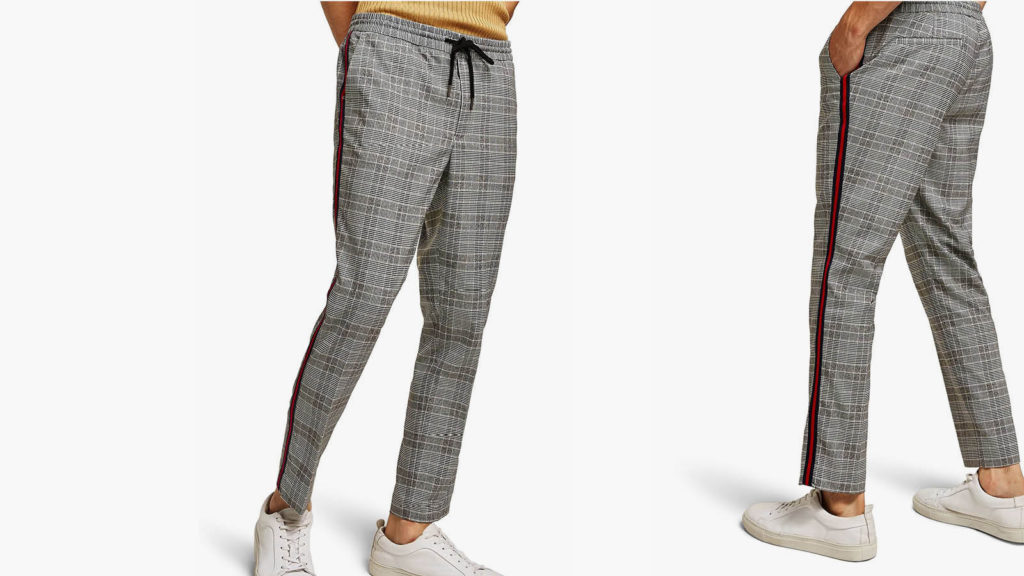 New Nineties
Don't cringe—you know you sometimes wonder what might happen if you headed out in the vintage baggy flannel and Doc Martens you rocked during your school years. The runways took a loose cue from those looks and applied them to more modernized silhouettes, yielding a group of offerings that may best be defined as the nineties, but better. Head of State, for example, displayed the sporty track jackets you loved in high school, but gave them a more approachable, modern-day feel.
So what to do if you really want to channel a little old-school style? Slip into a pair of ASOS DESIGN Double Pleat Straight Leg Jeans ($40)—their loose fit plays well with the decade's penchant for unadulterated relaxation. You'll also need a UO Plaid Flannel Button-Down Shirt ($49) to wear open over a plain tee.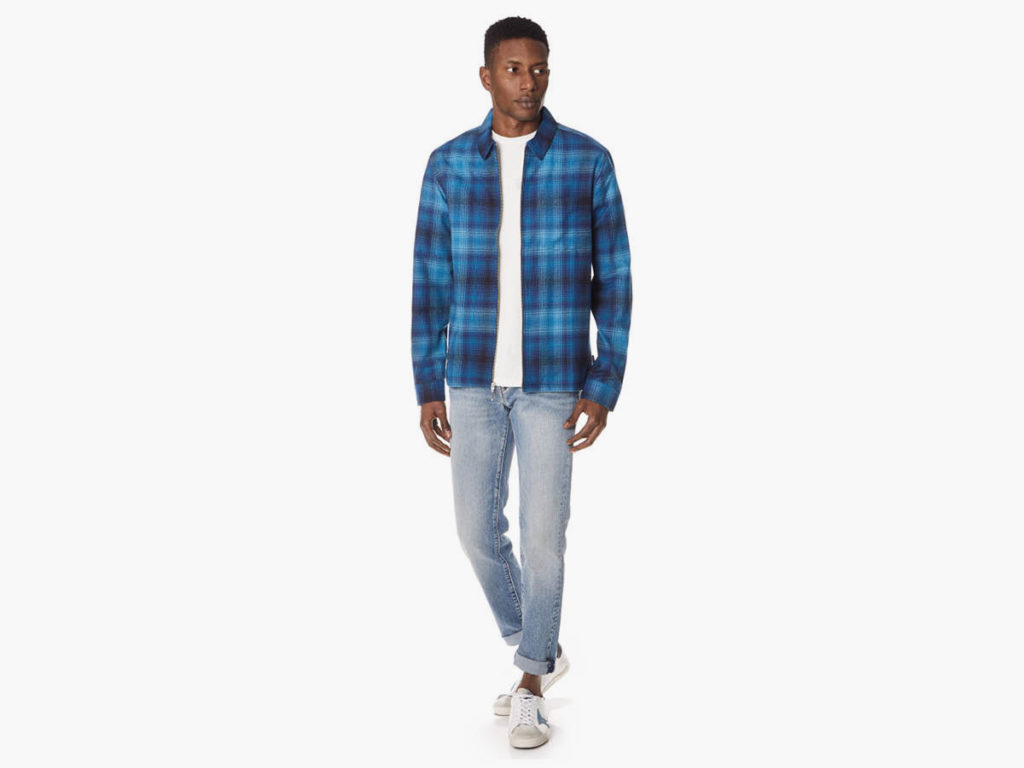 Pocket Perfect
"And it's got pockets" is something you may hear from the women in your life from time to time. Now that trend has mercifully made its way into menswear, and it's more than just a practical detail to hold your wallet. Strategic placement and thoughtful design are keys to making this of-the-moment element work for you, just as it did as models walked the Kenzo and OAMC runways. Make it your own by slipping into a Tomorrowland Gabardine Woven Shirt ($380), which shakes up the classic fabric with a pair of bold tonal pockets. The ultra-handsome Eddie Bauer Atlas Light Four-Pocket Jacket ($99) is an approachable take on the look, offering useful pockets that work overtime as substantial design elements.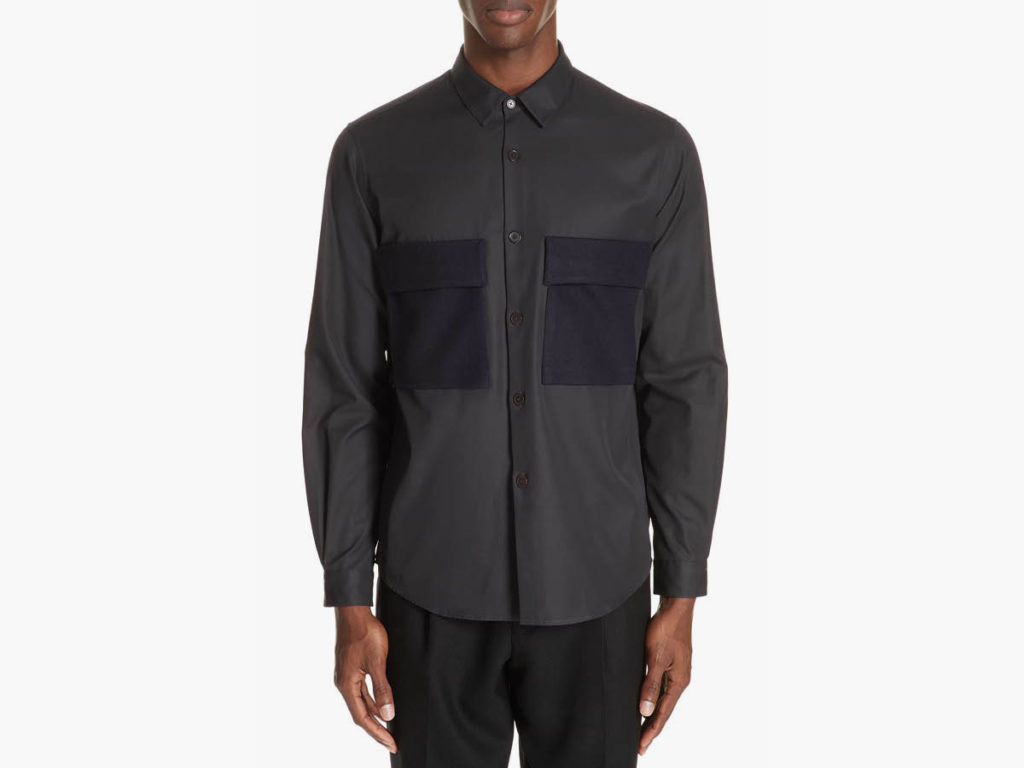 Pinstripes Everywhere
In a more tailored, understated realm, pinstripes add a welcome shot of sophistication and luxury to your cool-weather looks. Take inspiration from the likes of Versace and Alexander McQueen, who naturally gave the classic look their own effervescent spin. The results were at once immaculate and a bit blithe, dictating that your only job this season is to not take yourself too seriously. 
In a more tailored, understated realm, pinstripes add a welcome shot of sophistication and luxury to your cool-weather looks.
To that end, try a pinstriped piece that's a bit unexpected and perhaps less dapper than what you'd normally select—a Calvin Klein Dotted Pinstripe Short-Sleeve Woven Shirt ($34.75), which fits into your everyday wardrobe, or a pair of mnml Pinstripe Track Pants ($58), which boasts edgy details like contrasting side stripes and zip pockets to break from the norm.
Luxe Leather
It's the season of the coat—or more specifically, the season of the leather coat. In its many forms, the inimitable leather coat always earns cool points, whether it's long and lean or a safer length. Although the spring 2019 runways suggest you'll be wearing them well into the new year (and maybe even branching out into unexpected territories, like bright colors and matching pants), 2018 ends in a decidedly safer manner. The Allsaints Lark Leather Jacket ($498) is exemplary for its clean lines and tonal zip accents, lending the piece a sense of quiet sophistication. You can even take a lighter approach in a piece like the Michael Kors French Terry Bomber Jacket ($149), which boasts leather trim on an old-school silhouette.
One thing is certain: it's a season where anything goes, whether nostalgia dictates your style or you lean more futuristic. Whether you're sporting a massive tee, a pair of sleek trousers, or something shockingly bright, you'll remain au courant all season along.