It seems every city and village has a car show at some point during summer. And what classic car owner doesn't want an excuse to drive their cherished automobile? But the truth is, most of the cars you see at these shows, while great for inducing fits of nostalgia, are neither terribly interesting or significant.
To see real classics, the ones with some history, you have to visit a Concours d'Elegance. Yes, it's a pretentious French expression, but this is where you'll see cars that are truly special. Concours events draw the rarest, most beautiful and most expensive cars ever built. Often they'll have a storied history and many have or have had celebrity owners.
Yes, it's a pretentious French expression, but this is where you'll see cars that are truly special.
Ostensibly, these events are charity fundraisers, but secretly every owner hopes to drive home with the "Best of Show" award. (Though not in the show car, those usually ride in closed trailers.) Many events also have an auction that runs alongside, letting the well-heeled add to their collections.
Anyone with a passion for cars should get to at least one Concours d'Elegance. Be aware though, admission is expensive and even if it's not spelled out on the ticket, there's often a dress code. You don't need a tux but you might want to at least look as if you could afford one of the beauties displayed.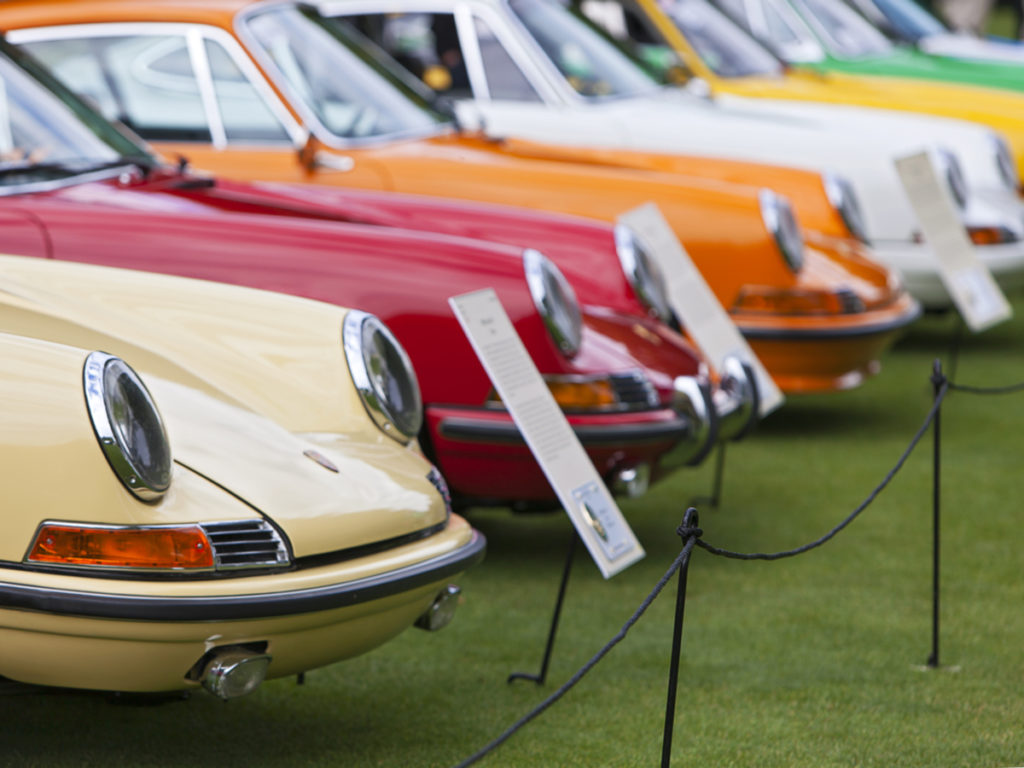 So, having bought new clothes and saved for the ticket, where should you go? Here's a list – in calendar order – of the top Concours d'Elegance events (and it's a short list because there aren't many of them!)
January: The Cavallino Classic
Strictly for fans of the prancing horse, this Ferrari-only show features the rarest examples of this exotic marque. The Cavallino Classic takes place in Palm Beach, FL with a second day at the Mar-A-Largo resort. Best of Show for 2018 was a 1955 Ferrari 250 GT Zagato. If you need to ask what that's worth, you can't afford it!
March: Amelia Island
Based at the exclusive Ritz-Carlton resort just outside Jacksonville, FL, the Amelia Island show started in 1996. Considered the 2016 "Event of the Year" by the International Historic Motoring Awards organization, this is a wonderful opportunity to see as many as 300 classic cars and motorcycles.
Vehicles compete in a number of classes, and each year two "Best of Show" awards are presented. One goes to the best road car, the other to the best racing car. In 2018 a 1929 Duesenberg J/SJ Convertible took top honors in the former category while a 1963 Ferrari 250/275P won the latter.
May: Concorso d'Eleganza Villa d'Este
Not the easiest show for American readers to get to – it's on the shores of Lake Como in Italy – this event has been running since 1929. Alongside historic vehicles you'll see motorcycles, concept cars and prototypes, all displayed in the stunning grounds of Villa Erba.
An interesting feature of the Concorso d'Eleganza Villa d'Este is that while one Best of Show award is judged, a second is decided by popular vote. For 2017 the two winners were a 1957 Alfa Romeo Giulietta SS Prototipo Coupé and a 1935 Lurani Nibbio Open Single-Seater.
July: Concours d'Elegance of America
Now in its 40th year, until 2011 the Concours d'Elegance of America took place at Meadow Brook Hall, just outside of Detroit, MI. In more recent years it's been held at The Inn at St. John's, in Plymouth, MI. Here, parked on the golf course, you'll find pre- and post-war classics as well as supercars and muscle cars. (Well it is the Motor City.)
Best of Show awards are divided into European and American. In 2017 a 1924 Isotta Fraschini Tipo 8A won the former while a 1931 Stutz DV-32 Convertible Victoria represented the New World.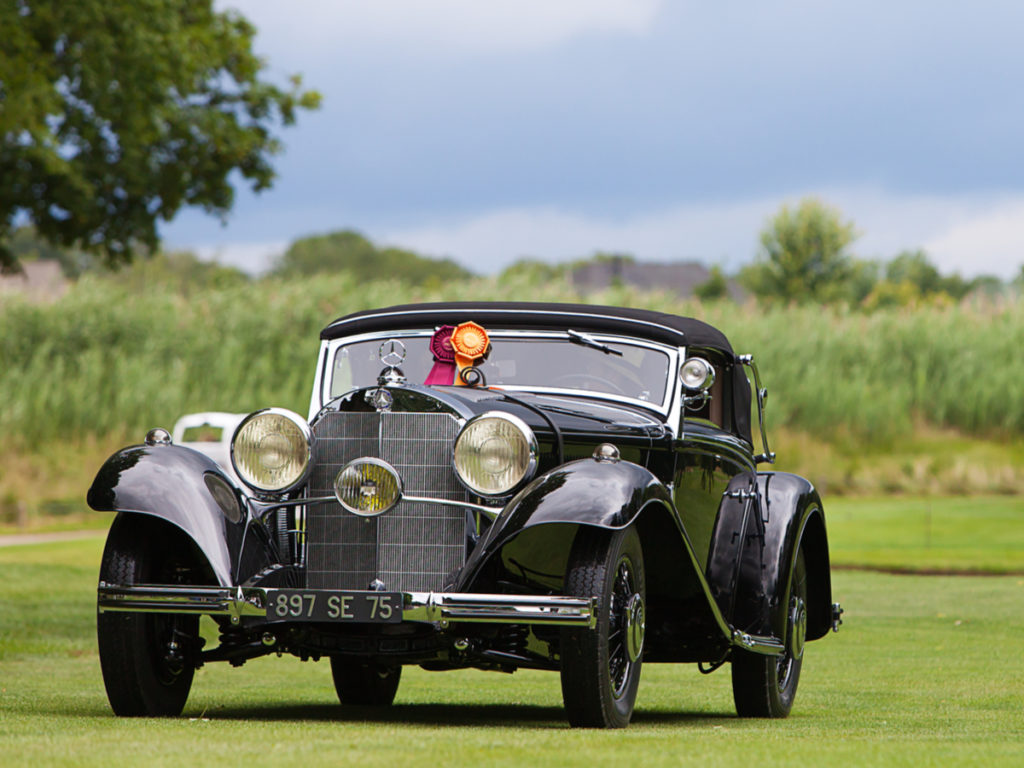 July: The Cartier Lawn at Goodwood
Held alongside the better known Festival of Speed, the Style et Luxe area sees some of the most fabulous cars in the world, owned by some of the most well-known drivers.
Wander the genteel English lawn and you may bump shoulders with the likes of Pink Floyd's Nick Mason and the Earl of Snowdon.
Wander the genteel English lawn and you may bump shoulders with the likes of Pink Floyd's Nick Mason and the Earl of Snowdon. And the cars? Well 2017's Best of Show award was a 1957 Ferrari 250GT Pininfarina Cabriolet.
August: Pebble Beach
Speaking of celebs, California's Pebble Beach is where you might run into Jay Leno. Be warned though, he likes to attend the 5:30 am Dawn Patrol part of the show when the cars drive onto the 18th fairway of the golf course.
Set against the Pacific Ocean, the Pebble Beach Concours has been running since 1950 and is perhaps the best known of all the modern events. A stunning blue boattailed 1929 Mercedes-Benz S Barker Tourer took Best of Show in 2017.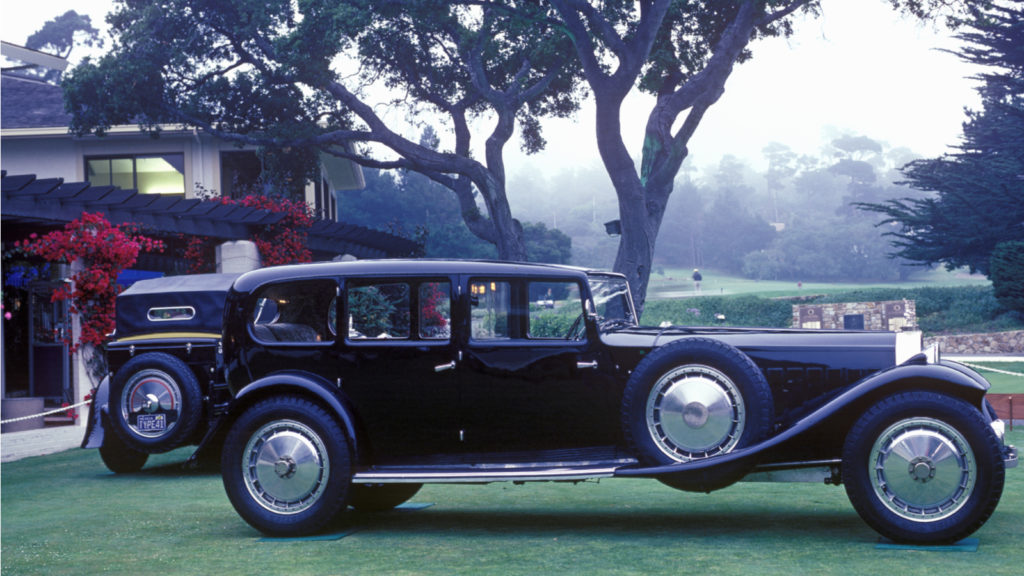 Put a Concours d'Elegance on your calendar
Every car enthusiast loves seeing beautiful and unusual vehicles. Attending a Concours d'Elegance event lets you get up close to the crème de la crème of the automotive world, and always in a highly desirable location too. From Bugatti's to Duesenbergs plus a host of marques you've probably never heard of, you'll see some of the most exotic, and valuable, cars ever built. Now get that calendar out!