Taking a 1,000-mile road trip in two days to test drive a car for 10 minutes is merely one example of the dedication IMBOLDN commits to getting you the best trending news available. This cannonball road trip across Texas was completed for a chance to get an exclusive first-look at the new 2021 Lexus RC-F Fuji Speedway Edition. The Texas Motor Press Association hosted the invitation-only event in Dallas, Texas. More than a press conference, this was an opportunity to kick the bespoke Michelin tires on a Japanese muscle car built to handle more than just the quarter-mile.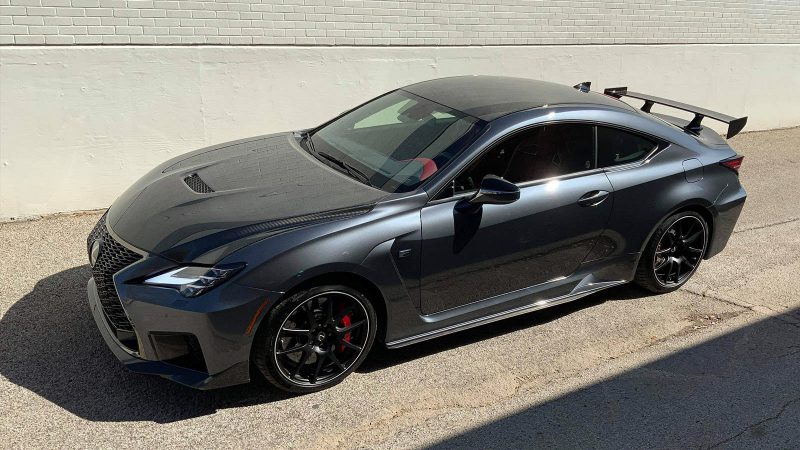 The 2021 Lexus RC-F Fuji Speedway Edition is a rolling homage to the Temple of Speed found in the foothills of Mount Fuji, Japan. This iconic race track has been the birthplace of many JDM performance vehicles, including those wearing a Lexus badge. What better way to pay tribute to a place synonymous with speed than with a race car? 
GT3 Racing DNA
At first glance, the Fuji Speedway Edition looks like a Lexus RC-F with a "day-two" aftermarket carbon-fiber aero kit. Graciously, Lexus has assured us that the Fuji Speedway Edition is several miles beyond a simple appearance package. This car is proof that a product designed by committee can be brilliant – if said committee is a GT3 racing team. 
Lexus set three goals when designing this limited-edition RC-F. It had to have more linear control to enhance the driver's experience. The car had to push itself to the limit of its performance and translate that to the driver. Lastly, Lexus wanted this to be a race-bred vehicle suitable for everyday life – a thoroughbred racehorse with a luxury saddle. The RC-F Fuji Speedway is a plug-and-play race car that compromises without sacrifice when it comes to lateral G-force and trunk space. 
The Lexus RC-F's engine does not depend on a set of spooling inhalers or batteries to deliver high-performance. It makes power using a naturally-aspirated V8 to spin the rear wheels. The only electric motors found in this car are powering the seats and windows. Headlines want to foreshadow a near-future where the V8 is killed off for good, but Lexus assured us that the RC-F Fuji Speedway Edition is not a swan-song. 
The Lexus 5.0-liter naturally aspirated V8 is rated at 472-horsepower and 395 lb.-ft of torque, capable of pulling the RC-F from zero to 60 in just under four seconds. A standard Lexus RC-F offers the same performance stats. One has to look beyond the engine bay to discover the Fuji Speedway Edition's hidden talents. Its eight-speed automatic transmission has been tuned for track driving conditions under specific drive modes (Sports S+) and sings through a custom titanium exhaust system. This car earned its race-tuned suspension at Fuji Speedway under Lexus' factory GT3 race team's supervision. Lexus created a track-day katana with sharpened suspension, braking, cooling, aerodynamics, and custom tires. 
The unique wheels are inspired by its GT3 race car variant and are wrapped in Michelin Pilot Sport 4 S tires made only for the Fuji Speedway Edition Lexus RC-F. 
The RC-F Fuji Speedway Edition is stiffer thanks to a carbon-fiber V-brace located behind the rear seat. Race tuned suspension features light-weight aluminum components. It features carbon-ceramic disc brakes adapted from the Lexus LFA cooled by functional air vents in the car's front. It saves weight with a carbon fiber hood and roof. The unique wheels are inspired by its GT3 race car variant and are wrapped in Michelin Pilot Sport 4 S tires made only for the Fuji Speedway Edition Lexus RC-F. 
The front splitter is modeled after the GT3 RC-F, and its carbon-fiber rear wing channels airflow similar to a "swan-neck" wing used on most GT3 race cars. Subtle details make a difference, like the modified scallop behind each door designed to channel air away from the rear wheel fender and improve aerodynamics along with a carbon fiber rear diffuser. 
Launch Control was added to the RC-F in 2020 and is featured in the 2021 Fuji Speedway Edition. Unlike other systems, Lexus programmed the RC-F launch control to work once it has reached its optimal temperature. This is to prevent abusing the drivetrain, and once its temp gauge reads "just right," Fuji Edition RC-F owners will be able to launch the car all day without worry. 
Convenience is part of luxury, and the RC-F Fuji Speedway Edition incorporated that into its various drive modes. Eco mode will reduce air conditioning to conserve fuel and may not be popular come summertime. In Normal mode, the car will adapt to your input. Meaning, if you suddenly find yourself on a race track but cannot be bothered to switch to Sport S+ mode, don't worry. Punch the throttle, and the RC-F Fuji will adjust accordingly. 
Jet Fighter Cockpit with First-Class Amenities
It may look like a race car on the outside, but inside it is still a Lexus. The driver-focused interior of the RC-F Fuji Speedway is a jet-fighter cockpit with first-class amenities. All Fuji Speedway Edition RC-Fs will feature Circuit Red leather-trimmed bucket seats with red Alcantara accents and unique red carbon-fiber interior trim. The interior offers a GT coupe's comfort and luxury without the sense of leisure as every turn of the wheel and throttle input is there as a constant reminder that this is a race-bred car. 
The Fuji Speedway Edition's interior oozes confidence in not reminding you of its rarity. There is no special plaque on the dash with a serial number, no silhouette of a race track printed on the floor mats, or a stamped name of the faceless engineer who built the engine. It's a car that prefers to show you why it's so special instead of telling you. 
Quick Spin in the Fuji Speedway Edition Lexus RC-F
We were allowed to take the 2021 Lexus RC-F Fuji Speedway Edition out for a quick spin around the block during the event. The moment the car rolled out of the parking lot, Dallas PD started popping up along the route. Within minutes, the surrounding roads had more radar patrol than an Air Force base. Someone had tipped them off about a loud, sinister-looking sports car looking to raise heck on public streets. Nevertheless, under the radar, I was able to give the RC-F Fuji Speedway a boot-full of throttle, and a smile broke across my face faster than the car's downshift. 
It's a car that prefers to show you why it's so special instead of telling you. 
On the throttle, one can feel the effort Lexus made to give the driver a linear experience. The car obeys your command with near-instant feedback like a trained K-9 police dog. Brakes, throttle, steering, gear changes felt sharp and precise without the half-second electronic delay that can ruin other driving experiences. Switching drive modes on-the-fly allows you to physically feel the car change its mood from mellow Eco mode to hot lap Sport S+. A car of this pedigree deserves a proper road test. 
Watch Included
You can order a 2021 Lexus RC-F Fuji Speedway right now while supplies last. Color options are limited to two, Arctic Blast Satin or Cloudburst Gray you see in these photos. Arctic Blast Satin is a semi-matte finish with a satin-like sheen that has been treated to handle going through automated car washes. 
Did we mention you also get a watch with your 2021 Lexus RC-F Fuji Speedway Edition purchase? This timepiece is an MSTR automatic movement watch featuring a gunmetal bezel with Fuji Speedway and F logos and red stitching on its band. 
The 2021 Lexus RC-F Fuji Speedway Edition is a stealth bomber, a race car with Blind Spot Monitoring, and heated door mirrors. Race it on Sunday, commute to work on Monday, and probably golf on Wednesday. 
Price as driven: $97,200
Learn More