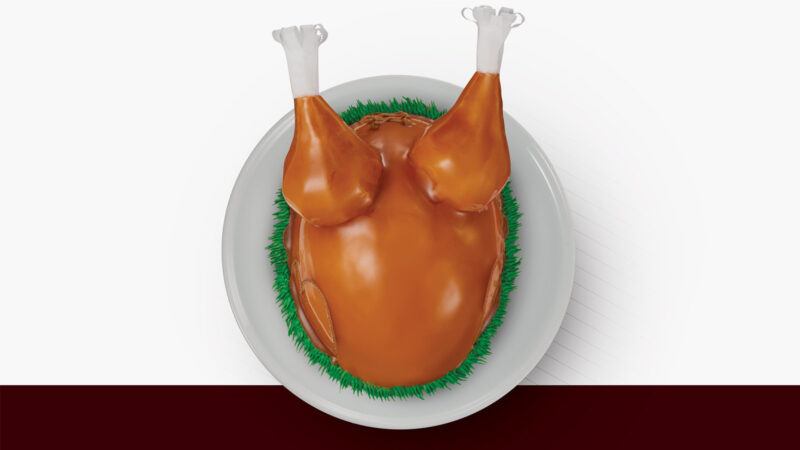 Thanksgiving, also known as "Turkey Day," is a favorite day for many Americans. It means stuffing oneself with turkey, mashed potatoes, cranberry sauce, and yams with close friends and loved ones. Baskin Robbins is striving to make this Turkey Day the most delicious one yet with the just-released Turkey Day Fixin's Ice Cream and Turkey Cake.
Turkey Day Fixin's may not sound like the most appetizing name for a sweet treat, but Baskin Robbins assures its latest ice cream flavor will be one of this year's biggest hits. For many families, it will come as a welcome alternative to the pumpkin pie they enjoy year after year. For others, it will accompany the legendary Baskin Robbins Turkey Cake perfectly.
The iconic Turkey Cake is a frozen turkey-shaped and colored cake, filled with the buyer's favorite Baskin Robbins' ice cream flavor and topped with a caramel praline glaze. The sugar cone legs give the "cake" its turkey-like look.
The new Turkey Day Fixin's ice cream flavor is a mixture of Ocean Spray® cranberry sauce swirls, honey cornbread pieces, and autumn spice/sweet potato ice cream. It's a unique combination of sweet and savory. Picky eaters who find holiday casseroles less than impressive will probably claim Turkey Day Fixin's needs to be a new Thanksgiving staple.
Not sure what to bring to your Turkey Day get-together this year? The company ensures the new Baskin Robbins Turkey Day Fixin's Ice Cream And Turkey Cake will be the most memorable dishes on the menu.
In case you missed it, check out the Hot Ones' The Classic Pepper X Edition.